Joint venture fund from Skolkovo and Rusnano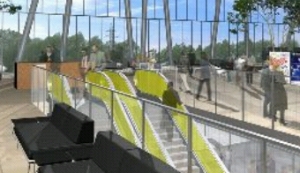 Computer model of Skolkovo
The Moscow School of Management SKOLKOVO and the Russian Corporation of Nanotechnologies will create the first venture capital investments fund, the assets of which will be used for the innovative projects' financing. According to the procedure established by the legislation of the Russian Federation, the fund will be formed as a closed-end mutual risk (venture) investment fund. The total amount of the fund will be estimated as 2 billion rubles, the Moscow School of Management SKOLKOVO will raise money from the co-investors to the extent of 1 billion rubles. The management of the fund will be held by the Troika Dialog share holding.
The fund assets will be invested in the advanced projects of RUSNANO in which the MBA Skolkovo students will take part. Thus, the Moscow School of Management SKOLKOVO integrates the innovative activities and the commercial opportunities of Russian nanotechnologies in a promising business model based on the venture capital financing.

According to the managing director, the member of the board of RUSNANO, Dionis Gordin, the mutual project of RUSNANO and SKOLKOVO is a bright example of solving both educational and investments problems: "One of the problems the venture capital faces nowadays is the gap between a business idea and its transformation into a highly detailed, representable business project. On the average, less than 10% of the projects submitted to a venture fund are admitted to initial review stage. The cause is the low quality of the business plans, calculations, market data analysis, research and development basis, etc. The venture capital fund will involve students and teachers of SKOLKOVO in the process into business planning and pre-investment preparation of the most interesting projects submitted to the fund."

"We rate high the advantages and the prospect, arising in front of our students, thanks to our partnership with the Russian Corporation of Nanotechnologies, - emphasized the Dean of the Moscow School of Management SKOLKOVO, Andrei Volkov. - The SKOLKOVO MBA programme, which will be launched in 2009, implies the development of the own business project by the students themselves. The best projects will be granted with the venture capital financing. The projects selection criteria is their innovative constituent. We are convinced that our cooperation with RUSNANO will be an incentive for building up of a really breakthrough technologies, which will provide benefit to not only their creators, but to our country as well."
All rights reserved by Rossiyskaya Gazeta.