Annual Ded Moroz influx hits city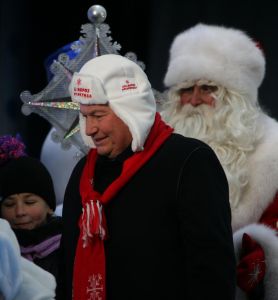 The Deds, combined with a late-arriving snow cover and enormous traffic jams caused by holiday shoppers as reminders that the festive season is reaching its zenith.
To keep an eye on the festivities during the annual break, which will last until Jan. 11 this year, an extra 3,000 Interior Ministry Troops will be on duty to keep order in the city, ministry official
Sergei Topchy
said, Interfax reported Saturday.
First lady
Svetlana Medvedeva
welcomed 6,000 children to the Kremlin's New Year's party on Saturday, traditionally the country's most important official celebration, in the Kremlin concert hall.
A day earlier, Mayor
Yury Luzhkov
welcomed Grandfather Frost in the city, praising him in trademark patriotic style as being superior to his Western equivalent.
"Our Ded Moroz is more dignified than Santa Claus," Luzhkov told a crowd of children gathered on Manezh Square, Interfax reported.
The elderly whitebeard arrived by carriage from Veliky Ustyug, the village about 1,000 kilometers northeast of Moscow that is considered his home.
On his way, he visited Africa and Antarctica and some Russian regions, including an ascent to the country's highest peak, the 5,642-meter Mount Elbrus in the Caucasus, Luzhkov said.
Because of the Kremlin celebration, the ice skating rink on Red Square was closed to the public during the day Saturday, but it will be open for the rest of the season from 10 a.m. to 11:20 p.m., according to the web site gum.ru/katok.
Police officials warned that the holiday rush attracts pickpockets and other petty criminals.
"During the last 10 days of December we usually see record numbers of shoppers who carry large amounts of cash," a police source said Saturday, RIA-Novosti reported. "With them arrive criminals from outside the city."
One criminal chose to arrive in holiday costume.
A man dressed up as Grandfather Frost arrived at a gas station in the southeast of the city on Friday, threatening a cashier with a package he said contained a bomb. The robber made off with 2,000 rubles ($70), leaving behind the package, which turned out to be empty, Interfax reported, citing a police source.
The Emergency Situations Ministry, meanwhile, warned that fireworks remained a prime hazard and called for a ban on their sale to children.
The sale of all forms of fireworks to children should be banned by law,"
Anatoly Giletich
, deputy head of the ministry's supervisory department, said Friday.
The number of fire accidents rises to two or three times above normal, Giletich said.
Last year, an average of 188 people per day died in fires nationally during the holidays, compared with the average figure of 60 deaths on normal days, the ministry official said.
In Moscow, the ministry said last year that in the first three days of 2008 fires killed 12 residents. Fireworks injured 50 people, including 10 children.
All rights reserved by Rossiyskaya Gazeta.