Three generations of Russian artists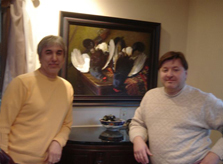 Artist Ivan Kugach at his painting with his friend artist Oleg Nefedkin
Global Arts Network invites you to join Ambassador of the Russian Federation Sergey Kislyak, former U.S. Ambassador to Russia (2001-2005) Alexander Vershbow, and many other distinguished officials and guests at the Russian Embassy on January 30, 2009. The occasion is a benefit event to celebrate the one-year anniversary of Global Arts Network. The Benefit marks the opening of the exhibition, "Kugach, Kugach, Kugach: Three Generations of Russian Artists," at the American University Museum of Katzen Arts Center, which runs from January 31 to March 15, 2009.
<!— gallery=14 —>
For two centuries, the United States of America has sent a long line of distinguished envoys to Russia, first to St. Petersburg and then to Moscow. They included men whose career paths would lead them to become U.S. President, Vice-President, Secretary of State, and Secretary of the Treasury. More than a dozen served in Congress, or worked as newspaper editors, governors, generals, and career diplomats. Many of these envoys, such as the legendary
George Kennan
and
Llewellyn Thompson
, played pivotal roles in the often tumultuous events that have forged America's relationship with Russia. Through revolutions, in peace and at war, representing the United States as ally or adversary, these American envoys helped shape the destiny of both nations—and all worked to promote American interests in the courts of the Tsars, the halls of the Kremlin, and directly to the people of Russia.
It has not always been smooth sailing. For example, it is known that, in 1937, a school principal in a small Russian town who stated that because Russia and America had so much in common they should be friends, not enemies, was arrested and sent to the Gulag, where he died. While the United States and Russia were allies during the Second World War, afterwards came a chill in U.S.-Soviet relations. However, even during the height of the Cold War era, in 1959, the first American exhibition in Moscow opened, offering an opportunity for hundreds of thousands of visitors to discover the United States. Similarly, the upcoming January 2009 exhibition "Kugach, Kugach, Kugach" will enable Americans to re-discover a Russia that is both old and new.
The exhibition represents three generations of the Kugach family of artists: Yuri Kugach, still painting at age 91, son Mikhail and his cousin Nikita, both born in 1939, granddaughter Ekaterina (b. 1965), grandson Ivan Kugach (b. 1972), and Mikhail's daughter-in-law Victoria Samsonova.
Western attention has often concentrated on Russian avant-garde art. However, realist painting also has a long, honored, and unbroken tradition. This exhibition focuses on the work of 91-year-old patriarch, Yuri Petrovich Kugach (b. 1917) and his late wife Olga Grigoryevna Svetlichnaya (1915-1997) who in the mid-1930s attended the renowned "Surikov" Moscow Art Institute—named after the great realist-teacher Vasili Surikov (1849-1916). The Kugachs' talents were considered so valuable that, during World War Two, the Soviet government evacuated them and ten other artists to Uzbekistan to escape the Nazi onslaught. During the era of Soviet Realism, Stalin encouraged painters to create large utopian scenes of Soviet culture—uplifting visions of common people. Yuri taught at the Surikov and in 1951 moved to the Tver region—renowned for its scenic countryside—to instruct at the House of Artists of Russia. Themes of nature and village life are a powerful and unifying principle in much Russian art. As avant-garde art began to rise in the estimation of critics, to help preserve the realist tradition Yuri in the 1970s became a founding member of the Moscow River School. The following year he was elected a full member of the Academy of Arts of the USSR, and he has enjoyed many accolades, exhibitions, publications, and museum acquisitions since then.
Hopefully this exhibition will allow many Americans to get to know the brilliant family of Russian artists - the Kugachs. We also hope that the success of this exhibition will allow Global Arts Network to create many more interesting projects in the future.
---
Russia has the wonderful and unusual custom of the greatest artists feeling the obligation to pass on their knowledge to the most talented students thereby keeping the venerated tradition of realism alive. We can easily appreciate this tradition in looking at the influence of the Kugach dynasty. Yuri Kugach and his wife Olga Svetlichnaya are recognized as two of the greatest Soviet era trained artists. Their legendary teachers, I. E. Grabar and Sergey Gerasimov, were among the most revered artist's of the prior time period. Yuri and Olga, together with their artist relatives have had a substanical influence on the Russian art world from the late 1930's till today. In the 30's, Yuri Kugach strongly believed in the artists roll in helping create a utopian society. He took his lead from a government which encouraged artists to paint Soviet Culture as it would be (utopian). Russia's finest museums have numerable Yuri Kugach large genre paintings depicting uplifting visions of the common people who surrounded Yuri. Mothers combing their pleasantly dressed daughters hair, ladies seated side by side waiting to be asked to dance, sisters playing ball with their younger brothers, mothers putting their baby to sleep, teenagers modestly flirting, women sewing clothes for their family etc. Yuri met the woman he would marry at the art graduate institute named after the artist V. Surikov. Among the most talented students both Yuri and Olga stood out. After graduating, Yuri told Olga that he would do what was necessary to thrive as an artist but "as you are better than I am - I do not want you corrupted by market influences". As a result Yuri is more recognized and is prolific in the number of works produced whereas Olga worked much slower and painted a fraction of the number of pieces relative to Yuri, but one never sees a weak Svetlichnaya. It is said in Russia that if you put a Svetlichnaya landscape beside a strong Pissarro or Sisley it will not be the Svetnechnaya that appears weaker. Yuri was a founding member and first president of the most famous Soviet era art movement, The Moscow River School. This school sponsored shows representing the Soviet Union's most talented Realists. The school became famous for artists who commanded advanced realist skills of being able to depict space, form and feeling in their paintings. Yuri is still painting and is 91 years old. Yuri is an Academician and has received many of the USSR artist awards including being awarded the Stalin prize before he graduated from graduate school. Olga Svetlichnaya reposed in 1997.
Yuri and Olga's son Mikhail was brought up among great artists. Due to his parents influential connections he received the finest academic training the times allowed. Mikhail went on to follow in his parents footsteps including spending time as the director of the Moscow Art institute as well as being president of the Moscow River School. Mikhail Kugach is a driving force and inspiration to realists throughout Russia. The show also will include works by Mikhail's son and daughter Ivan Kugach and Ekaterina Kugach and Mikhail's daughter in law Victoria Samsonova, who is well known for her children themed series of paintings. Olga Svetlichnaya nephew, Nikita Fedosov, is known as "Russia's Coveted Legendary Artist". He was Mikhail age and they grew up together playing at the Kugach house and attending school together. Nikita Fedosov''s works are some of the most sought after works in Russia. This show is assembled by the Global Arts Network (Globalartsnetwork.org) a non profit organization which promotes peace through greater understanding of foreign cultures.
Global Arts Network is a non-profit organization, founded in 2007 in Washington, D.C., whose mission is to foster awareness, cultural understanding and peace through international arts exchanges.

Please join us for this remarkable event at the Russian Embassy and the American University Museum of Katzen Arts Center.
For additional information visit:
www.globalartsnetwork.org
.
All rights reserved by Rossiyskaya Gazeta.