Dispute gives new hope to Nord Stream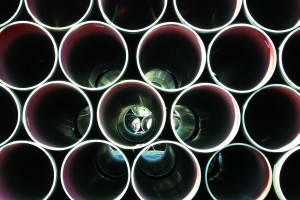 image from nord-stream.com
Russia's worst gas conflict with Ukraine yet has halted all supplies to the European Union through Ukraine since Jan. 7. The dispute comes as Russia waits for some Baltic Sea countries to finally grant environmental permits to its Nord Stream pipeline.
Now that deliveries traveling via Ukraine have been stopped for at least five full days, cutting power to industry and homes in southeastern Europe, there promises to be new enthusiasm for Nord Stream, which will take gas directly from Russia to Germany, analysts said Sunday. Gas from Nord Stream could supply the entire EU if EU members build links among their gas systems.

Putin said Saturday that construction of Nord Stream, scheduled to come online in 2011, would be a guarantee against supply disruptions in the future.

"The current crisis confirms that there is a need for a true diversification of the ways to deliver our energy resources to the main consumers in Europe," Putin said at a joint news conference with Czech Prime Minister Mirek Topolanek in Moscow.

Putin also suggested building the less-advanced South Stream across the Black Sea and southern Europe and moving ahead with plans to liquefy gas - or chill it into a liquid - to ship by tankers worldwide.

The desire to support Nord Stream and South Stream was a key reason why Russia cut supplies, said Pavel Salin, an analyst at the Center of Current Politics, a think tank.

Russia reduced supplies to Ukraine on Jan. 1 after it said Ukraine began stealing some of the gas destined for the EU. Moscow severed deliveries altogether after it said Kiev stopped transiting the gas, keeping it all for itself.

Nord Stream was not designed to replace any existing pipelines but was supposed to meet growing demand in the EU, said Irina Vasilyeva, a spokeswoman for Nord Stream AG, the company created to build the pipeline.

Russia has gone to great lengths to defend its position in the dispute, and EU reactions are more muted this time than in January 2006, when the West accused Moscow of using energy as a weapon by cutting off gas supplies through Ukraine.

In a sign that euphoria in Europe from Ukraine's 2004 Orange Revolution is long gone, Kiev has drawn reprimands from the EU in the latest dispute. European Commission President Jose Manuel Barroso gave Ukraine a harsh warning last week that any failure to meet commitments to deliver Russian gas to the bloc would hurt its aspirations for closer EU ties.

"If Ukraine wants to be closer to the EU, it should not create any problems for gas to come to the EU," Barroso told a news conference in Prague, where he was meeting Czech officials who hold the rotating presidency of the 27-nation EU.

Barroso stressed that he was not casting blame in the transit dispute.

Other European leaders have also avoided placing the blame on a specific country. "I have no ambition to sort out Russian-Ukrainian relations right now. It was not established as my goal," Topolanek, whose country took over the EU presidency on Jan. 1, said Saturday at the news conference with Putin.

French President Nicholas Sarkozy called the dispute a "bilateral matter" at a joint news conference with German Chancellor Angela Merkel last week.

Hungarian Prime Minister Ferenc Gyurcsany said last week that it was unacceptable for "the bullets that Ukraine and Russia shoot at each other to hit Hungary," IPS news agency reported.

The EU is likely to respond to the latest gas supply crisis by building more underground storage facilities and linking up member states' pipelines to provide for greater mutual assistance for emergencies, said Pavel Baev, a professor at Norway's International Peace Research Institute.

Even though Russia has generated negative publicity in the conflict, it is faring better than Ukraine in the informational war, said Dmitry Orlov, an analyst with the Agency of Political and Economic Communications.

"Ukraine missed every opportunity it could" and is now the bad guy in the eye of European consumers, he said.

He said Ukraine has failed to prove that it is not siphoning off gas, and with its leaders remaining mostly silent since the gas disruption on Jan. 1, it has given European consumers the impression that it has an unfair competitive advantage in gas purchasing price.

Ukraine was paying about half the amount that the EU pays for gas.

The shift in public opinion started after the gas dispute in 2006, when Russia failed to clearly explain its actions, leaving the impression that it was moving impulsively, Orlov said.

In a contrast, Putin held an extensive news conference with foreign reporters last week to explain Russia's perspective.

Gazprom has created a special web site dedicated to the gas conflict, www.gazpromukrainefacts.com, and its executives have met with European partners in Brussels several times.

Interestingly, Putin, not President Dmitry Medvedev, has taken center stage in the conflict. Medvedev, who served as Gazprom's chairman before becoming president last May, had a phone conversation with Yushchenko last Wednesday and discussed the issue with Gazprom CEO Alexei Miller in Sochi on Friday.

In sharp contrast, Putin has been actively and publicly involved in talks, occasionally broaching Russian foreign policy, an area traditionally reserved for the president.

"What we see right now is the dominant role of Putin," said Nikolai Petrov, an analyst with the Carnegie Moscow Center. "We see him as a real head of state and its representative vis-a-vis the European Union and Ukraine.

"This is not surprising. We are still living in Putin's Russia," Petrov said.
All rights reserved by Rossiyskaya Gazeta.