Ruble falls to 6-year low vs. dollar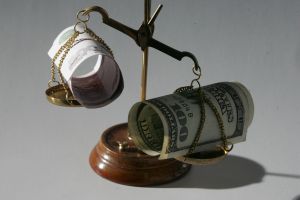 The ruble fell 1.7 percent to 31.05 per dollar, from 30.53 Sunday, extending its decline to 24 percent since August. A Central Bank official who declined to be identified on bank policy said by telephone Monday that the bank widened the ruble's trading band against a dollar/euro basket. Official ruble trading began Sunday for the first time this year.
"With the oil price shock, there is an increased burden on Russia's current account, and that necessitates a rebalancing of the currency," said Ulrich Leuchtmann, head of currency strategy at Commerzbank in Frankfurt, which rates itself one of the top 10 traders of the ruble in the world.

The Central Bank devalued the currency for the 14th time since Nov. 11 as Urals crude, Russia's main export blend, slid to $42.99 a barrel, below the $70 average required to balance this year's budget, and the halt in gas supplies to Europe dampened the outlook for export earnings.

The ruble may slump as much as 16 percent this month, according to Alexei Moiseyev, Renaissance Capital's head of fixed-income research, while Troika Dialog said most regional clients expect a retreat of as much as 30 percent within three months.

The currency weakened 1.5 percent to 35.82 versus the Central Bank's target basket, which is made up of about 55 percent dollars and the rest euros. Policymakers devalued the ruble against the basket by 1.5 percent to 35.30 on Sunday.

Russia, the world's largest energy exporter, has drained $160 billion, or 27 percent, of its foreign-currency reserves since the start of August as the Central Bank sought to mitigate the currency's slide. Investors have withdrawn more than $200 billion from Russia since then, according to BNP Paribas SA.

The dispute between Russia and Ukraine over natural gas, which resulted in at least 20 European countries experiencing supply disruptions, is further deterring investors, said Kieran Curtis, a fund manager in London at Aviva Investors, which holds Russian 30-year government bonds among its $787 million in emerging market holdings.

"The long-term story for investors is negative on Russia," Curtis said. "Stopping the flow is going to make all of their customers look elsewhere for at least part of their gas."

The ruble may drop to 37 per dollar by the end of January as the Central Bank increases the pace of devaluation to deter speculators, Moiseyev at Renaissance said in an interview Monday.
All rights reserved by Rossiyskaya Gazeta.