Double murder in broad daylight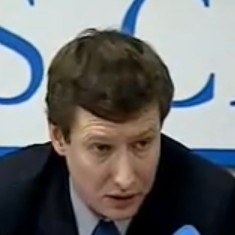 It is not only the double nature of the murder - a human rights lawyer and a journalist in one blow - but the sheer audacity of the crime. It was carried out in broad daylight in a central Moscow street, within walking distance of the Kremlin. Was the murder, which police are already calling a contract killing, connected to the Yuri Budanov case, which Markelov had given a press conference on before he was murdered, or to nationalists, who he has also been involved in cases against?
Markelov was a prominent human rights lawyer, known best of all for leading the case against Yuri Budanov, a Russian army colonel convicted of murdering a Chechen teenager in 2000. Budaonv was released with 15 months left to serve of his ten year sentence on January 15. Markelov was murdered after leaving a press conference in which he had pledged to appeal this early release.

The police are already calling this a "contract killing," and few have any doubt it was related to his professional activities. That has naturally led to speculation that Budanov or his associates were involved in the murder (a charge his lawyer denies, Interfax reported). Visa Kungayev, the father of Elza Kungaeva, the girl Budanov murdered, told RIA Novosti that Markelov had received threats by text messages last week, and that he had "no doubts" that the murder was connected with the Budanov case.

But such a case was fraught with danger not just from Budanov's immediate allies. "The lawyer had to have a lot of courage to take on such a case. As a lawyer, I would think very carefully before taking such a case on," said Genrikh Padva, a prominent Moscow defense lawyer. "In our society there are a lot of nationalists and chauvinists who would be quick to assume that because one is defending a Chechen, it must mean that one is against Russian nationals."

But there are other suspects as well. Apart from the Budanov case Markelov's professional activities covered a whole spread of controversial human rights cases that could have earned him dangerous enemies. He had represented Mikhail Beketov, the editor of the newspaper Himkinskaya Pravda, who was badly beaten by unknown assailants in November 2008, and had been threatened by far-right groups. "He was the kind of person who receives threats on a daily basis," said Tanya Lokshina of Human Rights Watch, a colleague and friend of Markelov's.

Markelov and Baburova were friends from their activities in leftist organizations, and also shared professional interest. He had defended the anti-fascist group AntiFa, and Baburova was hired by the paper specifically to write about neo-Nazis, and had quoted Markelov in some of her articles. That leads to inevitable speculation about a neo-Nazi role in the killings. Chillingly, on January 14, just a few days prior to the murder, a young national Bolshevik named Anton Stradimov was beaten to death in southeast Moscow. According to Lokshina, Stradimov was a regular attendant at the dissenters' march and other leftist events that Baburova also frequented. "That is bound to add to the speculation about the Nazi link," said Lokshina, "but it can only be speculation at this stage."

To further muddy the waters, the murder fits into a recent spate of Chechnya-connected killings. On January 15 Umar Israilov, a 27-year-old Chechen exile who had criticized the regime of Ramzan Kadyrov, was shot dead in similar circumstances in Vienna. In August last year Mokhmadsalakh Masaev, who had accused Kadyrov's administration of running illegal prisons in Chechnya, was abducted. Anna Politkovskaya, whose murder in October 2006 Monday's killing recalls, was also a noted and vehement critic of Chechnya, and a writer for Novaya Gazeta. "Chechnya is still a very un-transparent place, and not a peaceful place. Any lawyer involved in cases with Chechnya is in danger," said Alexander Brod of the Moscow Human Rights Bureau.

The Chechen connection is intriguing because Markelov was both a hero to and a thorn in the side of the Chechen authorities. Kungaeva's murder is something of a cause célèbre in Chechnya, including amongst the pro-Kremlin regime. Ever since the prospect of a pardon or early release for Budanov was first raised in 2004, the local administration has resisted it (in 2006 the Chechen regional branch of United Russia (headed by Ramzan Kadyrov) appealed to the Duma and the president not to grant Budanov leniency). Markelov had also brought to justice Sergei Lapin, a Russian policeman convicted of the torture and murder of a Chechen student in 2001 (it was Politkovskaya, incidentally, who publicized the case). For these cases the Chechen authorities were so appreciative that Kadyrov has awarded him a posthumous medal "For Services to the Chechen Republic." Nurdi Nukhazhyev, the state appointed human-rights ombudsman for Chechnya, has echoed the view that Markelov was killed because of the Budanov case.

But Markelov also had a record of helping with cases further from Kadyrov's heart, and closer to raw nerves. He was a champion of the "disappeared" in Chechnya, including Masaev. He was asked to help in the case by Novaya Gazeta, which carried an interview in which Masaev accused Kadyrov of torture and running illegal prisons. He had also made very public statements on the existence of the secret prisons Masaev and Umar Israilov had both complained of. This, more than anything else, evoked memories of Anna Politkovskaya.

"He was an old friend of both Anastasia and the paper," said Novaya Gazeta's Deputy Editor Sergei Sokolov. "We had a very fruitful relationship." Indeed, Markelov had taken on many of the cases of the victims of human rights abuse who Politkovskaya had written about.

So far it remains unclear whether Baburova was a target or merely a bystander. Some witnesses have reported that she was killed after trying to tackle the gunman, and she does not make a likely target for a contract killing. She was a freelance contributor rather than a staffer, and still attending journalism school. Sokolov said that it is "unlikely" that the gunman planed to kill her too. "But only the investigation will tell," he said. "If the forensic examination shows that she was killed without a struggle, then it strongly suggests that she was also a target."

Whether deliberate or not, the connections of both victims to the paper are striking, and tragic Baburova is in fact the forth Novaya Gazeta writer to be murdered (possibly the fifth, as many believe that Yuri Shchekochikhin, who died in 2003 of an allergic reaction, was also assassinated). The newspaper's staff does not deny the toll this has taken on them. "After Anna [Politkovskaya] was killed we wanted to close the paper," said Sokolov. "Now we are in a state of desperate anger."

The staff of Novaya Gazeta is not alone in that anger. A small crowd that gathered at the scene of the murder the next day to lay not only flowers and photographs of the deceased, but defiant placards calling for justice, and the fulfillment of the principles they had defended.

Justice may be a long time coming. The trial for Politkovkaya's killers has been marred by the authorities' failure to detain the triggerman, let alone the person who paid him. Perhaps this time the outrage of a double murder and the insolence of a killer who struck in broad daylight just a short walk from the Kremlin will jolt the authorities into action. This time, at least, Vladimir Putin has not described the deceased as "insignificant," and the prosecutor general's immediate recognition of the gravity of the crime is one good sign.
All rights reserved by Rossiyskaya Gazeta.