Medvedev looks to fill senior posts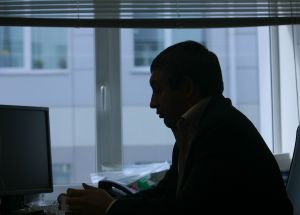 The recruitment drive, first announced last summer, is a response to the difficulties the state is facing in identifying and recruiting competent personnel for public service, top officials say.
It also highlights the lack of a proper recruitment system for government posts and the need for a new generation of managers to replace the Soviet-era nomenklatura, and Kremlin watchers say the initiative is an attempt to lessen the influence of civil servants directly loyal to Prime Minister Vladimir Putin.

Medvedev has reached out to Communists, nationalists and liberal politicians alike to create the pool of potential applicants, with the Kremlin contacting all four parties in the State Duma and asking them to submit the names of potential candidates for government jobs.

The list of Medvedev's so-called "Golden 1,000" includes scientists, members of nongovernmental organizations, regional and federal officials and businesspeople, Medvedev said in a meeting with his presidential envoys.

"We will publish this list. It cannot be a secret," Medvedev said in comments published on the Kremlin's web site.

Kremlin chief of staff Sergei Naryshkin sent a letter to the Duma factions, whose representatives met last summer under the auspices of a new presidential commission on recruitment, asking for names for the "Golden 1,000" list, said Igor Lebedev, chairman of the nationalist Liberal Democratic Party faction in the Duma.

Each member of the commission was asked to submit the names of 11 candidates to serve in federal and regional agencies, party organizations or as "representatives of business, culture and education," Lebedev said. LDPR has three members on the commission, including leader Vladimir Zhirinovsky.

The only stipulation was that candidates must be 35 to 50 years old.

LDPR has nominated around 30 candidates, including Alexander Kurdyumov, rector of the Institute of World Civilizations, a higher education college founded by Zhirinovsky in 1999.

"We hope that all the candidates proposed by us will be approved by the president and will be offered some kind of government post," Lebedev said in remarks forwarded by his press secretary.

The Communist Party confirmed that it also had received the request from the presidential administration but offered few details. Party leader Gennady Zyuganov is currently drawing up a list of names, said Pavel Shcherbakov, press secretary for deputy party leader Ivan Melnikov.

Nikolai Levichev, leader of A Just Russia in the Duma, could not be reached for immediate comment.

A Kremlin spokeswoman declined to comment on the recruitment drive, saying, "We have no official documents about this."

Russia doesn't have a transparent route to government posts, such as the fast-track Civil Service test for graduates in Britain. "It depends entirely on having connections at a high level," said Dmitry Oreshkin, a political analyst at Merkator.

Medvedev first called for a new recruitment strategy back in July and founded the presidential commission on recruitment in August. In his November address to the nation, he said he was looking for the "most talented, creative-thinking and professional people."

Medvedev is breaking away from Putin's strategy of placing personal acquaintances and former colleagues in top jobs - a strategy that proved ineffective by the end of his second term, Oreshkin said. "However large Putin's circle of acquaintances may be, it's not large enough for the whole country," he said.

Putin also relied on members of the Soviet-era nomenklatura, but this generation is going away, said Olga Kryshtanovskaya, who tracks Kremlin politics as the director of the Center for Elite Studies at the Russian Academy of Sciences. While the nomenklatura made up 38 percent of officials in Putin's government, they make up only 16 percent of Medvedev's government, she said.

A key decision that showed Medvedev's clout was his recent dismissal of Ingush strongman Murat Zyazikov, Oreshkin said, describing this as a "serious revolution in Ingushetia."

Nevertheless, Medvedev "is changing the personnel very carefully so as not to step on any of Putin's painful corns," he said.

Last month, Medvedev also appointed Nikita Belykh, the former leader of the Union of Right Forces, or SPS, as governor of the Kirov region, a surprise decision that some observers interpreted as a sign that the president was open to working with the liberal opposition.

Kryshtanovskaya said, however, that Belykh's appointment might be more about ensuring that he didn't cross over to a radical opposition group like Solidarity, founded by former Deputy Prime Minister Boris Nemtsov and one-time chess champion Garry Kasparov. Before serving in SPS, Belykh worked in regional government.

The presidential commission and its plan for a "Golden 1,000" database follows a similar project launched by the United Russia party two years ago. Called "Talent Pool: Professional Team," it allows people to apply for a talent pool via a web site. United Russia representatives have also contacted organizations including the Russian Harvard Alumni club to encourage applicants.

The Kremlin and United Russia projects are not directly connected, said Yury Kotler, the head of the United Russia project. "It's two systems that don't interconnect. People can be in both or either."

He described the aim of his project as finding "future leaders." Some have gained state or party jobs, he said. It also has a networking element, as successful candidates can communicate with one another on a closed web portal.

Not all the successful applicants are members of United Russia, Kotler said. "It's not within the party. It's an instrument, it's a search engine."

Kotler previously worked as a spokesman for Menatep, Yukos' holding company, and as a consultant at headhunters Ward Howell International, which took part in creating the project.

The web site is full of Western management buzzwords such as "agents of positive change" and "peer education." It features United Russia's flag logo, although Putin, who heads United Russia, is conspicuously absent.

The project has a slightly different age range from the "Golden 1,000": 25 to 45.

While the "Golden 1,000" looks for top officials, the United Russia project might find hospital managers or ambitious teachers who wanted to make their school the best in the district, Kotler said.

Around 15,000 people have applied so far, of whom about 1,000 passed a test and interview, Kotler said.
All rights reserved by Rossiyskaya Gazeta.