Low rates could mean that it's a good time to deal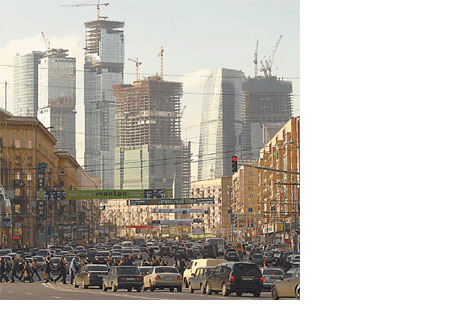 At the end of 2008, it became clear the global downturn had spread as far as the manufacturing and service industries, including the office rental market. Moscow commercial property rates, the second highest in Europe in 2008, have begun to decline in early 2009.
There are several reasons for the drop. First, the deepening crisis has forced many tenant companies to review their 2009 budgets and development plans, putting new projects on ice and scaling down business activities. To survive, many have shed staff, halted office expansion or moved to cheaper places.

"Tenants whose lease agreements expire in late 2009 or early 2010 now prefer to put off renting a new office until March or April 2009, as they hope to strike a better bargain," says Olga Yasko, head of the Analytical Department at Colliers International.

According to Vladimir Pinaev, Jones Lang LaSalle managing director, the hardest hit will be the prime market, as its traditional clients - financial institutions, banks and investment companies -are now struggling to survive. "Companies are preferring to cut down on all kinds of expenditure, including rental costs, rather than polish their corporate image," he says.

In 2009, the drop in demand for class A offices will shift clients' focus to B+ and B-business centres. Even so, this does not mean most companies will switch from A to B offices (although such a trend does also exist) but rather flee class B offices in the heart of Moscow to seek the same category outside the city centre.

Class C offices, accounting for 25-30pc of the rental market, are still in good demand but unlikely to be of interest to major companies, which cannot afford to risk their reputation even in the midst of the crisis.

Second, the crisis derives not only from the economic meltdown but also from the glut of space in Moscow. According to Blackwood, 8m sqm of high quality office space is available in new and renovated A and B Moscow business centres.

Even though little or no increase in Moscow office stock and suspension of cash-starved construction projects is anticipated in 2009, many proprietors face client shortages. Experts says, however, that the construction freeze will eventually translate into another shortage of space after the crisis, when Russia and its regions will still be among the most attractive investment destinations.

In the long run, planning ahead and investing today in the Russian economy - and, among other things, its construction sector - might prove to be worthwhile.

As for Moscow, its construction programme offers a wide range of projects varying from developments in the centre of the capital to new business areas outside the city limits.

Irina Florova, deputy director and chief analyst at CB Richard Ellis, says that, given the financial crisis, any changes in the long-term demand for office space will be driven by the rate of economic recovery.

Stable economic growth will reignite the demand for office space, driving up rental rates as early as mid-2009 and bringing them back to the pre-crisis level by 2010. A more protracted recovery and stable demand would level out rental rates by the latter half of 2009. In either case, the first six months of 2009 will be the age of the tenant.

Tumbling prices and tougher competition will let tenants dictate the terms of both newly-concluded and existing agreements. A good example is that of the IBS IT holding group, which planned to rent 37,000 sq m in the Nordstar Tower business centre from DS Development. Today, IBS is not only demanding a downward review of the rent but also wants to sublet part of the leased premises. According to SA Ricci/King Sturge, before the crisis, office space sublease accounted for only about 5pc of the total stock, whereas this figure has now risen to 20-25pc.

Property owners not only have to discount lease prices but also put up with a 1+1 payment system, instead of the usual 3+3. They will also become more flexible in lease negotiations, being forced to offer their tenants three-year lease agreements (instead of the previous five to seven years), lower indexation rates (down from the traditional 10-15pc) and already renovated offices.
All rights reserved by Rossiyskaya Gazeta.