It's time to be realistic...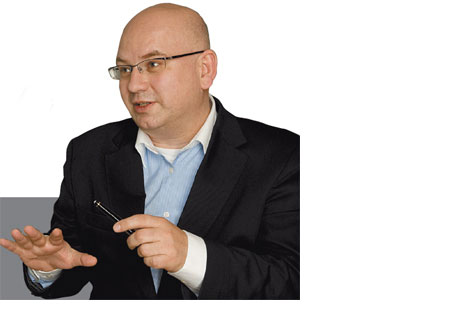 Even in crisis conditions, the dynamic nature of global markets and Russian business always allows for new and promising areas of further development, says Ernst & Young partner Alexandr Ivlev.
The global economic crisis and rather gloomy forecasts for 2009 have forced many companies to scale down their activities and switch over to simply monitoring the market. Many analysts assert that even against the backdrop of the crisis, Russia still remains one of the world's most attractive countries for investments.

What is happening in the Russian market today?
Statistics show very dynamic growth for the Russian market over the last 10 years. Russian and foreign companies have been able to work in a new business environment and benefit from extensive economic reforms. Over these years, Russia has made significant progress in its transition to market economy and with high degree of integration in global economic processes. Ironically, it was its integration in the global economy that exposed Russia to the effects of the global economic crisis. Some 20 or 30 years back, in the time of the Iron Curtain, the country would have suffered less serious effects of a global downturn like this. Russia is still recognized as an attractive market by foreign investors despite the crisis. Moreover, another process has come to the fore that could be called "reverse globalization". Russian companies have started actively expanding onto international markets and purchasing international assets. The economic slump has interrupted this process. However, I would predict that very soon Russia and such countries as India and China will not only safely recover from the after-effects of the crisis but also take leading roles in the development of a global post-crisis economic model.

How do you think the crisis will affect Russia?
It is absolutely clear that the post-crisis world will see a certain shift in the international balance of power due, for example, to the increasingly important role played by the BRIC countries in the global economy. The US influence on the world economy is unlikely to dramatically decrease in the near future, but it will be counterbalanced by growth in the emerging econ-omies. The second major trend is the recognition of economics over politics. Multinationals and major national corporations act in a certain way as stabilisers, balancing not only economies but also political processes. Take, for example, relations between Russia and the US. These relations have cooled, to put it mildly, in recent years. Nevertheless, it was the US business community that strongly supported the continuation and expansion of cooperation between the US and Russia.

Even so, apprehension about Russia is quite widespread in the international business community.
Of course, if you look at Russia through the prism of newspaper and TV reports, biased as they are, you won't get a really good impression of the country. But businesses are built not on impressions. I know that this feeling exists and is rather widespread; it is lack of knowledge that breeds fear. Still, those who once made the decision to start a business in Russia have never regretted it. First of all considering that Russia's investment cost recovery and project yield including margin and workforce skills are greater than, for example, those of China. True, more guarantees and support from the state would be very welcome, but I would like to emphasise that today Russia has developed unique mechanisms to support communication between the government and the business community, enable those concerned to find solutions to a wide range of issues for promoting a favorable business environment.

Your statements sound very optimistic. Especially if we take into account the figures on the slump in financial activity...
At the very least, the government's timely anti-crisis measures have made it possible to preserve the banking system, and they have also made it clear that the country's leadership is prepared to take tough action against the crisis. The devaluation has led to a reduction in costs for exporters, and also for Russian producers as a whole. This boosts their relative price competitiveness, improve the position of exporters in foreign markets and also of those who are competing with imports on domestic markets. The outflow of bank deposits seen in November 2008 had been replaced by an inflow by December 2008. The transformation of deposits into investments may have a positive effect on the economic situation in the future (for the time being the banks have reduced the amount of credit in the economy and at the same time have raised interest rates, but the situation definitely will get back to normal). Under certain conditions holdings in Russia which have fallen in value may attract long-term investors.

Still, by the end of 2008 many rating agencies had begun to review their ratings downwards. And Russia was no exception.
Any credit rating is a risk probability analysis which assumes uncertainty. Therefore any assessment, even one by a reputable rating agency, is to a significant degree partial. I our opinion, in the present situation the downgrading of Russia, like that of many other countries, reflects a worldwide tendency to inflate risks, and correspondingly, in my opinion, to increase the premiums for those risks.

However, in Russia there are still a lot of problems such as, for example, corruption...
There may be some who don't like the fact that we now admit the existence of problems while focusing, however, on the ways to solve them. There are many external and internal factors that make Russia a complicated country. Those who focus only on the problems lose sight of real opportunities. It took Russia only 15 years to do what some countries achieved over several centuries. Russia's growing economy (whose nature is changing as it grows) reveals new challenges and offers their solutions in real-time. What is even more fascinating is that the problems are being resolved.
Near the end of the 1990s, the federal government focused on the reconsolidation of the country and the reestablishment or even complete reform of the regulatory framework for restoring the country's economic, political and social balance. The next step was to draft specific legal codes and to develop an appropriate legal framework together with mechanisms of corporate governance. Today it is time to develop a mechanism of system administration in order to deal with the problem of, for instance, corruption. It is an encouraging sign that the campaign against corruption was named a top government priority, together with development of regional infrastructure, removal of administrative barriers and rebuilding of the pool of qualified professionals. Not all actions of the government could be considered as perfect, but they do not bad job.Seen from this point of view, the crisis represents a very interesting turn of events that will set, to some extent, the priorities for the 21st century.

RN dossier
Ernst & Young is a global leader in assurance, tax and legal, transaction and advisory services. With the opening of their Moscow office in 1989, Ernst & Young became the first professional services firm to establish operations in Russia. Since then Ernst & Young expands its services and resources in accordance with clients' needs throughout the CIS.
For the past 20 years their practice grew from a single employee in Moscow in 1989 to 3,900 professionals serving over 4,000 clients in 16 offices throughout the CIS today. Since 1996, Ernst & Young has acted as auditor and reporting accountant on IPO transactions for 30 companies in Russia and the CIS, with a total of US$27.9 bn raised in these offerings.
Today the company operates in all major CIS industrial and financial centers (Moscow, St Petersburg, Novosibirsk, Ekaterinburg, Togliatti, Almaty, Baku, Kiev, Tashkent, Tbilisi, Yerevan and others. Ernst & Young is committed to serving not only clients but also communities. This is underlined by their involvement in the Foreign Investment Advisory Council (FIAC) in Russia, Belarus, Ukraine and Kazakhstan.
All rights reserved by Rossiyskaya Gazeta.