Medvedev admits that journalists need protection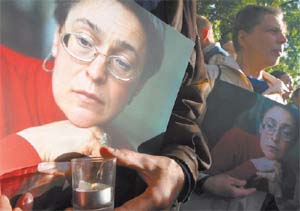 Murdered journalist Anna Politkovskaya is mourned by the public
The editorial office of opposition newspaper Novaya Gazeta - five of whose staff have been killed or died in mysterious circumstances in the last eight years -nestles in one of central Moscow's oldest districts, its Stalin-era building as solid as the spirit which fortified Soviet dissidents.
The paper's editor, Dmitry Muratov, thought about closing the paper in 2006, when its most prominent investigative reporter, Anna Politkovskaya, was gunned down outside her apartment. He thought about it some more, colleagues say, after the brutal slaying in Moscow last month of human rights lawyer Stanislav Markelov and Novaya Gazeta junior reporter Anastasia Baburova. But the newspaper soldiers on, continuing the work of Politkovskaya and other murdered reporters

One source of hope came when President Dmitry Medvedev spent an hour with Muratov and Novaya Gazeta co-owner Mikhail Gorbachev talking about the security problems journalists face. When Muratov raised the issue of closing the paper because its work was too dangerous, Medvedev reportedly told him it was out of the question.

"There isn't a single article that is worth the life or health of a journalist," said Vitaly Yaroshevsky, Muratov's deputy and the paper's social affairs editor. "But we still continue to do it."

After years of the authorities doing little or nothing to protect journalists' safety, the Kremlin meeting was a welcome surprise, and the president was "sincerely con-cerned", Yaroshevsky said.

And while that signal comes much too late, it is undoubtedly a positive one.

Getting hold of Muratov for more than the briefest snatches of conversation was practically impossible, as he was running in and out of his office on the way to a lengthy court hearing on Politkovskaya's murder.

He described his talk with Medvedev warmly in his editor's column, but with a sadness suggesting the gesture should have come sooner.

"Medvedev, I thought, was very moved by the fact that Stas and Nastya were so young," he wrote. "He said to us: 'Here we are, three people who have lived a while and know our risks - but it's particularly painful for the young.' Gorbachev said to Medvedev: 'This could have come much sooner.' And Medvedev replied: 'Mikhail Sergeyevich, I understand, but I didn't want any interpretation of my words to affect the investigation.'"

"I don't know which of the presidents is right," Muratov wrote. "Perhaps both, perhaps only one of them."

In a corner of the office's conference room hang photos of those journalists who died in the line of duty.

Igor Domnikov, who reported on corruption, was beaten to death outside his home in 2000. Editor and former State Duma deputy Yury Shchekochikhin died in 2003 in mysterious circumstances, of allergy-like symptoms that colleagues attributed to poisoning. Politkovskaya, who wrote about human rights abuses by federal and local forces in Chechnya and ran a virtual help centre out of her office, was shot in 2006. Now, it was Markelov, a lawyer who worked for the paper with clients including Chechens and environmentalists, and Baburova. To date, only the murderers of Domnikov are behind bars. But those who ordered the hit are still at large, Yaroshevsky says, as are all those involved in the other murders.

If law enforcement isn't catching the killers and preventing other slayings, one option is for journalists to arm themselves. This was proposed by one of the paper's shareholders, billionaire and former State Duma deputy Alexander Lebedev. Most didn't take to the idea. "Of course I'm against it," Yaroshevsky said, citing charters that forbid reporters to bear arms. But Nadezhda Prusenkova, responsible for public relations, sees self-defence as a much wider issue. "Statistics say that weapons help an assault victim survive in 5 to 7pc of cases,"she said." Our own correspondent in Sochi, Sergei Zolovkin, was attacked by a hitman. He drew his gun and the hitman ran away. If there is a chance to save lives, we should do it. It's more than just protecting journalists. The problem is bigger. It's a symptom of the state."

The paper's journalists shudder at the moral burden carried by an editor who sends a reporter on a dangerous assignment. There is no consensus on the right choice, but, privately, journalists choose perseverance. The tiny office of the paper's investigative department, where Politkovskaya used to sit, still has her books and calendars.

Her desk is now occupied by Dmitry Shkrylyov.

"We decided we would continue because it was Anna who brought us here in the first place," says Shkrylyov's wife and colleague, Daria Pylnova. Letters still pile up from people seeking help, and, rather than turning the area into a shrine or museum, colleagues opted to continue where Politkovskaya left off. Like several of her colleagues, Pylnova sees hope in the president's high-profile interest in the paper.

"That plant by the window -it was Anna's," Pylnova said. "After her death, it started withering. But now it's come back to life."
All rights reserved by Rossiyskaya Gazeta.