A G20 wish list from Russian business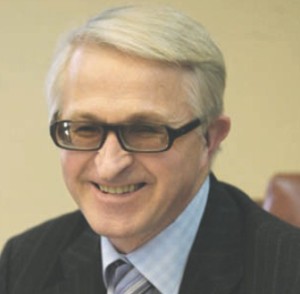 Alexander Shokhin, President of the Russian Union of Industrialists and Entrepreneurs

What does Russian business expect from the G20 summit in London?

It's very important for the G20 summit in London to make clear decisions. We don't want to see a rerun of the situation after the Washington G20 summit, which started with all the right words but ended up with national governments taking completely different decisions.

We can see the Americans and Europeans are taking different stances. The Americans are counting on injecting finance and supporting national economies. They're ready to give additional resources to the IMF so it can support countries in a pre-default position. The Europeans are emphasising regulation of international finance, the banking system, etc. I think the London meeting should find a compromise between these two approaches.

Russia, which itself is injecting quite a lot into its banking system and the industrial sector, is at the same time trying to draw up new legislation to regulate international financial systems. Russia could play a role - if not as referee, then at least as an even-handed participant helping to achieve compromise.

We need to build a regulatory system of accounting, auditing and rating to minimise the risk of fraud and provide an appropriate picture of what's happening on the markets. At the same time we need to synchronise specific steps on the world market, since at the moment there's clearly a gap between statements about the need to co-ordinate efforts and national protectionist actions.

Moreover, this protectionism, supporting and subsidising national companies to protect internal markets, is far from declining; it is growing stronger through new measures. The industries that always enjoyed government protection are being joined by new ones.

In my view, the main challenge for the G20 summit in London is ensuring a balance between the rise in protectionism and the need to set up global systems to co-ordinate national programmes.

What about US-Russia bilateral economic relations? A recent meeting of businessmen from the two countries stressed the necessity of defending economic relations against political risks. How can this be achieved?

There are at least two issues to address in Russian-American economic relations: first, improving the quality of co-operation, including major investment projects; secondly, jointly developing tools and mechanisms to counter the global crisis.

We have to make sure Russian-American political relations don't cloud our opportunities for business co-operation as they have in the past. For example, after the August 2008 events in the Caucasus, many American investors pulled money out of the Russian market - not just because of risk and profitability assessments, but because they knew it would be difficult to get help from the American monetary and financial authorities if they were actively working with Russia, which seemed to be `blacklisted'.

Undersecretary of State William Burns, known for his good opinion of Russia, noted in September that a greater outflow of capital from Russia, as compared to other emerging markets, was evidently a result of the situation in the Caucasus.

Of course, private investors will not rely on the recommendations of the White House or the Treasury, but they can see uncertainty in relations that could lead to all sorts of consequences. We remember talk of `isolating' Russia, of `starving it of oxygen' in different areas. Naturally, any investor wants to minimise risks. That's why we wouldn't like any difficulties - and I hope there will be fewer and fewer, or even none at all - which could result in demands to `isolate' or `freeze'. That would be the best political insurance against these risks.


---


Viktor Vekselberg, Chairman of the international cooperation committee of the Russian Union of Industrialists and Entrepreneurs

What does Russian business expect from the G20 summit? How are businesspeople preparing for the event?

The business community is counting on the G20 summit taking serious decisions to stabilise the global economic system. In my view, many of these decisions can be based on the principles and mechanisms laid out in the joint statement signed by the business federations of the G8 countries in Paris in December 2008. In particular, business communities in the world's leading countries are convinced that while the basic principles of the free market economy should not be put in doubt, urgent regulatory measures are nevertheless required from states and international organisations. We need to see flexible macroeconomic development strategies drawn up which are suitable for the current situation, in terms of both individual states and global scenarios for developing the world economy. It's also very important to pay due attention to the influence of various states' economies on others. Another factor in overcoming present difficulties is to restore the financial markets to normal operation and maintain uninterrupted production and trade cycles. Only when we ensure that can we get to grips with establishing rules and regulations adjusted for the current situation. I'm sure these issues will be dealt with more rigorously at the meeting of G8 business federation leaders during the G8 summit in Sardinia from 23-24 April.


On the USA
Can there be a reset in US-Russia business relations? Are both parties planning any joint actions for the G20 summit?

It seems to me that Russia and the USA are both aiming to renew economic dialogue, with the business community playing an active part. Both sides are indicating they wish to make this dialogue fruitful. The current situation is radically different to previous years. The atmosphere, while not exactly friendly, is at least marked by warmth and interest. There is undoubtedly a desire to work together. At the same time, it's no secret that our bilateral economic co-operation is not yet on a par with the scale of our economies. Last year, trade between our two countries was in the ballpark of $30 billion, but that is less than 1pc of the USA's overall trade. However, both sides clearly have a sincere desire to find new ways of resuming more intensive economic relations. I hope Dmitry Medvedev's forthcoming meeting with Barack Obama will open up a new stage, particularly in economic co-operation.

Both sides see the visit to the USA by a delegation from the Russian Union of Industrialists and Entrepreneurs as an important preparatory step for upcoming international political contacts, above all the G20 anti-crisis summit and the first face-to-face meeting between the current presidents. At a time of crisis it's all the more important to try again to give an additional boost to economic relations between Russia and the USA. It's very pleasing to see state authorities lending support to these efforts. When Vice-President Joseph Biden met us in the White House, he expressed support for initiatives to actively revive economic dialogue between our two countries. We were also able to agree a range of important parameters concerning immediate stabilisation of the global economy.
All rights reserved by Rossiyskaya Gazeta.