Clearing the path for collaboration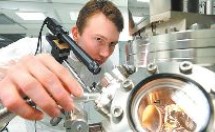 "India and Russia have traditionally strong ties in high-tech and fundamental sciences, and this trend will continue," believes Dr Y.P. Kumar, an adviser at the Indian government's Department of Science and Technology who visited Moscow in early March.
"Against the backdrop of globalisation, Russia and India will need to expand their partnership to maintain a competitive edge in the world technology market," says Dr Kumar. This applies not only to traditional areas of collaboration under the Integrated Long-Term Project (ILTP) for the past 20 years, but also new aspects such as joint project development in strategically important industries. "Last autumn, the Russian government formulated a new area of its investment strategy, and India is willing to embrace the opportunity," he says.

This opens new vistas both for joint scientific research and subsequent application of its findings. "We are placing a stronger focus on putting scientific achievements to commercial use. India and Russia should fully leverage their combined research potential," says Dr Kumar.

The topic was discussed at the last ILTP session in September 2008, which identified development highlights of this programme.

The session opened a discussion about the need to focus on the most promising directions of joint work. Dr Kumar noted: "We outlined five priority areas for co-operation, namely solar energy, hydrates, chemical research, nanotechnology and biomedical research."

Another important avenue is setting up research fellowships for Indian and Russian scholars, including the prestigious Ramanuja grant traditionally awarded by the Government of India.

Special attention was given to employing Russian researchers as consultants for projects.

Healthcare and renewable energy were the two programmes identified at the session as areas of particular importance for both countries. "We have agreed to design a roadmap for each area before the next session scheduled for mid-September 2009," says Dr Kumar.

He believes India is actively seeking ways of putting academic knowledge to its practical application by industrial groups and companies.

One such programme is the Global Innovation & Technology Alliance (GITA), established by the Ministry of Science and Technology together with the Confederation of Indian Industry. The primary goal of the programme is to step up this co-operation and ensure greater consistency of joint efforts.

"Speaking of Russia, we will stick to the plan for establishing a Technology Clearing House, which will help us to share information and may be part of GITA. A centre of this kind would help streamline the application of Russian technology solutions across Indian industries and facilitate efficient paperwork management, including validation of technology and full-scale document support," says Dr Kumar.

He also spoke of the need to partner with newly emerged Russian entities, particularly the Rosnano and Rostekhnologii corporations.

In recent years, India has witnessed major growth in the range of nanotechnology applications seen as a top priority. A special nanotech programme was initiated three years ago with a budget of nearly $200 mn. It involves over 40 R&D institutes and the infrastructure required for this research.

"Russia keeps up with India in this field. That is why we have chosen `nano' as one of the top priorities for both the ILTP and GITA," Dr Kumar notes. He also mentioned an international nanotechnology congress to be held in India on 14-15 April, with invitees including Rosnano and many Russian researchers in that field. "That is where we expect to conclude talks on nanotechnological development, which started during my current visit to Moscow."

Dr Kumar also believes in the continued relevance of other aspects of Indo-Russian co-operation, primarily in the energy sector and healthcare. "We already have an impressive track record in these fields. A joint Russian-Indian centre for TB vaccine development is a good example. This initiative was designed to benefit needy people and proved effective in the campaign against tuberculosis, one of the scourges of today's world. We continue to see the development of affordable vaccines and economical power supply for the public as priorities in work with our Russian colleagues."

He admits that joint technical research is hampered by the lack of an appropriate infrastructure and implementation mechanisms. A brand new approach to India-Russia co-operation may emerge with the establishment of the Technology Clearing House, intended to initiate a customisation process for new technology and identify ways of putting tailored or original technological solutions to commercial use.

In Dr Kumar's words, talks to establish the centre have been under way for more than a year. "Russia insists on a project-by-project approach, while we would prefer to start with development of a framework. A one-step-at-a-time arrangement does not strike us as highly efficient, owing, among other things, to project financing uncertainties," he observed. Moreover, the absence of a clearing house hampers our ability to ensure intellectual property compliance and to curb attempts at illegal use of technology.

"We have arranged to set up two parallel centres for development of new projects".

He pointed out that workable interaction mechanisms would provide for a stronger competitive position of both countries in the global high-tech market.

"I hope that, as part of the current Year of India in Russia, we shall be able to identify new prospects and overcome some of the challenges that prevent Russia and India from realising their full collaborative potential."
All rights reserved by Rossiyskaya Gazeta.