A magical Siberian Switzerland that is waiting to be discovered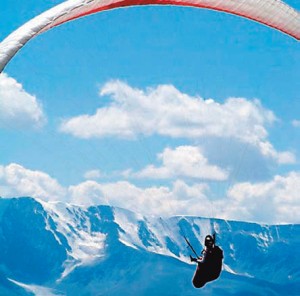 Last year saw the presentation of two tourism and recreation SEZs in the Altai area: Azure Katun and Altai Valley, which are expected to reach full capacity in three to five years' time, when they will host up to 200,000 tourists a year.
The Altai Mountains offer unique scenic, cultural and historical attractions, with rushing streams, alpine meadows, rocky mountains and caves. The air has twice as many ions as in the Swiss Alps. Azure Katun, a tourist complex opened in 2001, bills itself as the "Altai Adventure Park" and will be geared to youth, sports and extreme tourism. The Altai Valley project is aimed at familes, with an artificial lake and three artificial islands and hotels to suit various incomes, sports grounds, an aqua park and an ethnographic village. Two ski resorts with 32 tracks and 15 lifts are to be built near Lake Mangerok and the Karakol mountain lakes.

The Altai Valley has some extra lures: it borders the other tourist attractions of Kazakhstan, Mongolia and China; and investing in tourism is safer and more profi table where there is high liquidity and the Republic of Altai is near the top of the relevant regional ratings.

In addition, one of Russia's four gambling areas, "Russian Las Vegases", is to be set up in the Altai area. (By July 1, 2009, gaming will be banned everywhere in Russia apart from the four gambling zones.)

Finally, the Altai Valley is a site ready for development, it has an infrastructure for building major tourist facilities in place. Access is the key problem for SEZs in the Altai area. The government has earmarked more than $42.7m for modernising the airports in Biisk and Gorno-Altaisk, which are close to the holiday zones. SEZs in the Republic of Altai are not a mere declaration of intent, but a real project in progress. Construction of the Altai Valley will begin this year, with the ground-breaking ceremony scheduled for September. At present, nine resident companies have been registered in the Altai Valley and 4bn roubles of investment has been committed.

Total investments are to reach at least 11bn roubles, with $300m to be invested in the Azure Katun and $384.5m in the Altai Valley. Negotiations began last year with the Korean company VongPlan Global about creating non-traditional medicine centres based on the healing properties of Siberian stag antlers.
All rights reserved by Rossiyskaya Gazeta.