New moves on human rights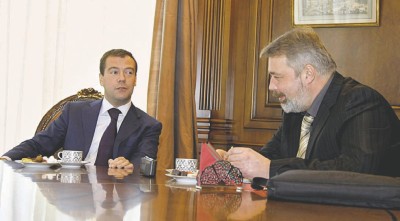 Medvedev told "Novaya Gazeta" editor Dmitry Muratov why he chose to be interviewed by his newspaper: "You have never licked anyone's anything." He agreed these remarks could be made public.
President Dmitry Medvedev listened intently to concerns at a recent meeting of the Presidential Advisory Council for Promotion of Civil Society and Human Rights. The president heard from activists and ordered full transcripts of their candid remarks should be posted on the Kremlin site.
Medvedev demonstrated a readiness to listen to average Russians shortly before a meeting that led to the anti-establishment "Novaya Gazeta" printing the first interview given to a Russian newspaper in his capacity as president. It was Medvedev's personal initiative, an expression of "moral support" for the paper, said his press spokeswoman Natalia Timakova.

The Presidential Council for Promotion of Civil Society Institutions and Human Rights comprises 36 representatives of non-governmental organizations (NGOs). In February, Medvedev made major changes in its composition, bringing in Svetlana Sorokina, an "Ekho Moskvy" radio journalist, Yelena Panfilova, the head of Transparency International in Russia, and Irina Yasina, an opposition politician who headed the Open Russia Fund, financed by Yukos. "The new council members used to be called `Western spies', with whom the Kremlin had no truck over the past eight years. By contrast, figureheads were dropped," said Alexei Makarkin of the Political Technologies Center.

During the meeting, council members aired their grievances. Medvedev anticipated the main claim: his opening address tackled the problem of tough legislation regarding non-commercial organizations. In 2006, controversial amendments were added to the law on NCOs to stop "funding of illegitimate political activities from abroad." The amendments toughened NCO registration procedures and extended the list of grounds for withholding registration to include "threat to sovereignty and national security." Medvedev expressed sympathy for the organizations, whose "life is not easy" and whose activities are sometimes restricted "without valid reason, because bureaucrats see [them] as a threat to their unlimited sway." "We have a deplorable tradition which still tells on the relations between power and civil society," Medvedev admitted, adding that the law had to be amended - specifically regarding taxation and rules of interaction with power bodies.

Participants in the meeting shared their worries with the president, which ranged from the environment to prison conditions for mothers with young children and pregnant women. Medvedev promised to study the behests of his council. He told the rights campaigners, who are members of his advisory Civil Society Council, that public dialogue was essential for handling the current economic crisis. "It is clear that in times of crisis, we should think about strengthening mutual understanding and trust between the state and the civil society," he said. "Without this, we will not be able to overcome the crisis."

Boris Makarenko, a senior analyst with Medvedev's think tank INSOR, said the President's new line was part of a coordinated policy of he and Putin rather then a sign of a rift between them. "The very choice of Medvedev as president showed Putin was ready for a certain correction of the political style," he said. "What will happen is mild liberalization. This is a signal to elites that the ban on political competition is over. "The crisis only made these steps more urgent," he added.

Fyodor Lukyanov, chief editor of "Russia in Global Affairs," who took part in the meeting, said that the President had admitted that he did not have enough information channels and that he wanted to know various points of view. For the human rights activists the main thing was that their grievances were heard. "The President listened to all the contributions, from general matters to specific complaints," Mr. Lukyanov noted. "It turned out that the authorities and the civil society have the same concerns."

Alla Pamfilova, chair of the council, made a balanced assessment of recent progress: "It's good that government officials are publicly declaring their incomes and property, but it's more important to know where their property is located - in this country or abroad? And what is even more important: where are the children of our elite studying or working?"

Based on articles from Kommersant and Vremya Novostei


---

Last week, the Russian President started blogging on the LiveJournal social networking site. Medvedev said he uses the Internet every day and believes it to be one the best platforms for public debate. http://community.livejournal.com/blog_medvedev
All rights reserved by Rossiyskaya Gazeta.