Asian markets are wide open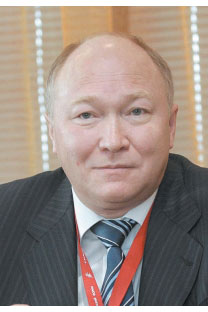 Russian aviation companies are ready to compete on the Indian market, offering competitive prices to Russia's long-term strategic partner. Alexey Fedorov, President of the UAC, plans not only continuation in the military sphere, but also targeting the industry's commercial side.
Russia has been the major supplier of weapons to India for a long time, but the situation seems to be changing after the advent of the US makers to this market. What does United Aircraft Corporation is going to do to keep its positions in India?

The new procurement policy of the Indian government targets diversification of purchases. We respect this policy. It is clear to us that the Russian manufacturers cannot be monopolists in the Indian aviation market. What we do is that we try to participate in all of the key international tenders launched by the Indian government, and offer most competitive products on attractive terms. One of the ways to increase attractiveness is to create joint ventures and join forces with Indian companies on development of new common projects, such as the Multirole Transport Aircraft (MTA) and Fifth-Generation Fighter Aircraft (FGFA). These new products will enable us to keep our positions in the Indian market and strengthen them.

What are the major products that UAC will be promoting in the Asia-Pacific?

For many years the Asia-Pacific has been the largest market for Russian defense products. And it will be so in the foreseeable future. We are all set to maintain our presence here by means of introducing new products. Sales opportunities are plenty. First of all, we see some opportunities in the military market, mostly for fighter aircraft. There are two new products in UAC's portfolio: the Sukhoi Su-35 heavy fighter and the MiG-35 medium fighter. Both belong to 4++ generation - very advanced aircraft, with totally new, state-of-the-art avionics. Both fighters have modern engines with vectored thrust. They are equipped with new radars with electronically scanned antennas: the Su-35 has a passive phased-array antenna and the MiG-35 an active phased array antenna. So, UAC has got these two new products, and, naturally, is looking for customers in this region. We have a plan to start deliveries of these fighters in 2011-2012. As you probably know, the MiG-35 is also offered in the Indian defense ministry's tender for Medium Multirole Combat Aircraft (MMRCA). We believe our chances are high enough.

Many countries of Asia-Pacific Region operate a lot of Soviet-era equipment: aircraft, missile systems, armored vehicles and so on. Meantime, the economy of these and other countries grew very strong recently. Not just India and China, but also Vietnam, Indonesia, Malaysia etc. There have been lots of talks about post-modernization in the coming years. Have you been talking to these smaller countries?

Yes, we are talking to them. We have made offers to Vietnam and Indonesia. These two countries have been our customers for many years. We have some contracts with them. Indonesia continues taking deliveries of Su-30MK and Su-27SK series fighters. Vietnam acquired a quantity of these aircraft as well. Today, we are very close to securing follow-on contracts with those countries. Our prospects there remain very positive.

Markets of such countries like Vietnam used to be completely in the hands of Russian manufacturers. Now, there is a growing competition there, after the advent of manufacturers from other countries. Not only the Americans, but also the Chinese. The Europeans are also very actively pushing their products. How is UAC going to keep its positions in these markets?

First of all, we will try to keep our presence there by offering our long-standing customers tailor-made products. Through long-term experience of cooperation with those customers we know their needs and expectations, and also the environment in which our equipment is operating. The technical level of our aircraft, for the given price, makes them very competitive. Besides, we offer our long-standing customers attractive terms, possible through export encouragement programs of the Russian government. We also offer customized after sales support programs that take into account the realities in the given countries. We interact with local firms, offering them attractive packages, keeping them involved in the product support system.

Generally speaking, we understand that the recent changes in the global political situation mean that "exclusive markets" without any competition are things of the past. In some countries where Russian suppliers used to enjoy exclusive rights, the markets are now open to competition. In some of them the competition is very strong, reflecting the advent of the global manufacturers. But we are ready to fight.

Russian products have had some customer support issues for the last few years - that's what we hear in the news. Do you take necessary steps to rectify these issues? The competition may use alleged weakness of Russian production to its advantage.

For the sake of better customer support we have opened special service centers in several countries of the region. Also, western companies are participating in our new projects as well. For instance, there are a few of European companies working hand-in-hand with us in the system of industrial cooperation on the MiG-35 that is being offered in the MMRCA tender. A number of European firms take part in the Su-30MK project. These partners of ours have their customer support centers in the region as well. This is also a factor in improving after-sales support of our products.

The largest buyers in the region are looking not just for customer support. India, for example, is looking for technology transfers. How far can Russia and UAC go in providing technology transfer to these countries?

We have a very long history of relationship in the sphere of military technical cooperation with India. The history of our cooperation contains many examples of technology transfer. The local manufacturers have mastered license production of the MiG-21, MiG-27ML and Su-30MKI - just to mention a few of our joint programs.

Transfer of sensitive technology is at issue for every manufacturing nation. But, in the case of India, we have no objections from the side of the Russian government. India is Russia's strategic partner. As per other Asian countries... first, we take a close look at what a particular country wants, what industries this given country has and which industries it wants to develop. We have had good experience with Malaysia in helping it develop in-house capability when arranging arms deals with this country.

We sold MiG-29 fighters to Malaysia, with deliveries in 1994. The deal was not limited to deliveries of Russian-made aircraft: we shared some of our technologies with a number of Malaysian companies. Some of those companies continue to stay in the business of supporting Russian-made aircraft in service with the Royal Malaysian Air Force. Certainly, we want to keep good relations with our traditional partners in the region.

Russia and China have been partners on military technical cooperation for a long time. But now China is actively developing its own industrial base, with intent to export its fighters, helicopters and other equipment. Not just to Pakistan and their other traditional customers, but also to other countries in Asia and Africa. Is China becoming more of a competitor? Do you think Chinese-Russian relationships are changing?

Indeed, the situation with China is a complex one. On one hand, we are partners: Russia has delivered to China quite a few of our fighters and other equipment, and helps to support these items in the Chinese service in collaboration with local organizations. Besides, some new Chinese fighters are equipped with Russian-made power plants. So, we are industrial partners. On the other hand, we are rivals. In the global market, China is now a very strong competitor. Not just for UAC, but for any manufacturer regardless of its origins.

Chinese economy grows fast and local manufacturers have a growing anchor market, which is already substantial. Chinese aircraft are also competitive from the financial side. Besides, in order to facilitate sales in the new markets, the Chinese support their low sticker prices with a very nice financial package. Customer support system is developing... So, there is a lot of things that makes us look at China very seriously. But we have our own strengths. Those are our high technologies, superior performance of our aircraft, etc. I think our products are more advanced, and that is our main advantage.

Russia sold China Su-30MK2 fighters, which are very advanced aircraft. Are there any plans to involve China in a possible cooperation on the next-generation fighter program? Do you think there is a place for a joint program with China that would address the next-generation of fighter aircraft?

If such a move is made, it will be a political decision. It is up to the governments of Russia and China to decide whether our countries could extend their cooperation further, to such an extent that it covers the issue you have mentioned. If that sort of decision is made, we can involve China also.

Russia has been strong in the weapons market. What are UAC's plans in commercial aviation?

Indeed, we are very good at military aircraft. While keeping our presence in the market for combat aircraft, we want to improve our positions in commercial aviation and capture a good portion of this market. Civil aviation in Asia has been growing fast, with local carriers placing repeated orders for new passenger airliners of the western origin. UAC hopes to sell quite a few of our new aircraft in the Asian markets.

We are developing a number of new commercial aircraft designs. These include the Sukhoi Superjet 100 (SSJ100). Two SSJ100 prototypes have been assembled and flown. They are now involved in the type certification process. We hope to complete certification trials by the end of this year, and start deliveries to airline customers shortly after. Besides, we have another very ambitious project, the MS-21. This is a next-generation mainline aircraft with versions seating from 150 to over 200 passengers. We plan to be in the market with this aircraft sometime after 2015.

What is the status of the MS-21 program?

The MS-21 is at the preliminary design stage. We have frozen the concept of this aircraft. Now, we have opened global tenders for subcontractors. We need to determine suppliers of engines, avionics and various onboard systems. Selection shall be completed this year in order to launch the aircraft into full-scale development next year.

The two new products you just mentioned are in the classes of regional aircraft and narrow body mainline airliners. But Russia used to produce larger aircraft, including widebody passenger airliners. Do you find this more challenging now, from the viewpoint of economics, to develop next generation of large commercial transports?

If you take a good look at the global market, you will find that the civil market is several times larger - five to six times - than the military market. Asia is no exception from the rest of the world, with sales of commercial airplanes exceeding those of military aircraft. That is the reason why we are moving forward with our plans for new commercial aircraft designs. But we need to do it with care. While the civil market looks very attractive, you must define and position your new civil aircraft designs very carefully.

That is why we have formed a special division in the UAC corporate structure, "UAC - Civil Aviation". We will continue production of our legacy platforms developed by Tupolev and Ilyushin design houses. There is no doubt about this. But our main target is development of new designs. In addition to the SSJ100 (in the class of large regional jets) and the MS-21 (in the class of medium-range single-aisle mainline airliners), we are conducting feasibility studies on a widebody twin-isle aircraft.

Recently, the Russian aviation industry has been restructured, with UAC bringing several manufacturers under one umbrella. How important is this for Russia once it aims to become a global player in the market for civil aircraft? How important is this reorganization?

It is absolutely necessary. The reorganization aims at bringing all Russian brand-name manufacturers into a single company. This single company will have three main divisions: Military, Civil, and Cargo Aircraft. We have to concentrate all of our resources - engineering, production, finance. This is because the Russian domestic market is rather small. You need to be in the global market and sell your aircraft worldwide. And for this you must concentrate all of available resources.

Russia is bidding in the MMRCA tender with the MiG-35. What are the main advantages of this aircraft over the competition?

We believe the MiG-35 is the most advanced aircraft in the given class. Its design has incorporated the best of our technologies. As of this time, this is the only export-cleared Russian aircraft to have an active electronically-scanned array (AESA) radar. AESA is the most advanced radar technology available. Besides, our bid comes with a very attractive offset program. We are ready to transfer any technology to India within the frames of this project. Radar, electronic warfare systems, engines - everything. This gives us a good chance to be selected.
---

RIR Dossier
Alexey Fedorov became UAC President in November 2006, when the Company was incorporated. He is also a member of UAC's Board of Directors and Chairman of UAC's Executive Board. Prior to heading UAC, Fedorov was General Director and General Designer at the the Russian Aircraft Corporation "MiG", where he held the position since 2004. Fedorov is currently Chairman of the Board of Directors of the following companies: JSC Aviation Holding Company Sukhoi, JSC Scientific and Production Corporation IRKUT, JSC Ilyushin Interstate Aircraft-Building Company, JSC Ilyushin Finance Co., JSC Tupolev, JSC Finance Leasing Company, JSC Nizhny Novgorod Aircraft-Building Plant Sokol.
All rights reserved by Rossiyskaya Gazeta.