Roast goose for Vaclav Klaus and robalo fish for Jose Manuel Barroso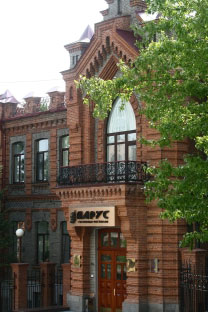 The most important guests at the summit will stay at the Parus Hotel, which was built in 1945 as a residence for US President Dwight Eisenhower
The head chefs at the restaurants where the European officials will be taking their lunch and dinner will be preparing some special dishes. Thus, for example, the favourite dish of Javier Solana, Secretary-General of the EU Council, is stuffed sweet pepper and spicy mutton stew with spaghetti, and that's what they'll give him. The ingredients, however, will not be local, but specially brought in from Spain. For dessert there'll be cheese, cottage cheese, fresh fruit dipped in chocolate, and traditional Spanish buns.
For Vaclav Klaus, current EU President, goulash is being prepared according to a family recipe. It will be cooked by a Czech chef, but the recipe is being kept secret. The Khabarovsk cooks have been given an order of roast goose and cabbage, with Czech knedliky (boiled wheat bread dumplings). There will also be fried potato pancakes, known as bramboraky, and also the famous Czech roast pork with dumplings and cabbage. For dessert there will be sweet kolace pastries.
Jose Manuel Barroso, President of the European Commission, adores sardines, tuna, and also croquettes of crab and other seafoods. For Barroso they'll be cooking robalo fish. There will also be Portuguese cabbage soup - almost the same as the Russian variety - known as caldo verde.
The Russian delegation will be given slices of smoked salmon with leeks, Kamchatka crab claws, saddle of venison in rosemary pastille pastry with bilberry jelly, a regular Olivier salad and truffles. There will be Almendoa Amarga almond liqueur, dry table wines and Tsarskaya vodka on the tables, plus red caviar.
The overall estimate for the cost of the summit is almost 100 million US dollars.
All rights reserved by Rossiyskaya Gazeta.