High-Tech: is IT the answer to the financial crisis?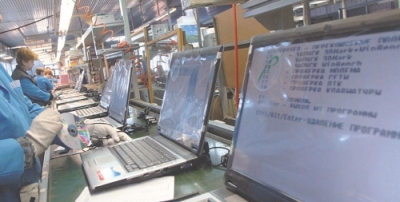 Roverbook laptops on a production line in the Infomash factory in the Ulyanovsk Region
Several entrepreneurs have proven it is possible to rapidly develop a business focused on innovation. The last economic crisis in 1998 catalyzed the expansion of Russia's information technologies sector. Can it happen again?
In 2007, it seemed clear Russia was not a shining star among emerging markets when it came to high-tech. Neglected scientists, a lack of state support, bloated state companies, corruption and red tape had all stymied any profitable innovation. Analysts and journalists agreed Russia had missed its nanosecond when it came to high-tech.

President Dmitry Medvedev explained the lack of results bluntly: "Encouraging innovation is something we talk a lot about but, frankly speaking, no breakthrough has taken place... almost nothing has been done in the high-tech and nanotechnology industries, while the money allocated is not being used," he told Itar-Tass in late 2008.

However, one of the few positive surprises of the economic crisis came from this neglected industry: the few existing high-tech companies remained profitable, unlike many firms operating in `traditional' metallurgical and raw materials sectors. Taking note of this, venture capitalists and software giants began to invest in the industry.

Microsoft's recent announcement that it is making a $300 million investment into the country's fledgling tech infrastructure underscores that potential.

"Microsoft views Russia not only as a market of strategic importance, but also a global center for innovation and growth," Nikolay Pryanishnikov, President of Microsoft Russia, told Russia Now.

"Strategically savvy companies realize this is the time to gain a competitive edge they can leverage when the crisis is over, which is why they choose to invest," Pryanishnikov said. "In many cases, economic downturns encourage people to seek new business opportunities and develop something new. This was the case in the 1990s when the majority of the Russian high-tech industry was born, and it could be the case now."

At a recent press conference in Moscow, Steve Ballmer, CEO of Microsoft, praised the Russian government's anti-crisis efforts and promised the money would go toward increasing Russians' computer literacy skills, establishing innovation centers throughout the country and providing free software to start-up companies. By 2012, Microsoft hopes to provide 300,000 Russians with IT skills and training.

A new generation of tech entrepreneurs is beginning to reveal itself, as was the case during the last crisis. The most famous, of course, is the search engine Yandex, launched in 1997.

The company's growth has been impressive, despite economic ups and downs. Yandex's revenue topped $300 million in 2008, and it has maintained more than half of Russian searches, while Google maintains about one quarter. Russia remains one of the few countries in the world - along with China, South Korea and a few others - where a domestic search engine remains more popular than Google, Yahoo or any other international giants.

Fortune Magazine reported that Yandex had an `arguably superior' search technology than their U.S. rivals, rooted in the highly complex nature of word endings in the Russian language. The company recently opened its first office in California, not far from Google's headquarters.

"We're happy to coordinate with Yandex, a key player in the Russian market, on our first joint project for Internet Explorer 8 distribution," said Pryanishnikov. Firefox 3.1 also selected Yandex as its default set provider in Russia - over Google.

With the help of government incentives - such as recently established `special economic zones' (SEZs) for innovation - experts see mini-Silicon Valleys springing up in unlikely hubs like Akademgorok, Nizhny Novgorod and St. Petersburg. In these hubs, scientists and designers are encouraged to wear flip flops and, most importantly, develop not only high-tech ideas, but marketable products. "We have a great number of people with a high level of education who are ready to use new technologies to create startups," added Pryanishnikov.

"Russia actually looks more like a developed market, but one that still has opportunities to grow quickly," commented Pryanishnikov. Covering 20 percent of the earth's surface on 11 time zones has its advantages: the need for digital services will always be high, and will keep increasing.
All rights reserved by Rossiyskaya Gazeta.