Founder of Russia's largest search engine Arkady Volozh: Russia's answer to Google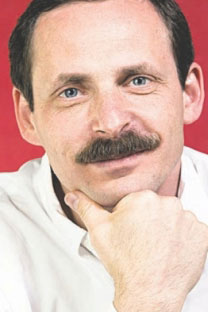 Even in the midst of the crisis, Volozh is not willing to give up Yandex.

RN Dossier
Arkady Volozh got his degree in applied mathematics from the Gubkin Institute of Oil and Gas. In 2000, he left his position as CEO of CompTek, one of the largest distributors of network and telecom equipment in Russia, to become the CEO of Yandex, which he founded in 1997. Arkady is married and has three children.


How was Yandex able to hold on to its `home territory' and successfully compete with Google in the post-Soviet market?
I see two critical factors. First, Russia has a large enough audience using the Internet. Secondly, we have a strong mathematical - and, thus, computer programming-culture in Russia. Hence hundreds of highly skilled persons are able to design and provide competitive internet services. That's why Russia has Yandex.
In Russia, we have experienced a 25 percent annual growth in internet users over
the last several years. Millions of people come online each year, and many of them choose Yandex as a search engine. This means we continue to offer a competitive product that people like, and remain focused on this booming, and largely untapped, market.

How is the "Russian Internet" different from the internet in other languages?
One major difference is that the Russian internet is much less regulated than the Internet in other languages and countries. It's a myth that we have very strict rules governing content. Sometimes it's good, sometimes it's bad, but currently practically "anything goes" on the Russian web.

Why did Yandex recently open a laboratory in Silicon Valley?
Our main resource is people: we go wherever we find them. We have our main offices in Moscow, smaller labs in St. Petersburg, Yekaterinburg, Kiev and a few other places and, now, in California. The team in Silicon Valley consists of Americans (including some Russian-Americans), and they use English as their business language.
We are trying to dip into the talent pool centered in Silicon Valley - both technical talent and business-model talent. Our presence is in no way an "intrusion" on Google's territory. Our company is still focused on the domestic market. While some IT companies outsource to Russia, we are outsourcing to America.

How has the global economic crisis affected Yandex?
Our main source of revenue is search advertising. We have been lucky...because some parts of the Internet advertising market continue to grow. Plain old "Internet banners" have dropped, but more targeted search advertising has actually grown. In part, that's because they produce measurable results.
In revenues we are growing slower than before the crisis, but we are still profitable. We chose not to lay off personnel, although we have stopped expansion. We are currently taking a `wait and see' strategy, restructuring parts of the company and focusing on our core business of search.

What are the most significant problems Yandex experiences in Russia, that it would likely not have in more mature markets?
In more mature markets, launching an Internet service usually means using already existing digitized data. Digitized maps or automated hotel reservation systems existed before internet era. Here in Russia Internet is the driver for digitalization. Sometimes we need to create digital content ourselves and only then start a new service.

Prior to the crisis, you were planning an IPO? What happened?
We went through the entire preparation process for a NASDAQ IPO and were almost ready to go public just before the crisis hit. It's probably good that we didn't do that, because we wouldn't have had the maneuverability to guide the company through the crisis that we do now. On the other hand, even without the IPO, the preparation itself helped us to become a stronger, more mature company. We still consider an IPO as an option sometime in the future.

For you, is Yandex just a business, a hobby or even a child?
If - 10 years from now - somebody offers to buy Yandex from you, would you agree? Any good business is a hobby. We have an integrated company culture and I can honestly say that many people who come here to work make Yandex a central part of their lives. I wouldn't sell everything, but if somebody wanted to buy a portion of my shares, I would probably consider it.
All rights reserved by Rossiyskaya Gazeta.