Opel deal, WTO Surprises (15-21 June)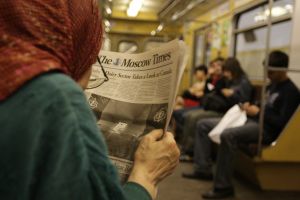 Russian Opel

The Opel deal was the most striking business news in June. RBC Daily, a leading Russian business title, wrote: "What appeared unthinkable has become reality. With 35 percent of stock, Sberbank will be the biggest Opel shareholder; it believes the new asset will upgrade the Russian auto industry."

German Gref, Sberbank's chairman, told Vesti television channel, "We want to buy such assets to re-engineer the Russian motor industry. It is a good opportunity for Russia to acquire one of the most advanced automakers in Europe at an historic low price."

RIA Novosti, a Russian state-controlled news agency, said the government was also involved. Arkady Dvorkovich, a Presidential aide, explained that "This element of pre-existing strategy was adopted some time ago. We regard the acquisition as helping integrate Russia into the global economy and modernize the Russian automotive industry."

The independent Vremya Novostei paper reminded the public about a meeting in Munich in October 2006, when Russia's then-President Vladimir Putin reassured the German business audience on account of aggressive Russian investors: "Those who are coming to you today are not the Red Army, but capitalists like you!" The newspaper continued, "The global crisis has achieved what the Russian government had been struggling to do for several years: forcing the West to embrace investors from Russia. The Opel deal, with the largest Russian retail bank-over 60 percent owned by the Central Bank-is momentous."

A less sanguine judgement came from Evgeny Bogdanov, Director of A.T. Kearney in Moscow, quoted by business newspaper Vedomosti. "Hopes of gaining free access to technologies are misplaced. The deal can be regarded merely as portfolio investment, and will have no economic impact on the Russian motor industry."

Russia will not help the U.S. in deploying missile shield

A recent statement by U.S. Defense Secretary Robert Gates created a stir: "Russia came back and admitted we were right in about the Iranian missile threat, and that they were wrong. I hope we can build on that."

Moskovskiy Komsomolets, a popular tabloid, interpreted this as a proposal to place the radar on Russian territory. According to RIA Novosti, the Pentagon's boss said "suggestions to locate radar or data exchange centers in Russia are among options being discussed." Nezavisimaya Gazeta writes that the U.S. is considering alternative solutions in exchange for Russia contributing to European security against Iran.

But speculation has ceased, at least for a while, by Foreign Ministry spokesman Andrey Nesterenko. He said negotiations on a joint anti-missile system could not begin until the U.S. gave up plans for a third missile defense site in Poland and the Czech Republic. "Only once this issue has been settled can we begin dialogue on cooperation," he stated.

He clarified Russia would not take part in building installations "intended for countering our strategic deterrent forces," concluding that nobody would ever want to shoot themselves in the foot.

Russia wants to join the WTO only with customs partners

The business press was openly perplexed by the Russian government's decision not to join the WTO on an independent basis, but to apply for membership with two neighbors. Vedomosti says: "Following 16 years of negotiations, having agreed nearly 95 percent of terms, the Russian government decided to kiss it all goodbye. The process will start from scratch, but Russia will go together with Belarus and Kazakhstan as a single customs union, due to be established by early 2010."

Rosbalt news agency quotes Finance Minister Alexey Kudrin, who is confident accession talks will begin in 2010. "We will seek to preserve and maximize gains from previous WTO negotiations. I think 90 percent will be integrated into the new format," he said, adding that Moscow had adopted a number of legislative acts to support the process.

Yet some Russian experts believe there is no need to rush into the WTO until the crisis subsides. "So far, Russia has not suffered from remaining outside the WTO; in today's economic turmoil we can still take advantage of higher import duties without breaking WTO rules. This is not desirable for other countries, but necessary to Russia's pragmatic economic policy. We can raise tariffs within reason," said Valery Mironov, Deputy Director of the Development Centre research foundation.

In contrast, economist Evgeny Yasin is quoted by Izvestia newspaper as saying the recent decision "will only delay Russia's membership of the WTO without benefit. We refuse to learn how to work, and keep inventing ways to get into trouble."
All rights reserved by Rossiyskaya Gazeta.