Pink Floyd comes to the Caucasus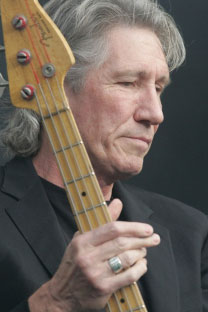 Roger Waters (Pink Floyd)
On May 22 in the heart of the Caucasus, at the foot of Mt. Elbrus, the city of Nalchik resounded with the magnificent music of Pink Floyd. After touring Japan, the English group Off the Wall brought its celebrated show "The Spirit of Pink Floyd" to the Caucasus. The group, founded by Richard Wright himself, consists of nine musicians from Great Britain who have been touring the world for seven years to tremendous acclaim and halls of many thousands. They do not have a free day in their schedule.
The concertgoers in Nalchik were treated to a two-hour show with a super-state-of-the-art acoustic system, kilowatts of light, and a video installation projected on a round twenty-five-foot screen - all this combined with performances of the most famous compositions by the legendary group Pink Floyd made this show by Off the Wall one of the most brilliant and effective.
The Nalchik audience was thrilled: they danced and sang along with the musicians. And if it was perfectly natural to see forty- and fifty-year-old Pink Floyd fans that had grown up in the Soviet Union on pirate copies of Pink Floyd music, then to see twenty-year-old Pink Floyd aficionados was a pleasant surprise.
Members of Off the Wall admitted to having been afraid of coming to the Caucasus, but what they saw here changed their impression. They were especially surprised and pleased that people knew the songs and sang along.
All rights reserved by Rossiyskaya Gazeta.