Recurring stumbling blocks on the road to understanding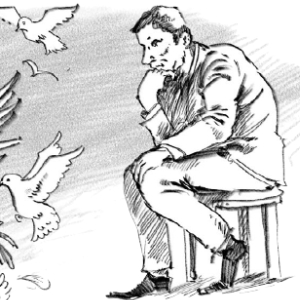 Examples of this unfortunate state of affairs are easily found both in distant and recent history. In 1914 Russia and Great Britain together narrowly saved France from being occupied and probably partitioned by imperial Germany. At the time, Britain forgot that not only Germany, but also Russia was not exactly a democracy. The revolution of February 1917 changed all this, and Russia was declared a democratic ally in the fight against autocratic Germany and Austria. But it soon transpired that most Russians did not share this opinion during the period of anarchy and violence that followed February 1917. The tragedy of the Bolshevik revolution of 1917 became a direct consequence of this sad state of affairs, and ushered in a period of mutual estrangement.
Relations remained sour until 1941, when the threat of a Nazi victory threw Russia and Britain towards each other. During the Second World War, Britain and Russia somehow stopped teaching each other socialism and democracy; there were no extradition disputes or trade wars. But these inclinations resurfaced after 1945 and the defeat of Germany, and they were trends that would continue until 1985-1987, when an economic crisis in Russia made the new Soviet President, Mikhail Gorbachev, a person whom even Margaret Thatcher "could do business with".

The collapse of the Soviet Union in 1991 was seen in Britain as positively as the February revolution of 1917, though once again Russians disagreed with this assessment. The worsening of relations continued until 2001, when the terrorist attack against New York made friends of Prime Minister Tony Blair and President Vladimir Putin. This friendship, however, lasted only until the moment the terrorist danger subsided, and Mr Berezovsky continued the century-long tradition of controversial characters from Russia seeking political asylum in Britain and ruining Russo-British relations.

Commercial disputes between Russian and British companies, as well as the Litvinenko case in 2006, followed the same pattern. The dispute between the Russian company TNK and BP was bitter and destructive, but was Russia at fault? TNK's owners Pyotr Aven, Viktor Vekselberg and US citizen Len Blavatnik are indeed global business players, with interests and responsibilities far beyond Russia's borders. All three have reputations of being tough negotiators. Aven is especially noted for not letting go of something he considers to be his own. He was known for this long before John Browne, the chief of BP, chose TNK-BP as its partner in Russia, boosting BP's oil reserves by a third. So, when Aven and his friends got the impression that BP was not living up to its obligations, a conflict became inevitable. Conflicts like this happen in many countries, but letting Russo-British relations fall hostage to a brawl between several multimillionaires with double chins and triple citizenships would not be the wisest line of behaviour.

The same is true about the death in London of the former KGB operative Alexander Litvinenko. The case of Mr Litvinenko was indeed tragic, but the media circus around it obviously did not serve the purposes of the "fair trial" which the British legal system is supposedly able to give to Mr Lugovoi.

The fact that during the Litvinenko affair, Berezovsky was "advised" on handling the British media by Lord Timothy Bell, a member of the House of Lords and owner of one of Britain's most successful PR companies, did not add to the credibility of the case's coverage by British media in the eyes of the Russian public. The choice by Lord Bell of Belarusia's President Alexander Lukashenko as his next client only added to the controversy.

After all, Russia also has its public opinion, and improvement of the two countries' images in the eyes of their respective populations should not be a one-way street. One can only hope that one day Russia and Britain will agree not to teach each other useless lessons, using controversial characters as learning material - without needing wars and/or other misfortunes as incentives for this change of attitude.

Dmitry Babich is RIA Novosti analyist
All rights reserved by Rossiyskaya Gazeta.