Mission impossible? Not for these two (video)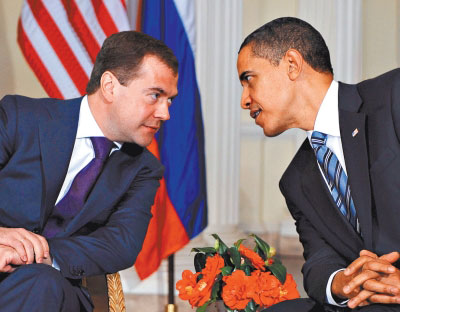 US President Barack Obama is expected in Moscow on July 6-8 for his first summit with Dmitry Medvedev
Hopes are high for the upcoming summit between presidents Barack Obama and Dmitry Medvedev, to take place in Moscow on July 6-8. At the very least, the world expects to find out what "resetting relations" will mean. For all their differences, both leaders are counting on a productive dialogue.
Last week President Dmitry Medvedev announced that Russia was prepared to make deep cuts in its arsenal of strategic offensive weapons. Many commentators in the West took his statement to mean that the Kremlin was ready to make significant concessions to the United States in a new Strategic Arms Reduction Treaty (Start).

But Medvedev's statement contained nothing about concessions. He spoke of compromises since any agreement is always a compromise. The main thing is that there can be no radical cuts "by several times" in strategic weapons without taking into account US positions on its "third position area" (that is, its plans to build a missile shield in Eastern Europe).

President Medvedev's words mean, in my view, only one thing. Russia is not planning to participate in an arms race, it is ready to make further cuts in strategic offensive weapons, but on a basis of compromise with the United States. This compromise must include Washington's legally binding rejection of a third position area in Poland and the Czech Republic.

As for concerns about Iran's missile preparations, these can be allayed with the help of Russian radar stations in Armavir, southern Russia, or in Gabal, Azerbaijan. One could use one station or the other, or both. One might also call on the Centre for the Exchange of Strategic Information, whose opening has already been delayed a decade. The main thing in Start is predictability, control and trust. Without these any treaty will be ineffectual.

A joint statement by the leaders on nuclear security is also being prepared for the summit. Experts are also talking with confidence of a new Russian-American agreement on transit for military supplies to Afghanistan. This was mentioned in hearings in the US Congress by Philip Gordon, new Assistant Secretary of State for Europe and Eurasian Affairs.

Gordon also emphasised that Washington "has no intention of renouncing its principles" and "does not recognise any privileged sphere of influence for Russia in Europe". Neither is it prepared to "pay any price for a successful summit or for better relations with Russia" - in particular at the expense of Tbilisi.

There is nothing new in any of this for Russia. Washington is free to choose whatever aims and priorities it likes. But it must remember that Moscow uses exactly the same yardstick: matching Russia's long-term interests.

On the other hand, the opportunities for partnership are virtually limitless. The main areas should be captured in the new Russian-US "action plan" for the foreseeable future. The adoption of this working document may be announced publicly, although according to tradition the document itself is not published.

Implementation of the plan will apparently be the responsibility of a new Russian-US intergovernmental commission - possibly under the personal patronage of the two presidents. In general this would be logical, bearing in mind that the industry-specific areas would need to be supervised by the relevant ministers.

Also, the authority of a presidential commission would not be comparable with that of a ministerial one. But for the time being these are just proposals. People in the know prefer to talk about making the bilateral dialogue, at best, "more systematic".

It is important for Obama to succeed as he takes essentially his first independent steps in foreign policy. In preparing for the visit, the Americans have apparently, said one diplomat, stressed the importance of "getting the agreements documented". In the past getting George W Bush, the lover of "gentlemen's agreements", to sign legally binding documents was like getting blood out of a stone.

On the other hand, such a "change of roles" is probably also a test for Russian diplomacy. How much are they prepared for a situation in which the key partner, in its own way, perhaps, and in line with its own interests, nevertheless comes across as particularly compliant? Will they realise that a bird in the hand is worth two in the bush?

VIDEO: Obama and Medvedev "Reset" U.S.-Russian Relations



VIDEO: Obama's Moscow speech


All rights reserved by Rossiyskaya Gazeta.