Power sharing: a gentlemen's agreement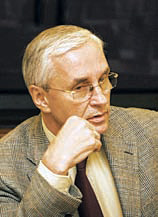 Far from Dmitry Medvedev and Vladimir Putin falling out over key policy issues, Russia's leaders are united in their determination to modernise the country and prevent it from slipping into extremism during the economic crisis, a top adviser to Medvedev said in an interview.
Igor Yurgens, the head of the liberal-leaning Institute of Contemporary Development, thought any potential differences in approach were the least of their problems.

"It is very unusual that there are two very respected and influential people who are friendly and share a single ideology, but occupy two different, powerful positions," he said.

"For the first time, our country reflects our coat of arms, with the two-headed eagle. Some people get confused, especially political experts. In business, there is more common sense, though," he said.

That doesn't mean business leaders see a monolithic government: indeed, there is a lively debate going on between economic liberals and those who want expanded government control. But the real fault lines, according to Yurgens, run through the industrial sector and the allocation of resources.

"We certainly can't talk of a simple division," he maintained. "It's clear that the statists and the liberals have their own views, their own ideology. Their two schools become more visible when there is a debate about where the resources are going to go. [Finance Minister Alexei] Kudrin, for example, is a supporter of a more liberal stance, more modest government spending.

"But there are people who support more robust spending, especially on the energy industry and the military industrial complex. So, de facto, there is a liberal wing headed by [First Deputy Prime Minister Igor] Shuvalov and the state capitalism wing headed by [Deputy Prime Minister Igor] Sechin. These are very primitive terms, of course, but they help to understand things." These differences do not, however, reflect on the relationship between Medvedev and Putin, Yurgens added.

"There is a gentleman's agreement that Putin is helping Medvedev grow stronger. But it's a process in the making. The agreement was made during a booming economy - but it's another picture after the Georgian conflict and the crisis."

"No one knows how it will turn out. Personally, I am absolutely certain the two primary figures co-ordinate everything on a daily basis. But their respective apparatuses, their clans, they may be playing various games."

Yurgens conceded that the crisis is making liberal reforms, such as anti-corruption measures, increasingly difficult."The rule of thumb in fighting corruption is to reduce the presence of the government in the economy," he said. "But that has become practically impossible because of the crisis. Manual control of the economy plays a strong role during the crisis even in the `cleanest' countries."

While a number of decrees have made it easier to prosecute officials for bribery, the business community in general is not benefiting from a more transparent relationship with state officials, said Yurgens. "We need new dialogue. People are dissatisfied with the role of parliament and the political structure."

This is no easy process, for Putin or Medvedev. "If there are democratic elections tomorrow, we cannot rule out that instead of two or three civilized parties we will have skinheads and xenophobes, said Yurgens.

As difficult as they are to implement, transparency, dialogue and political competition are still the only remedies for these perennial problems, he said, adding: "Reforms were halted, but we need to continue them, otherwise we will find ourselves in an even more difficult situation."
All rights reserved by Rossiyskaya Gazeta.