Russian-U.S. summit: between skepticism and hope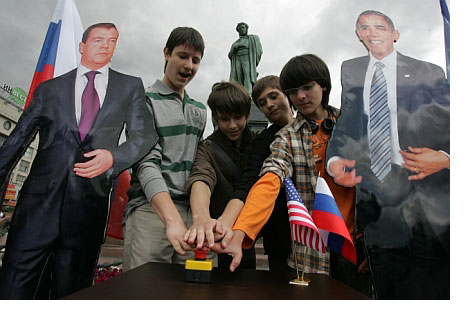 On the eve of the visit, the Russian press accorded the much-anticipated summit its closest attention.
The business daily Vedomosti ran an opinion piece by Dmitri Trenin, director of the Carnegie Moscow Center. Trenin feels that the summit is taking place against a backdrop of obviously lowered expectations. One gets the impression, he says, that Moscow has already received the maximum possible from Washington and is now playing "to maintain the score".

Observers at Vremya Novostei are skeptical: neither side has a vital interest in or burning need for common projects. Russia is America's 23rd partner in trade, the United States is Russia's 8th.

On the other hand, the reputable paper Izvestia recognizes that the idea of a "new beginning" is very attractive. And it could be a promising idea if it is backed up by the will of both administrations. But to begin with a completely blank sheet will be very difficult. There is a political legacy that will have to be dealt with. The Moscow visit will show, writes Izvestia, what a "reset" is: a change in policy or just rhetoric. Until now, the word "reset" has been more an expression of political wishes than of real policy changes.

Ahead of his trip to Russia, U.S. President Barack Obama gave an interview to the state news agency ITAR-TASS. He emphasized America's respect for Russia and its desire to build bilateral relations as equal partners. Mr. Obama's justification for this was that "Russia is a great country with an extraordinary culture and extraordinary traditions, and it remains one of the most powerful countries in the world."

Speaking of Russia's leaders, the U.S. president noted that Dmitri Medvedev is a "very thoughtful, forward-looking individual": "I think that he is doing a fine job in leading Russia into the 21st century." Mr. Obama described Prime Minister Vladimir Putin as a "very strong leader for the Russian people."

The influential and well-informed business daily Kommersant has learned that, in addition to agreements on strategic weapons and Afghan transit, the summit should also produce a declaration by the two presidents on cooperation in the field of nuclear security. The Russian side is expecting Mr. Obama to announce the return of a so-called "123 Agreement" (on cooperation with other nations concerning the use of atomic energy) to the U.S. Congress for ratification. This document was recalled by the previous American president, George W. Bush.

At the same time, Kommersant reports that the two sides have yet to agree on such fundamental matters as Russia's application to join the World Trade Organization, a repeal of the Jackson-Vanik amendment, Georgia's territorial integrity, and, most important, controversial U.S. plans to locate parts of its missile defense in Europe.

The popular Moskovsky Komsomolets reminds readers that the U.S. State Department is still staffed by people like Daniel Fried and Matthew Brize whose ideas led to a significant worsening in Russian-American relations. "If we look at the history of Soviet-American relations," writes MK, "then we see that the Democratic Party always excites great expectations. But as a rule, everything end badly. We expected a lot from Kennedy; instead we got the unprecedented Cuban Missile Crisis. The same is true of Carter, under whom détente was buried. Then it all began with Clinton... And ended with the expansion of NATO."

The state news agency RIA-Novosti spoke to experts Sergei Karaganov, head of the Council for Foreign and Defense Policy, and Viktor Kremenyuk, deputy director of the U.S.A. and Canada Institute in Moscow. Karaganov considers that "the skepticism is more strongly expressed on the Russian side because people in Russia haven't seen any real changes in American policy and think that [any changes they do see] are essentially cosmetic. Everyone sees the fragility of the proposed `reset' of Russian-American relations."

Viktor Kremenyuk considers that so far Russia and the United States "are moving in different directions in their ideas of each other." He thinks that interactions between Russia and America must be brought to at least the level that existed under Mikhail Gorbachev and Ronald Reagan or under George H.W. Bush, when the sides held regular consultations. One gets the impression, however, that neither the Russian nor the American side wants such a mechanism. "Russia is afraid that if it agrees to coordinate policy with the Americans, that will be seen as weakness," says Kremenyuk. "The Americans are afraid that Russia will become weaker still, and doesn't want to take on extra obligations."

The business publication RBK-Daily argues that President Obama's visit is primarily intended to show a general warming of U.S.-Russian relations while heated debates on the most sensitive problems - such as elements of a U.S. missile defense in Europe - continue at consultations behind the scenes.
All rights reserved by Rossiyskaya Gazeta.