Overlooked Russian classics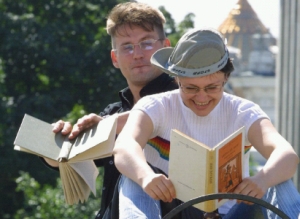 The NYRB Classics series has reintroduced many remarkable books, among them a large number of international classics, including Russian. Russian literature is, of course, one of the world's greatest. The Russian novel is central to the history of the novel, as otherwise only the French and English novels are. Russian poetry remains a beautiful rumor to those of us who don't know the original, but the richness and suggestiveness of what comes through, however inadequately, in translation, is enough to hold the imagination in wondering thrall. In the NYRB Classics series we try to reflect something of the range of Russian literature. The Stray Dog Cabaret, Paul Schmidt's extraordinary assembly poems by Blok, Akhmatova, Mandelstam, Tsvetayeva, Khlebnikov, and Mayakovsky capture the ferment of poetic activity that preceded and followed the disaster of Revolution. Robert Chandler's meticulous and inspired translations of Andrey Platonov in Soul and Other Stories bring to life in English a twentieth-century genius who deserves to be as universally celebrated as Kafka. The Observer wrote: "Rarely does literature come this close to being music." Chandler's translation of Vasily Grossman's immense Life and Fate, a great humanist's unflinching testament to the darkness in man, also appears in the series, as does Yuri Olesha's trim Envy, with its astringent clowning melancholy, and Nina Berberova's Moura, a legendary biography of the ultimate survivor. Books by more recent authors include Tatiana Tolstaya's The Slynx, a vaudevillian-dystopian novel, set 200 years after an apocalyptic disaster has destroyed Russia; also Vladimir Sorokin's Ice and his ingenious The Queue - both are works of fantasy, prophecy, parody, and wild paranoia. We are currently preparing a new collection of remarkable stories by Sigizmund Krzhizhanovsky, a rediscovered classic from the 1920s and 30s, an "unsung genius", translated by Joanne Turnbull. Russian Literature is, in other words, an essential component of the NYRB Classics series, as
In the NYRB Classics series we try to reflect something of the range of Russian literature. The Stray Dog Cabaret, Paul Schmidt's extraordinary assembly poems by Blok, Akhmatova, Mandelstam, Tsvetayeva, Khlebnikov, and Mayakovsky capture the ferment of poetic activity that preceded and followed the disaster of Revolution.
Robert Chandler's meticulous and inspired translations of Andrey Platonov in Soul and Other Stories bring to life in English a twentieth-century genius who deserves to be as universally celebrated as Kafka. The Observer wrote: "Rarely does literature come this close to being music."
Chandler's translation of Vasily Grossman's immense Life and Fate, a great humanist's unflinching testament to the darkness in man, also appears in the series, as does Yuri Olesha's trim Envy, with its astringent clowning melancholy, and Nina Berberova's Moura, a legendary biography of the ultimate survivor.
Books by more recent authors include Tatiana Tolstaya's The Slynx, a vaudevillian-dystopian novel, set 200 years after an apocalyptic disaster has destroyed Russia; also Vladimir Sorokin's Ice and his ingenious The Queue - both are works of fantasy, prophecy, parody, and wild paranoia.
We are currently preparing a new collection of remarkable stories by Sigizmund Krzhizhanovsky, a rediscovered classic from the 1920s and 30s, an "unsung genius", translated by Joanne Turnbull.
Russian Literature is, in other words, an essential component of the NYRB Classics series, as indeed it must be of any adventurous reader's library.
Photo by Elena Gracheva
All rights reserved by Rossiyskaya Gazeta.