Breaking into the Arctic with new ship technology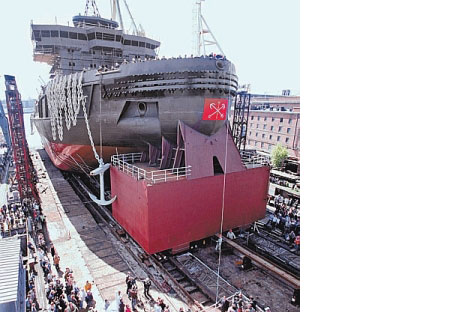 Launching of the icebreaker St Petersburg at the Baltiysky Zavod in May 2009
An historic event could have been left unnoticed if it wasn't for Prime Minister Vladimir Putin. The operational start of icebreaker St Petersburg has helped Russia increase its advantages in the fight for the Arctic's hydrocarbon and raw mineral reserves.
Several years ago, if the Russian icebreaking fleet did not seem hopeless, the outlook was definitely bleak. Veterans of the Soviet "ice power" ships, Lenin and Siberia, were effectively obsolete; three more nuclear-powered icebreakers were ready to be discarded; the unfinished successor - the nuclear-powered 50 Years of Victory - had been rusting on the water since 1993. In 2007, it moved to an operational stage and shipbuilders also began working on a new order - the construction of two diesel-electric icebreakers, Moscow and St Petersburg. At the beginning of this decade, it became clear that old Soviet shipbuilding factories, now controlled by private investors, would not be able to complete modern orders. The Amur Shipbuilding Plant, once the cradle of the nuclear submarine fleet, for a long time made ends meet by building yachts. In spite of receiving a number of export contracts for military vessels, it wasn't able to complete them due to basic lack of technology. Sevmash Predpriyatie (the northern machine-building plant) suffered serious difficulties with modernisation of the Indian Navy's aircraft carrier Vikramaditya (formerly aircraft cruiser Admiral Gorshkov). The shipbuilding industry had to be "enlarged", and synergetic schemes to enable designers, shipbuilders and manufacturers of components to work in a "team" had to be created.

The first such scheme, after the fall of the USSR, was the United Industrial Corporation (OPK), which included the shipbuilding plants Severnaya Verf and Baltiysky Zavod and the Iceberg Design Bureau. Results quickly followed: in two years, OPK became a powerful and ultra-modern manufacturing base; it received international certificates of compliance, followed by serious orders for civilian and military vessels. At Baltiysky Zavod, the nuclear-powered 50 Years of Victory was finally completed, and people stopped referring to the Russian icebreaking fleet in the past tense.

This new icebreaker was the world's largest, 160 metres long with a displacement of 25,000 tons and 75,000 horsepower. In the West, the reaction was, as they said, as if a bomb had gone off. In July 2008, at a special hearing before US Congress, Admiral Ted Allen sharply criticised the Pentagon and the George Bush administration as being the reasons America was "shamefully losing the battle for Arctic exploration".

The admiral's anger related to America's dismal statistics: for 40 Russian Arctic icebreakers (seven nuclear), America has only two, and their operating life is close to an end. "Next year, Russians will be finalising the national nuclear-powered icebreakers programme, which guarantees that country possession of several heavy icebreaking ships until far beyond the year 2020," said Allen. "Russia already has the largest nuclear-powered icebreaker in the world - 50 Years of Victory - which guarantees it access to natural resources located anywhere in the Arctic. We are losing our position in a global competition."

Who else, besides Russia and the United States, is making claims for the Arctic shelf? There is oil-producing Norway, equipped with one icebreaker; Canada's fleet consists of two heavy ships and 10 middle-class icebreakers; Denmark has four icebreakers; Finland has none. Icebreakers equipped with nuclear power units are only found in Russia.

In this race, there is no conditional or significant advantage - it must be absolute. This is a victory in a global competition, as Admiral Allen correctly pointed out, in which Russia can now be the leader, the locomotive of the world economy. The commissioning of the icebreaker St Petersburg, especially with the crisis as a backdrop, is a bright, significant and outstanding event.

By 2020, Russia proposes to build three more nuclear-powered icebreakers with a capacity of 60MW and one lead icebreaker with a capacity of 110MW, as well as seven diesel-electric and four port-supporting icebreakers.

Government willingness to make such significant investment means Russia is not only interested in seriously exploring the Arctic, but also in regaining its status as a large shipbuilding power, while allowing the industry to reach new technological levels. In addition, investment could start collecting returns before the Arctic shelf starts heralding profit: the modern shipbuilding industry is fully capable of recovering all these costs.

Nikolai Petrakov is director, Institute of Market Problems
All rights reserved by Rossiyskaya Gazeta.