A merciful angel in the Caucasus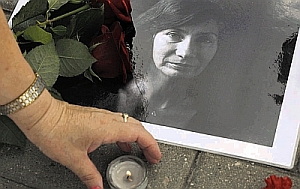 Those who bear witness to the lawlessness in the Caucasus pay a terrible price, more and more often with their lives. Estemirova's colleague and friend Anna Nemtsova remembers what made her so brave, so compassionate, and, ultimately, another statistic.
"Natalya Estemirova, one of the few human rights investigators working in Chechnya, was attacked by four gunmen and dragged into a white Lada car. Neighbors witnessed the abduction on July 15 but were too scared to report it to police. Her body was found lying on a side of the highway, her hands tied up behind her back, a big bruise on her face with two bullet holes in her chest and two in her head."

That paragraph could have been a report written by Natasha, as her friends called her. Then the worst happened. Almost four weeks after her murder, I linger over Natasha's e-mails to me, again. In one missive, she wrote simply, "Let me tell you a story of that man. He was abducted from his home..." In another, "the relatives of the victim are too fearful to talk."

My colleagues and I remember Natasha's calm voice on the phone telling us to "come and report on the abduction epidemics." We did not report from Chechnia enough. We did not react to Natasha's calls enough.

Natalya Estemirova was a close friend of Anna Politkovskaya. The two women traveled together for their investigative reports, Anna for "Novaya Gazeta" and Natasha for Memorial, the largest human rights group in Russia. Then Politkovskaya was murdered. In 2007, Natasha was given the first award in her friend's honor. Now Natasha is gone too. For all who knew Natasha, she will always stay the most courageous, precise and compassionate woman. She helped victims file complaints to Russian and European courts, collected evidence, took photographs of human remains and interviewed families.

Only her colleagues and close friends knew the kind of threats she received for her critical views of authorities. Estemirova's daughter, 15-year-old Lana, knew exactly how hard it was for her mother to continue her front-line battle. Last month at Natasha's funeral in the Chechen village of Koshkeldy, Lana looked much older than her age. "I do not want to see my mother's dead body," she said. "In my memory she will always stay the strongest and most alive person in the world. My mother was killed for confronting the war against peaceful people." Lana spoke looking away from the door, where a few older women washed the blood off her mother's body.

The first time I visited Natalya, a single mother in her 40s, and her daughter, Lana, at their home was in the fall of 2006. They lived on the 10th floor of a war-torn apartment building. The elevator did not work, there was no tap water. The reporters who stayed in her apartment showered with a water bottle. Lana and Natasha joked about "a new design of ventilation" they had from the huge shrapnel hole.

At the funeral last month, Deshi Inderbiyeva wept like a child. In 2000, Inderbiyeva's three sisters were burned alive by the Russian army. Traumatized, Inderbiyeva gave birth prematurely: "Just a few days before she was murdered, Natasha came to visit us. Knowing how poor we are, she bought a school bag and books for my son.... We lost a merciful angel!" Inderbiyeva cried.

Natasha's daughter appeared scared, and lost: "I do not want to stay in Chechnya," she said. "All I want is to study journalism, abroad preferably, and publish stories about my mother, so people do not forget her".

VIDEO: Demonstrations in memory of Natalia Estemirova


All rights reserved by Rossiyskaya Gazeta.