People-catching nets and net-catching people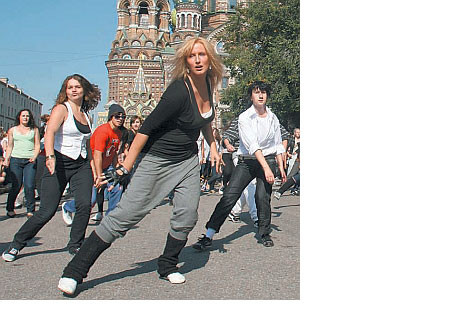 This flash mob met outside the Savior Upon the Blood church in downtown St. Petersburg and danced to the music of Michael Jackson to commemorate the late artist's 51st birthday
The use of social media and social networking in Russia is widespread, making it the fourth largest market in Europe behind the UK, Germany and France. The rate of growth in membership of social networking sites in Russia is even more so. Recent research from comScore shows that Russians are the most engaged users of social media in the world.
My mother will soon be 62. For her last birthday I gave her a laptop computer. I learned she was making forays into the Internet when she added me to her friends on Odnoklassniki.ru (the Russian equivalent of Classmates.com, with more than 40 million members). Odnoklassniki was my mother's first site, and essentially her only site. Just as Odnoklassniki was the first site for hundreds of thousands (perhaps millions) of Russians of the older generation.

According to a Russian folk saying, Russians take a long time to harness their horses, but they ride fast. A case in point is the approach of residents of the former USSR to the world wide web. Statistics show that every year in Russia the number of people online increases by 2-2.5 mn. These people are mostly aged 45 and up. What's more, between 1.8 and 2 mn of these new users sign up for broadband so they can enjoy everything the Internet has to offer. Most important of all, they can be in constant touch with each other through social networks. That is probably why, according to the latest research from comScore, Russians spend more time than any other nationality in the world on those sites: 6.6 hours per month, as opposed to 3.7, the global average.

Vlad Piskunov, the 40-year-old owner of a factory that makes electrical equipment in the town of Sukhinichi near Kaluga, found out about the existence of blogs and social networks less than a year ago. Since then, thanks to two of his hobbies (cooking and photography), Vlad has become one of Russia's most famous Internet cooks. Every post on his online journal (vlad_piskunov.livejournal.com) is read by some 25,000 people. Nearly every week he is asked for an interview or to participate in a cooking programme. It all began when Vlad started taking pictures of dishes he made for family and friends. He had no idea of becoming famous. But now he's seriously thinking about launching an Internet store and publishing his own cookbook. Vlad jokes that soon his hobby will be more profitable than his business of producing wall plugs and light switches.

Russian business learned only fairly recently about the power hidden in the world of social media websites. Ten years ago, large Russian companies thought they did not need a website. Concerns involved in web development could not explain to Russian businessmen how an Internet presence would help them sell timber and coal. In the last 6-9 months, however, it seems there isn't a single brief on developing communications strategies that doesn't include a section on "Working with Social Media." During the financial crisis, when marketing budgets have been slashed, brands are looking for alternative ways of reaching consumers. Expensive store promotions have given way to focused efforts with target audiences. Nokia, for instance, is making increasingly active use of communications in social media networks to attract more visitors to stores in Moscow and St Petersburg. The Finnish company is creating an informational stir around the launch of a new line of Nokia phones and encouraging loyalty among user-fans via the Internet. Discount flyers are no longer handed out on the streets; they are published in groups on social media websites.

For more than a year-and-a-half, one of Russia's leaders in telecommunications, MegaFon, has been closely monitoring what subscribers say about the company's services on blogs, forums and thematic sites. Armed with this information, MegaFon representatives then get in touch with users. According to the agency Social Networks, more than 75 pc of the negative views among cell-phone subscribers are the result of absence of information. When subscribers have the information they need, their complaints about and problems with their provider are far fewer. You would think that to remedy the absence of information, one need only open hotlines and support services for subscribers. But experience shows users would rather tell their problems to friends in a forum or a LiveJournal than call a support service.

Russian high school graduates, for instance, talk constantly about their problems in taking the new Single State Exams (standard college entrance exams, the Russian equivalent of SATs in the United States) in the social network VKontakte. Meanwhile, the Russian Ministry of Education and Science is vitally interested in what students who have taken these new exams think about them. In spring 2009 there was a scandal when some high school students posted answers to the exams in VKontakte. The discussion ranges from innocent exchanges about questions and answers to the quasi-extremist views of those who want to dispose of Education Minister Andrey Fursenko. Educators, who only yesterday preferred to ignore the Internet, have now realised it is an alternate reality that must be attended to and dealt with.

School students who gladly complain about exams are less apt to talk about family problems. In VKontakte there is still not a single group where users discuss family violence. Using the Yandex search engine, one discovers that in all Russian blogs over the last three years, there have been only a few dozen posts in which children wrote: my father beats me, my mother abuses me. Evidently, Internet journals for young Russians are more a form of entertainment than a chance to share their problems.

At the same time, Russian adults see blogs as an alternative opportunity to receive and distribute information. Groups of Muscovites involved in protesting certain municipal building projects co-ordinate their activities exclusively using blogs, planning protest actions and coming up with slogans. This proves once again that social media websites in Russia are developing in two diametrically opposed directions. For adults, they are a platform to discuss serious problems; for young people, they are a place to have fun and spend time with friends. And no one can say which direction is the right one.

A few months ago my mother suggested we give a laptop to her 72-year-old sister. I suspect that very soon, thanks to Odnoklassniki.ru, I will discover that Aunt Lyuba has also discovered the Internet.

Denis Terekhov is a managing partner of the agency Social Networks.
All rights reserved by Rossiyskaya Gazeta.