Gazprom building gas link to Asia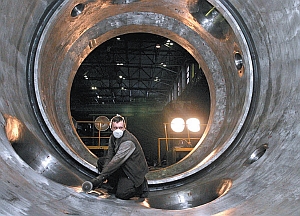 At Izhorsky engineering plant, St Petersburg, an engineer polishes the interior of a 1,000-megawatt nuclear reactor for the new Indian plant at Kudankulam.
Gazprom, the world's largest gas company, this summer embarked on an ambitious project to build a new pipeline stretching from the gas-rich island of Sakhalin to Khabarovsk and onward to Vladivostok on the Pacific Coast. The project will energise development in Eastern Siberia and Russia's Far East, boosting regional economies and delivering Russian gas to Asian markets.
The first section of the pipeline to be launched will be 1,350 km long with an annual capacity of 6 bn cubic metres. The pipeline's total planned length is approx. 1,800 km, and the pipeline will carry up to 30 bn cubic metres of gas annually. This year 50 bn roubles will be spent on construction; figures for 2010 and 2011 are yet to be released, but total costs are estimated at approximately 150 bn roubles.

Gazprom plans to build a liquefied natural gas (LNG) plant in Vladivostok and sell production to Asian partners. The new pipeline's launch is anticipated prior to the opening of the Asia-Pacific Economic Co-operation (APEC) summit scheduled for 2012 in Vladivostok. Russian leaders will use the event to send a clear message to the world that Russia will not sit on its vast Far Eastern reserves like a dog in the manger. On the contrary, leading foreign companies are welcome to share in the development of these rich regions and they should not miss out on a historic opportunity to "conquer" Siberia.

Construction of the Sakhalin-Khabarovsk-Vladivostok pipeline is the keystone of the Russian government's sweeping Eastern Gas Programme. Approved in 2007, the programme is aimed at creating a unified system for the production, transportation and processing of gas in Russia's Far East. Gazprom, the project's principal co-ordinator, plans to create new gas hubs in the area, along with new gas refining facilities and gas chemical plants. The government has targeted four gas producing centres, including the Yakutia, Sakhalin, Krasnoyarsk and Kamchatka regions, with reserves totalling 8 trln cubic metres of gas. The first stage of the programme includes construction of the Sakhalin-Khabarovsk-Vladivostok pipeline, to be followed by a project to secure sufficient gas supply to the Kamchatka region. Further plans feature the accelerated development of deposits in Sakhalin, Kamchatka and the Republic of Sakha (Yakutia), as well as the construction of another gas pipeline from Yakutia to Khabarovsk and Vladivostok, with possible offshoots to China and Korea.

In fact, Eastern Russia's gas industry will be created from scratch. Currently, a mere 6-7 pc of the Russian Far East region is supplied with gas, a far cry from the country's average 60 pc. The government's gas programme will bring gas to over 500 locations across the Far East. Gazprom expects demand for gas in the area to quadruple over the next five years, from 5 bn cubic metres in 2010 to 20 bn cubic metres by 2015. But the programme is not aimed only towards household consumption. New generating capacities and state-of-the-art technology are needed, too.

The Sakhalin-Khabarovsk-Vladivostok pipeline and the entire Eastern Gas Programme are vital to both the Russian government and Gazprom. The pipeline's significance is emphasised by the fact that Gazprom did not hesitate to increase pipeline financing at the expense of other projects. And Gazprom will get its money's worth. As part of the deal to coordinate the programme, the company was awarded licenses for several gas fields without any competition, including three blocks within the Sakhalin-3 field and the Zapadno-Kamchatsky field on the Okhotsk Sea shelf (see Box). The major challenge for the new project, which will cost Gazprom some $11 bn, is to accelerate the development of resources.

Concerns have been raised, however, that Gazprom won't begin producing from the Sakhalin-3 field until 2014, while the new pipeline will come online in 2011. Gazprom management admits that, in order to kick-start the project, they will have to "co-operate closely" with their American partners. The Russian gas behemoth hopes to use the pipeline to transport gas produced from Sakhalin-1, which is operated by US oil major ExxonMobil (see Insert 2). This is likely to go forward as the Russian government has typically succeeded in finding persuasive arguments to encourage co-operation from Western partners. In return for Sakhalin-1 production, Gazprom could offer American companies participation and ownership stakes in lucrative new projects.

Gazprom's pipeline challenge is largely politically motivated. First, Moscow is paying particular attention to its eastern regions, realising their great potential and fearing weakening influence. Though still poorly developed, Siberia and the Far East are crucial in geopolitical terms. Second, an effort to diversify resources and oil and gas supplies is an important part of Russia's energy strategy, with special focus on the East. Russia's national emblem, the double eagle with one head facing East and the other West, is particularly symbolic.

Speaking in economic terms, over 65 pc of Russia's gas exports go to Europe, prompting concerns over dependency on the EU. Given Europe's keen interest in building the Nabucco gas pipeline bypassing Russia, Gazprom's eastward expansion seems justified.

The construction of new pipeline infrastructure and long stretches through harsh climate and rough terrain will come at a price, but Gazprom officials have no doubts the investment will ultimately pay off. The gas giant hopes to produce some 150 bn cubic metres of gas annually in the Far East by 2020. According to a Gazprom press release, "This is close to Russia's entire export volume to countries outside the CIS."


The new project will allow Gazprom to link its huge Chayandinskoye and Kovykta gas fields to the Asia-Pacific markets. Gazprom knew what it was doing when it defined the maximum capacity of the Sakhalin-Khabarovsk-Vladivostok at an ample 47 bn cubic metres: the new pipeline will service all gas producing areas in Russia's east.

Thanks to their geographic location, the region's mineral riches will be instrumental in spearheading Russia's entry into the energy markets of the Asia-Pacific region, with a focus on the US, Japan, Korea, China and India in particular. India, not China, is seen by many as the most likely target of Gazprom's new project. If growth of gas consumption continues at the current rate, by 2025 India will need some 145 bn cubic metres of gas per year, and will be happy to buy gas from Russia's Far East. India's ONGC already has a substantial stake in Sakhalin-1, and is keeping an eye on other oil and gas projects. On the other hand, China has proven a tough partner, unwilling to purchase Russian gas at the price offered. Thus far, Gazprom has no plans to build a pipeline to China. Besides, a shift to China could foster another overly-dependent relationship on one market. Consequently, it is far more reasonable to build a LNG plant and sell production to the vast Asian market.

For its part, Gazprom is concentrating on LNG production, seeing it as the key factor in potential gas market expansion. "To a large extent, liquefied natural gas helps gas producers ease their dependence on transit nations; the `flexible pipeline' can be re-directed to the right market as soon as the situation changes," Stanislav Tsygankov, head of Gazprom's foreign projects department, explained at Russia's seventh Oil and Gas Congress in Moscow. Many countries, including the United States, are planning to boost their LNG imports, while leading gas producing nations such as Qatar are betting on LNG exports. Russian experts are also convinced the country should have long been developing its LNG technology, in co-operation with such international giants as America's СonocoPhillips, ExxonMobil and ChevronTexaco, or Britain's BP. Russia needs such co-operation if it is to quickly boost its LNG supplies to the Asia-Pacific region (see Insert 4). Given the huge oil and gas reserves in Eastern Russia, the Sakhalin-Khabarovsk-Vladivostok pipeline could become one of Gazprom's major export routes in the future.

However, Gazprom has no ambition to go it alone in Siberia. The company welcomes reliable partners from both the West and East to join in its Siberian conquest. Development of the Chayandinskoye deposit in Yakutia, estimated at 1.24 trln cubic metres of gas, requires an efficient method to separate helium and ethane, important strategic resources. This is where Russia's business community and government are looking for foreign investor support and new technology, and are prepared to provide access to new projects in return. "The Far East and Eastern Siberia are not just part of Russia's mineral resources, but they form a vital part of global reserves," Russian Prime Minister Vladimir Putin stated. His words are worth heeding. As US President Woodrow Wilson so aptly put it, Siberia, which holds over 40 pc of global mineral resources, is the biggest prize in the history of humankind after the American conquest. Thus, participation in Russia's Eastern gas programme will give foreign companies an entry ticket to the race for this grand prix.
All rights reserved by Rossiyskaya Gazeta.