A Moscow biennale against exclusions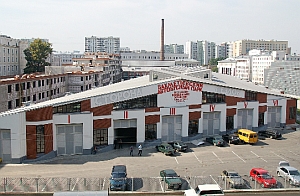 Facade (view from above) of the Garage Center for Contemporary Culture
Though it still cannot be compared to the Venice Biennale or Dokumenta in Kassel, the fact that the Moscow Biennale has become a regular event (this will be the third), that the main project has been organized by Jean-Hubert Martin (curator of national museums of France and former director of the Pompidou Center), and that some 80 artists from Europe, the United States, Asia, Latin America, Africa and Oceania will participate says a lot.
<!— gallery=38 —>The Third Moscow Biennale is entitled "Against Exclusions". "The theme `against exclusions'," says curator Martin in the project's manifesto, "applies equally to basic human rights and to the world of aesthetics, which today finds itself before an inquisitive lover of all forms of art." The Biennale's main aim is to become a panorama of works by artists from around the world. Given that the choice of artists was up to Martin, we have the greatest confidence in this year's Biennale. Jean-Hubert Martin is one of the world's most respected curators, always striving to broaden viewers' ideas of what constitutes art. This year, alongside such well-known western masters as Marina Abramovich, Wolfgang Tillmans, Annette Messager, Erwin Vurm, and Tony Cragg, the Moscow Biennale will also feature artists from India, China, New Zealand, Oceania and Africa.
As well, the main project will include a dozen Russian artists. Martin, who was both one of the creators in the late 1970s of the epoch-making Moscow-Paris Exhibition and an organizer of Ilya Kabakov's first European retrospective, knows a great deal about contemporary Russian art. The Moscow Biennale will present works by Ivan Chuikov, Yuri Albert, Pavel Peppershtein, Alexander Brodsky, Valery Koshlyakov, Dmitry Gutov, Anatoly Osmolovsky, Haim Sokol, Dmitry Tsvetkov, Alexander Lovanov, and two groups: AES+F and The Blue Noses.
The Biennale's principal showplace will be the Garage Center of Contemporary Culture. But other large exhibition spaces will not be left out: Vinzavod, Red October and even the celebrated Tretyakov Gallery. Forty special projects will be shown there. Special guests will include such celebrities as Britain's Antony Gormley, Israel's Mikhail Grobman, Holland's Van Lishaut Studio, Russia's Vladimir Sychev and Belgium's Luc Tuymans. As well, the world-famous American artist Spencer Tunick - known for his nude photo sessions - will present his photo project Moscow Individuals. For this series of photographs Tunick looked for subjects on the streets of Moscow. One of the conditions was that they consent to pose nude. Only members of the younger generation agreed, says Tunick, while the older generation flatly refused.
A no less controversial artist, the Russian Ilya Kulik, notorious for his performance as a human-dog, has prepared a short course in the history of Russian art over the last 40 years. This course will be presented visually in the form of performances by 40 Russian authors in a specially built long and darkened labyrinth. According to Kulik's conception, the viewer should feel as though he or she is in the labyrinth of memory, bumping into different images and states.
The Third Moscow Biennale will overlap with Moscow's international art fair ART-Moscow, which shows and sells 20th and 21st century art. This year's fair was postponed from spring until fall because of the financial crisis. The organizers are hoping that western galleries will be more inclined to visit ART-Moscow given that it will coincide with the Biennale.
All rights reserved by Rossiyskaya Gazeta.