Deal on wheels: now Opel knows its route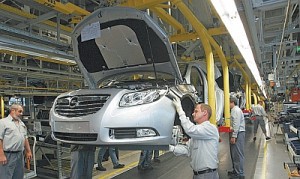 German and American technologies will help to modernise Russian automobile industry
General Motors has finally agreed to sell a 55pc stake in its European Opel subsidiary to Canada's Magna International and Russia's Sberbank - who now face the task of invigorating the loss-making business.
The saga of the sale of Opel seems to be at an end. But why were Magna and Sberbank so interested in acquiring the car manufacturer? Magna's motives are relatively clear: the Canadian company produces auto parts and assembles cars, but it does not have its own brand.

State-owned Sberbank represents the interests of the Russian automobile industry. Its CEO, German Gref, commented on the purchase: "The whole point of our participation in the deal is technology import. If that does not materialise, it will be a waste of time."

The Russian car industry needs these technologies badly. In spite of strong government support Russian car manufacturers have received over the last few years, from a technological perspective the industry still lags far behind leading international players. The technology gap has, of course, affected performance, especially since foreign manufacturers have been allowed to build production facilities in Russia (a cluster comprising several plants is forming near St Petersburg). As a result, Russian consumers have increasingly preferred cheap but reliable foreign-made cars to domestic models designed (with rare exceptions) in Soviet times.

Recently, Avtovaz, Russia's flagship car maker and leader in the low-end price band, has lost much ground to foreign companies that assemble cars in Russia. Chinese and Korean manufacturers are now producing models that occupy the same market niche. The emerging partnership with shareholder Renault-Nissan, which was to modernise the Avtovaz production facilities, has been cut short by the crisis.

The attempt by Gaz, Russia's second largest car manufacturer, to launch the Volga Siber (based on a Chrysler model), ended in fiasco: the company now faces a very uncertain future. IzhAvto, which assembles South Korean Kia cars, was about to be bought by Avtovaz to launch joint production with Renault, but the crisis also scuppered this deal.

Any of these plants would be happy to host Opel, and Sberbank will soon announce the lucky winner. As the largest bank in Russia, Sberbank is the major provider to the industry: every major car manufacturer depends on Sberbank for financing. Should a manufacturer go bankrupt, it would not only have dire social consequences; it would spell trouble for Sberbank as well.

While victorious, the consortium will, nonetheless, face a host of problems. Magna's automotive partners, including Germany's Volkswagen, question its ability to prevent a conflict of interest between Opel and its other clients. And Opel's plants outside Germany, including the Vauxhall factory in Britain, now fear massive job cuts.

Although these fears are natural, and not altogether groundless, it is too early to worry just yet: the winning consortium has outlined its proposal with a broad brush. For example, there are no plans to shut Vauxhall in Britain; according to the British Business Bureau, most jobs will be preserved. On the whole, the consortium plans to invest 600m euros in Opel, not to speak of the 4.5bn euros in support that will come from the German government.

The main job cuts (according to reports leaked to the press before reorganisation plans were unveiled) will affect plants in Germany. All in all, about 11,000 jobs, almost a quarter of the total number, are to be cut in Europe. Opel's four plants in Germany are to shed 4,500 out of a total 25,000 jobs, writes the Russian business newspaper Vedomosti, citing the German Frankfurter Allgemeine Zeitung. Most of the cuts will be made at the plant in Bochum (its workforce will be reduced by half by 2011). Opel's main enterprise in Russelsheim will lay off between 1,400 and 1,800 workers out of a total 15,000, while the plant in Kaiserslautern will trim 300 workers. The only Opel enterprise to remain untouched is the assembly plant in Eisenach, where production capacity from Saragosa, Spain, is to be moved.

One has to bear in mind, however, that the final job-loss figures will be published after this report is issued. Russia Now will follow developments with caution and scepticism. Indeed, the US company had already promised Opel to the same bidder in the summer, but the transaction failed to close and the competition continued.

Nothing prevents GM from withdrawing from the deal again, especially given that Magna's principal lobbyist, German chancellor Angela Merkel, will lose much of her zeal in November when the parliamentary election is over.
All rights reserved by Rossiyskaya Gazeta.