It's suit or boot in the office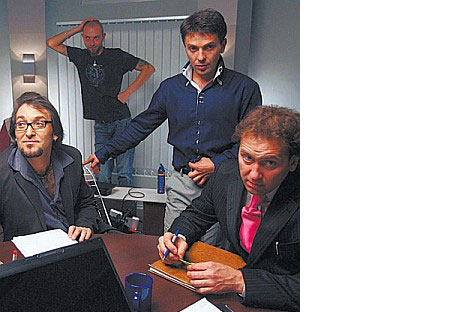 Some companies are now insisting that their workers dress smartly, and are even dictating how much must be spent on outfits
From the butcher in his apron to the cosmonaut in his spacesuit - and at many points in between - at work you are, it seems to many, what you wear. In reality, the butcher needs his apron to stop the blood and gore of his trade spoiling his nice, spotless Levi's and white T-shirt, and the cosmonaut would be hard pressed to boldly go without his spacesuit.
Dress codes in business, and dress necessities, have always been part of life. Think of Romans in togas, and the yellow of imperial China.
Now, however, some large Russian companies are seeking to enforce a dress code on their employees, and it is not being met with unfettered enthusiasm. What particularly niggles, apparently, is not just that some employees have to buy their own outfits - unlike bus drivers [pictured] who will get their slick new uniforms supplied - but the taste and quality of the stuff they have to wear.
"Our corporate style is more ridiculous than in a circus," wrote a visitor to superjob.ru. "Women have to wear yellow and blue striped men's ties, plaid schoolgirl skirts of terrible quality, and shapeless knit vests instead of jackets."
This was the response to internet portal superjob.ru's recently conducted poll which uncovered the unwritten rules of Russian companies' dress codes. Almost a third of respondents said that there were no official rules covering what was worn, but plenty was implied. The strict business style for men was for a black, navy or gray pinstripe suit with a button-down shirt and sober tie. For women the colour scheme was the same. Trouser suits are allowed, though a straight, knee-length skirt was preferred. Long hair should be tied back and make-up understated.
But what's really got the internet buzzing is the addendum to a memorandum on "The Outward Appearance of Employees of Gazpromneft".
Complete with pictures, this outlines the proper length for a woman's hair (a "schoolteacher's bun" or short hair that must be trimmed once a month), nails (French manicures of no more than 3-5 mm, and no nail art allowed), as well as the cost and type of appropriate jewellery (no costume jewellery, no dangling earrings, no jangling bracelets or rings with large stones) and acceptable suits (nothing under $500, list of designers and stores attached).
Discussion of this subject became heated. "That sort of dress code is a form of slavery," commented one internet chat participant.
Incidentally, some companies have an official jeans day. On Fridays, ahead of the weekend, employees can come to work in jeans and sweaters.
According to Superjob.ru, 35pc of all Russian companies still allow employees to wear what they want. Tell that to the cosmonaut when he's got to fix the outside plumbing on his space station.
All rights reserved by Rossiyskaya Gazeta.