Now is the time to get down to business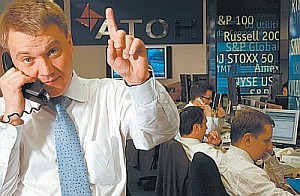 Russian stocks have more than doubled in value since hitting bottom in February
The fifth Russian-British investment forum, RBCC RussiaTALK 2009, will be held in Moscow on October 21, helping businesspeople from both countries to forge joint projects and take full advantage of global economic trends.
In 2010, it will be 455 years since Russia (then called Muscovy) and England established formal trade relations. It was in 1555 that Britain's Muscovy Company opened an office outside the Kremlin walls.

To this day, Britain remains among Russia's key trade and investment partners. According to Russia's Federal State Statistics Service, in the first half of this year it was the fourth largest investor in Russia. As of the end of June 2009, the amount of cumulative British investment in Russia stood at about $25bn, nearly one tenth of total foreign investment in the Russian economy. (The figure was larger by nearly $5bn at the start of the year, but capital outflows were significant as the crisis began to bite.) Direct investment in the first six months of 2009 was estimated at $3.7bn, while portfolio investment stood at $2.2bn, and capital investment totalled $18.7bn.

British companies were also among the major foreign investors in Russia's vital economic sectors. Ploughing in more than $1bn, Britain was the second largest investor in the manufacturing sector, maintaining an investment lead in the production of coke and oil products ($646m), and the production and distribution of electricity, gas and water ($92m). Despite the crisis, Russian investors increased their presence in the British economy, raising their cumulative investment to $2.5bn (from a total foriegn investment of $60.8bn) - dwarfing 2008's figure of $873m. Meanwhile, the potential for investment cooperation between the two countries is huge. Russian companies readily list their bonds and global depositary receipts (GDRs) on the UK market. Indeed, Russia's leading steel maker, Evraz Group SA, has applied for a permit to increase its GDR listing on the London Stock Exchange (LSE) by another $93.4m.

This year's RBCC RussiaTALK forum will provide an opportunity to discuss the tough lessons of recent months, decide on the best strategy for both countries to get out of the crisis, and take full advantage of the opportunities presented by global recovery. Looking at the results of Russia's anti-crisis efforts over the past year, President Dmitry Medvedev told ministers the country's GDP grew 7.5pc in the second quarter compared to the previous three months. "Certainly, it is just the first sign of recovery; it is too early to speak about steady growth," he admitted. Yet it is obvious that the Russian government is in a position to revise downward its predictions for a decline in domestic production in 2009.

Moreover, the positive trends also urged officials to review economic targets for next year. The GDP growth estimate was raised to 1.6pc, and industrial production is expected to grow by 1.4pc, with investment projected to add 1pc. (Even higher growth can be anticipated if oil prices reach $100 a barrel, as some analysts forecast.) Inflation figures did not disappoint, either. According to Central Bank chairman Sergei Ignatyev, consumer prices rose by just 8.1pc in the first eight months of the year. He expects 2009 inflation to be 11.6-12pc: below last year's figures and at the pre-crisis level of 2007.

The RussiaTALK 2009 agenda includes: the banking sector situation, co-operation with transnational corporations, capital markets, national currency protection, risk and investment, competitiveness and client loyalty in times of recession. The debate will also focus on agriculture, new business technology, corporate governance, development of small- and medium-sized businesses, upgrading Russia's infrastructure, and Moscow's future as a global financial capital.

The forum will be addressed by Prince Michael of Kent, patron of the Russo-British Chamber of Commerce; Evgeny Primakov, former prime minister and president of the Russian Chamber of Commerce and Industry; UK ambassador to Russia Anne Pringle; and Russia's ambassador to the UK, Yuri Fedotov.
All rights reserved by Rossiyskaya Gazeta.