Voice of reason or radio ga-ga?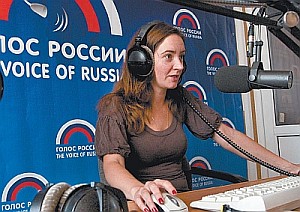 Voice of Russia broadcasts to six continents from its headquarters in downtown Moscow
Huddled in grimy, candlelit barracks, with Nazi guard dogs barking outside, inmates of Eastern Europe's most notorious concentration camps would gather round a strange device made of old light bulbs and tin cans. The contraption was an improvised radio, broadcasting the only outside voices most of them would hear for a long time. They were tuned to Radio Moscow.
On October 29, 1929, Radio Moscow - the Soviet Union's first try at foreign propaganda - became the first radio station in the world to broadcast to an international audience. It was followed three years later by the BBC, and then by Voice of America in 1942.

By 1939, the station was broadcasting in English, French, German, Italian and Arabic and warning the world about the growth of fascism in Europe. Mussolini personally ordered Radio Moscow to be blocked, as did Hitler following the onset of the Second World War. The station would continue to inspire those involved in opposition movements throughout Nazi-occupied territories.

At the peak of the Cold War, during the Cuban Missile Crisis in October 1962, Soviet leader Nikita Khrushchev chose Radio Moscow to broadcast his open letter to President Kennedy informing him of the USSR's intention to redirect a military convoy headed for Cuba, thereby avoiding a global war.

One of the primary achievements of Soviet propaganda during this time was its sheer size and scope: official sympathy and support for the "oppressed" peoples of Western colonial powers necessitated the goal of reaching every person in his or her own language. Hence, Radio Moscow - called Voice of Russia since 1991 - developed its vast international broadcasting network in languages such as Urdu, Bengali and Pashto. Today, the station broadcasts in 38 languages - more than any other network - to 160 countries.

A recent Kremlin-driven campaign to improve Russia's image resulted in the appointment of 49-year-old reformer Andrei Bistritsky to head the Voice of Russia. "We need to become a multimedia resource, not just a radio station - something like the BBC," Bistritsky, a former deputy director of the All-Russia State Radio and Television Broadcasting Company, explains.

Behind a somewhat serious façade, Bistritsky's almost boyish exuberance and genuine sense of humour shine through from time to time. "I don't know the size of the shoes I have to fill. At least one of my predecessors must have been shot," he grins, referring to Joseph Stalin's infamous purges of the diplomatic and media community in the Thirties and Forties.

On whether his station, the successor to a powerful Soviet propaganda machine, was willing to be as objective as the BBC, Bistritsky is quick to respond, "I worked as a producer at the BBC myself and regard it with much sympathy and respect, but I don't overestimate its objectivity. Remember when [BBC journalist, John] Simpson was expelled from Belgrade?

"The Voice of Russia's charter states that its owner - in this case, the Russian government - has no right to interfere in its content. This rule is obeyed. We provide our listeners with the Russian point of view, but if we don't give them different opinions that they can compare and analyse, we would be wasting our time."

"I've been listening to the station for 40 years," writes Mike Giblin from the UK. "The content has become better. Now, there's less politics and more information about life in Russia. The BBC has too many commercials: I hope Voice of Russia doesn't make the same mistake."

Globalisation has, however, taken its toll on Voice of Russia's popularity. The rise of the internet, burgeoning international commerce and inexpensive travel all mean that listeners are now less interested in receiving targeted information in their native language. The development of English - which is now understood by more than one billion people - into a "global language" has also affected major media.

"Traditional radio is experiencing slow and very painful changes," explains Bistritsky. "The oncoming digital age has increased competition internationally. While the average listener in, say, Brazil, was presented with maybe 15 radio stations a few decades ago, now he faces 600. Content - more than ever - has to be adjusted to fit local demand."

One visit to Voice of Russia's website (english.ruvr.ru) demonstrates how far technologically the station lags behind similar projects. "We don't need a total rebranding of the station," Bistritsky argues, "but we do have to modernise. The average age of our 1,100-strong staff is much higher than that of our listeners, who are mostly young, professionally active individuals.

"We plan to develop broadcasting over the internet - already a reality - and over mobile-phone networks. We'll also have to get an FM station in the US and open our own bureau in Washington. The main problem is financing: our budget remains a state secret, but I can tell you that it should be at least three times as large."

Voice of Russia also faces a major challenge from maintaining its sheer breadth of languages and listeners. "While we're a single radio station, each of our languages is a separate media outlet. We try to maintain a somewhat unified editorial line that directs content, but it's not always easy," says Bistritsky. Recently, the station launched several FM transmitters in the north of Iraq. "Afghanistan is one of our most successful markets," he adds.

"Yet exactly this challenge provides Voice of Russia its mission in the 21st century," he explains. "We will be a `hub' of sorts, an international airport. We will collect, organise and integrate information, distributing it to our vast audience. We target each listener - in his language - with exactly the content that is interesting to him. This is something the BBC doesn't do."

An successful integration of past diversity and scope with modern technology would make the station a valuable resource in a globalised 21st century. Bistritsky agrees a new, "overhauled" website would provide the best infrastructure for his new hub, and promises to launch it within months.

"There's no internet anymore; there's just a collection of different types of media. We're going to be at the forefront."

RN Dossier
Andrei Bistritsky was born in 1960 in Moscow. He entered the media in 1991, when he joined the All-Russia State Radio and Television Broadcasting Company. During this time, he hosted several radio and TV talk shows.
In 1996, Bistritsky headed the Society section of the popular Itogi magazine before becoming a producer for the BBC in Moscow in 1998.
In 2008, President Vladimir Putin appointed Bistristky to head the Voice of Russia.
Bistritsky holds a PhD from the Academy of Pedagological Sciences and is a professor at the Higher School of Economics. He is married and has one son.


Device used to pick up Radio Moscow in a WWII Nazi camp


Facts
1. The Voice of Russia (Radio Moscow) was the first to start international radio broadcasting in 1929. Now, with an audience of 109m, it ranks third after BBC and Voice of America among the biggest broadcasters.
2. Since 2003, Voice of Russia has been broadcasting digitally in Europe. It currently maintains mobile phone broadcasting in 16 US states.
3. 25pc of all listeners have started listening to Voice of Russia during the past five years. VoR broadcasts 151 hours of content globally each day.

Quotes
`VoR does a good job of providing objective coverage of the most complicated processes under way in Russia. It makes the country's foreign policy more clear to the audiences abroad'
Andranik Migranyan, NYC branch of the Institute for Democracy and Cooperation

`Everyone should have an opportunity to receive information from many sources, not just CNN. If an American wants to learn more about Russia, he should also listen to Voice of Russia to form his own view'
Mike Sefanov, CNN's Moscow Producer

Numbers
38 languages encompass Voice of Russia's broadcasting capability. The station airs in more languages than any other network.
160 countries on six continents receive Voice of Russia's broadcasts in some format. The station has been praised for maintaining its scope in an increasingly globalised media atmosphere.
3rd place - after the BBC and Voice of America - was taken by Voice of Russia among the world's biggest broadcasters in an opinion poll conducted by the International Organisation for the Support of Mass Media (Switzerland).
All rights reserved by Rossiyskaya Gazeta.