Discoveries on the Eastern Railroad: Irkutsk, Baikal and Vladivostok (Part 4)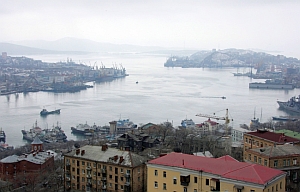 When I boarded the next train, I was more excited about getting away from Krasnoyarsk than getting to Irkutsk. Two days ago I had arrived at Krasnoyarsk after an over 20 hour train journey from Omsk. That same afternoon I lost my camera with over 500 photos of my Trans-Siberian trip so far. The following day, after an exhausting 7 km climb up Krasnoyarskґs jagged terrain to gigantic rock cliffs in the Stolby Natural Reserve, I - alone, tired and hungry - got lost in the forest for 2 very long and dark hours. In retrospect, itґs all laughable but back on 9th June, it felt like the end of the world.
Within 2 minutes of the train departing from the wretched city of Krasnoyarsk, I made my bed on my upper berth seat and almost instantly slipped into much needed sleep. It was already late afternoon when I woke up in a haze at Ilyanskaya - a small Siberian town, where the train had halted. People scurried about the platform to grab vital supplies for the remaining 10 hours before Irkutsk. And thatґs when, out of nowhere, I heard it! English! Someone on the train was speaking in English! If youґve never been to Russia, my excitement might escape you because outside of Moscow and Petersburg, you have more chances of running into God than into an English speaker.
But Irkutsk is an exception. On first sight, it seems like just another flat Siberian city, undistinguished in orientation or architecture, having the usual Lenin and Marx streets, the Musical and Drama Theatres, the Philharmonic Hall, Orthodox Churches and the Eternal Flame dedicated to those who died fighting the Second World War. But if you dive a little deeper, the city is littered with backpacker- hostels serviced by friendly English speaking staff - a concept alien to the rest of Russia! This little ecosystem of hostels is no accident because even at 70 km away, Irkutsk is the closest city to the worldґs deepest lake, Baikal that sustains this ecosystem by attracting travellers from all over the world.
Thanks to Baikal, Irkutsk became an exception for yet another reason. I was no longer alone on the Trans-Siberian; I had made 5 new friends. It was Ryan and Tom in the compartment next to mine, who were speaking in English. They along with their friends Katy, Lizzie and Gary were going to Ulaanbaatar in Mongolia for 6 weeks as volunteers from the University of Edinburgh to work with children on protection and development. But before heading to Ulaanbaatar, they too were going to spend a couple of days exploring Irkutsk and Baikal...
The easiest way to get to Baikal from Irkutsk is through mini-buses that run on the hour. So off we went; the 6 of us cramped together in one of these to Listvyanka, a tiny village on the shore of Baikal. Baikal - the "Pearl of Siberia"; the deepest lake in the world; an ocean in the making that with the rift in the tectonic plates over millions of years will split the Asian continent into two! The phrase "crystal clear" must have been coined by someone standing at Baikalґs shoreline. Even from a distance, we could see the plants and rocks below. Baikal seemed like a thin sheet of silvery mirror placed delicately between the tree-covered rocky cliffs around and their undisturbed upside-down reflections!
Fast-forward to the next morning: I was back at the railway station staring at my ticket to Vladivostok and one thing in particular - the time between departure and arrival. The 73.5 hours that separated Irkutsk and Vladivostok were making me rather nervous. This was going to be my longest train journey ever and I had no idea what I was going to do for 3 days on the train. I bought an extra couple of newspapers and almost convinced myself that this would be a good time to learn how to play Sudoku!
But after the Krasnoyarsk fiasco, God too was eager to fix his popularity ratings with me. So I got the 5 lovely Brits in Irkutsk and on the train to Vladivostok, I found myself in the company of Natasha and Nastya. Over the next three days, we played every card game known to mankind and even had a man, who had a bit too much vodka and got a bit too friendly, thrown off the train.
Right opposite the Vladivostok train station stands the most unusual statue of Leninґs that I have ever seen. His worn-down, verdigrisy features and the excremental affection he regularly receives from sea-gulls showed his estranged relationship with the local authorities. But more interestingly, you can see him pointing at something and cringing back with a horrified look on his face. Maybe the Ghost of Communism Past paid him a visit!
Back in 1917, after the October Revolution, European Russia immediately fell to the Bolsheviks. But the Tsarist White Army and its allies held out another 5 years and Vladivostok was the last city to fall to the Soviets. Today, starting from Leninґs statue across the station, the city echoed the same story. Leninґs statue here wasnґt in Lenin Square or on Lenin Street or Avenue. It was in Station Square on Aleutskaya Street. Even when I went around the city, there was no Lenin or Marx Street. I guess in some ways Vladivostok has still not succumbed to the Soviets! Having said that, there is an impressive monument in the city centre dedicated to those who fought for Soviet Power in the Far-East.
If rebellion is in Vladivostokґs blood, then it shows on another front. The city is rather badly kept - perhaps not by Indian standards but by Russian standards, I thought it was quite filthy and the air was impregnated with an awful sting of poorly refined petrol. After a day and a half in the city, I realized that there were only two things that made Vladivostok a worthwhile tourist destination. Firstly, it is the end of the traditional Trans-Siberian route and the Russian Stateґs emblem, the double-headed eagle sits on the column marking this endpoint of 9,288 km long journey between Moscow and Vladivostok. Secondly, it is a large and cosmopolitan port town a stoneґs throw from Japan! If one gets well away from the city centre, the sea front is breathtakingly beautiful!
Standing at the embankment overlooking the Sea of Japan, I couldnґt believe my Trans-Siberian trip was over. But I had one more train to take. I flew from Vladivostok to Moscow and then boarded this last train home. It was the usual 8 hour overnight train and after the Irkutsk-Vladivostok marathon, it felt like childґs play!
9:10 AM, 17th June - Opposite Tsar Peter, the Greatґs giant bust in Moskovskii Vokzal; there I was 10,000 km, 19 days, 8 time-zones, 7 cities and 2 continents later back home in Petersburg.
All rights reserved by Rossiyskaya Gazeta.