Ministers: We have more work to do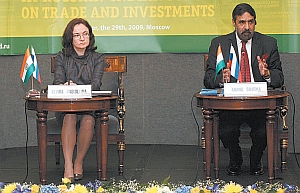 Russian Economics Minister Elvira Nabiullina (left) and Indian Commerce and Industry Minister Anand Sharma (right)
Russian-Indian trade is expected to reach $15 bn in 2012. The projected figure was discussed by the two countries' top economic officials as they met at the third Russian-Indian Trade and Investment Forum, which took place in Moscow late last month.
The agenda of the gathering, which was attended by some 400 delegates from Russia and India, focused on plans for new joint projects and efforts to boost the long established business relations between companies and regions from both nations.

Russian-Indian trade totalled $3.2 bn in the first six months of this year, with $8.4 bn expected for the whole of 2009 and $10 bn projected for 2010, Deputy Prime Minister Alexander Zhukov told the forum.

This is not much, especially given both countries' trade with China (trade between India and China topped $40 bn in 2008, behind the Russian-Chinese figure of $56 bn).

However, it's not all doom and gloom: India is one of the few countries to see trade ties with Russia growing in 2009, in defiance of the overall trend whereby cross-border commerce shrinks as oil and gas prices fall. "With India, we have a different trade structure, with hi-tech products playing a greater role. As a result, Russian-Indian trade is on the rise," Zhukov explained.

Russian Economic Minister Elvira Nabiullina continued in the positive vein, reporting that Russian-Indian trade has been growing by a third every year since 2005, while the share of high value-added products has been climbing, too. Despite the global economic downturn, Russia's trade with India increased by 10 pc over the first seven months of this year.

Nabiullina criticised the $10 bn target for 2010 as "too low given both countries' potential." Among Russia's trade partners, India currently occupies a modest 24th place, accounting for as little as 0.9 pc of Russia's foreign trade - but still more than Russia's share of Indian foreign trade, estimated at a mere 0.8 pc.

The Economic Minister described India's market as one of the most attractive to Russian companies. At the same time, Nabiullina stressed the need to enhance the structure of bilateral trade, including through joint co-operation. "We expect both countries' business communities to submit their proposals for such projects," she added.

Among priority areas for joint projects, the minister named manufacturing, energy, mechanical engineering, aircraft building, communications, pharmaceuticals, metallurgy, construction and agriculture.

For his part, Indian Commerce and Industry Minister Anand Sharma pointed to the need to diversify co-operation, focusing on investment in vital areas such as pharmaceuticals, energy, IT, food and the jewelry industry.

Addressing the forum, Nabiullina noted India's accumulated investment in Russia greatly - by a factor of one thousand - exceeded Russia's investment in India. According to Russia's Federal State Statistics Service, India's total investment in Russia was reported at just over $1 bn as of the end of 2008, including $895 mn in direct investment, while Russia's total investment in India stood at just $12.1 mn, including $900,000 in direct investment.

"Russian-Indian trade is set to rise over the next few months as India remains interested in Russian investment. Russian authorities seem to be serious about boosting trade ties with India. Besides, we have a powerful and interesting rival in the region, namely the United States: American-Indian co-operation has increased greatly recently, mostly in the military and technical areas. India also attracts the US as a potential hi-tech market. In this respect, Russia certainly wants to put up competition," believes Alexei Mukhin, Director of the independent Centre for Political Information in Moscow.

RIR Dossier: key joint investment projects

In Russia

ONGC Videsh Limited (OVL) invested in the development of the Sakhalin-1 oil and gas project and in the acquisition and development of the Imperial Energy Company, developing two oil fields in the Tomsk region. OVL plans to bring its oil output from the current level of 500,000 tonnes to 5 mn tonnes a year.

ICICI Bank invested in the opening and development of ICICI Bank Eurasia in Russia.

Tata Motors invested in the assembly of light commercial Indian vehicles at Russia's Avtomobili i Motory Urala factory and the assembly of Indian buses at Russia's Volzhanin and Samotlor works.

CUMI International Ltd. invests in the production of abrasives in the Russian city of Volzhsk (Volgograd region).

TATA Tea invested in the creation of a joint tea and coffee packaging business, involving Grand Trading House (49 pc), TATA Tea (33 pc) and the European Bank for Reconstruction and Development (18 pc).

In India

AtomStroyExport completed construction of the first two power generating units of the Kudankulam Nuclear Power Plant in the Indian state of Tamil Nadu. In December 2008, an agreement was signed for co-operation in the construction of four additional power units, 1,000 MW each, as well as new nuclear power plants in India based on Russian design.

AFK Sistema will invest up to $5.5 bn in the development of its Indian subsidiary Sistema Shyam TeleServices (SSTS, in which AFK has a controlling interest of 73.71 pc) over the next seven years.

KAMAZ JSC and India's Vectra Group set up a joint venture in April 2009 to manufacture KAMAZ heavy commercial vehicles in the Indian city of Hosur (Tamil Nadu). The company will produce 5,000 vehicles a year. KAMAZ has a controlling interest.

Titanium project. An intergovernmental agreement was signed in November 2007 to expand the use of funds paid by India to settle its debt to Russia, which stems from government loans granted to India by the former USSR and the Russian Federation. As a result, some $1.2 bn of debt repayment funds will be available for investment. The first project is a joint venture to produce titanium products, created in the Indian state of Orissa in 2008. Russia will invest about $126 mn.

Banking sector. In 2008, VTB Bank opened an office in New Delhi. Sberbank of Russia is also in talks to open a branch in India, announcing plans to invest $17-20 mn in the project.

In 2008, Russian Helicopters JSC (part of Rosoboronprom Corporation) and India's Vectra Group set up Integrated Helicopter Services Pvt. Ltd., a joint venture specialising in helicopter equipment maintenance and spare parts delivery. Russian Helicopters has a controlling interest of 51 pc. Oboronprom Corporation's entire business in India is worth billions of dollars.

Military and technical co-operation. Both countries are implementing a military and technical co-operation program through 2010, covering over 200 projects worth some $20 bn. Some of these have already been completed; one of the largest is the licensed production of Russia's Su-30MKI fighter jets in India. Russian companies are also fulfilling India's orders for MiG-29K and MiG-29KUB shipborne fighters, as well as Ka-31 helicopters. India imports Russia's T-90S battle tanks, also producing them at home based on a Russian license.

An agreement was reached during an aerospace show in the Indian city of Bangalore in February 2009 to create a 50-50 joint venture producing a multi-functional transport aircraft (the contract is worth $600 mn).

Among interesting projects under discussion are plans by Russia's SIBUR and India's Reliance Industries Ltd. to build a gas chemical company in Russia, and the planned construction of a LNG terminal and a refinery in the Indian city of Haldia by India's Spice Group and Russia's Zarubezhneftegaz.
All rights reserved by Rossiyskaya Gazeta.