Technological collaboration goes on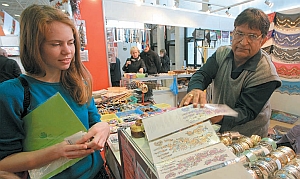 Traditional Indian arts and crafts were a popular attraction at the recent trade fair in St Petersburg
About 150 leading Indian companies, both public and private, took part in a far-reaching exhibition of India's technology and traditional crafts, which was held in St Petersburg's Lenexpo exhibition center earlier this month.
The India Show 2009 has become Russia's largest Indian business event of the year.

The exhibition's prime goal was to highlight the broad spectrum of India's manufacturing and technological achievements, fostering business contacts between exporters, importers, suppliers and buyers on both sides.

There was no shortage of exhibits featuring a wide variety of products and technology, with emphasis on mechanical engineering, chemicals, IT, electronics and software, along with space technology, light industry, agriculture and food products. India's famous fabrics, jewelry and souvenirs added a unique touch to the event.

An important place was reserved for scientific research projects from the Integrated Long Term Programme (ILTP) for Russian-Indian co-operation in science and technology, launched 22 years ago. Rajeev Kumar, a professor at India's Department of Computer Science & Engineering, said 500 projects have been implemented since 1987, and another 100 are in the works. In addition, 10 joint scientific and research centres have been created.

Co-operation between scientists peaked during 1988-1991, which saw a flurry of exchange programmes, but this period was followed by a decline due to financial shortfall. "Now our co-operation is getting back on track. We are particularly interested in such areas as biotechnology, informatics and nanotechnology," Dr Kumar said.

Among the most vital is a joint Russian-Indian project to build a collector for deep-seabed polymetallic nodules.

India's vast territory underlying the central Indian Ocean, some 75,000 square kilometers in size, is rich in manganese, nickel, cobalt and copper, but it is a daunting task to extract the minerals as they rest at a depth of 6 km, says Mr Sudhakar from India's Ministry of Earth Sciences. "Russians are good at deep-water technology. Experts from the Experimental Design Bureau of Oceanic Engineering at the Russian Academy of Sciences helped us create a multi-functional unmanned underwater vehicle with the required immersion depth and capacity to process up to 100 tonnes of nodules a day. It can also be used for gas hydrate deposits, which is important for Russia, too," he explained.

Another crucial area is space exploration. India's first satellite was launched in 1975 with the help of Russia's Vostok launch facility. Since that time, Russia has been India's permanent partner in space exploration. Eleven remote sensing satellites and 10 communication satellites are currently in orbit, monitored by a Russian-made tracking station. India plans another lunar mission in 2012, Chandrayaan II, consisting of an orbital spacecraft and a lunar vehicle to be produced in Russia.
All rights reserved by Rossiyskaya Gazeta.