Signs of a cinematic revival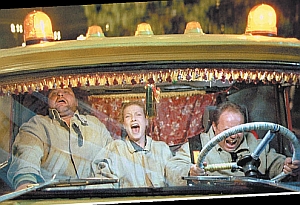 Fantasy thriller Day Watch heroes in action
The official history of the Russian film industry began on 27 August 1919, when the Bolshevik government adopted a decree on the nationalisation of film production in Soviet Russia. This day later became a national holiday: Cinema Day. Over the 100 years since, Russian cinema has had its ups and downs, and today it is struggling to survive in the midst of a crisis.
However, an eight-minute silent picture called Ponizovaya volnitsa, better known under the title Stenka Razin (leader of a major Cossack and peasant rebellion against Russia in the 17th century) and shot by director Vladimir Romashkov, is considered the first Russian film. It was this film that marked the starting point of the rich history of Russian cinematography.

In the years since then it has enriched the treasure house of world cinema with some real masterpieces, and directors such as Sergei Eisenstein, Alexander Dovzhenko and Andrei Tarkovsky have become classics of world cinematography. Russian films have won Oscars five times - by Sergei Bondarchuk's War and Peace, Vladimir Menshov's Moscow Does Not Believe in Tears, Nikita Mikhalkov's Burnt by the Sun,Alexander Petrov's animation The Old Man and The Sea and Leonid Varlamov and Ilya Kopalin's documentary Defeat of the German Armies Near Moscow. In 1975, the Soviet-Japanese film Dersu Uzala by Akira Kurosawa also won an Oscar. Russian cinema's trophy cabinet also includes the Palme d'Or - the highest award of the world's most prestigious film forum, the Cannes film festival; in 1958 it was won by Mikhail Kolatozov for his film The Cranes are Flying.

In the last couple of years, Russian film studios have been making no less than 250 films per year, of which 80-90 have been screened annually. The number of cinemas in operation within Russia has reached 1,800. Experts estimate the approximate annual turnover of the film business is more than $1 bn, and around $1.5 bn when serial and cinema production is taken into account.

The government supports every second film on a competitive basis. This involves no less than 4.3 bn roubles ($140 mn) of state funds.

In Russia, the first blockbuster appeared only five years ago - a fantasy film called Night Watch (2004), which earned $16 mn. By 2008 total takings in Russia exceeded $800 mn, while individual films can take more than $50 mn.

Just a few years ago, film budgets in Russia were frequently less than $3-5 mn, but recently Russian cinema-goers saw director Fyodor Bondarchuk's two-film series Inhabited Island, which had a budget of about $40 mn.

It's true the financial crisis has not left the film industry untouched. By the end of last year, about one third of all projects in production were frozen. For example, the Mosfilm studio halted production of about 25 films of a total 90 being made; according to Oleg Ivanov, General Director of the company Movie Research, in all about 70 of 250 films were frozen at various stages of production. Many private investors have stopped financing films, and getting a bank loan has become unrealistic. Many films are awaiting release with virtually no advertising budgets.

In 2009 only 20 films have begun shooting. Sales of DVD productions have dropped by more than half on the Russian market, and television companies' purchases of films are down by half. According to Dmitry Litvinov, General Director of Planeta Inform CG, at a time of crisis budgets of $1-3 mn are least risky for Russian producers. The advertising budget for a Russian film adds on average another $0.7-2 mn in costs.

The situation is now gradually stabilising, and many companies are slowly restarting projects they had halted and putting them into production, while cinema takings are not looking bad. For example, according to the website movieresearch.ru, box office takings for films in Russia in the first quarter of 2009 reached 6.1 bn roubles ($200 mn), while in the same period of 2008 films took 5.6 bn roubles ($179 mn). This gives us reason to hope the Russian film industry will get back to its pre-crisis levels in the very near future.

Optimists consider that the financial crisis has brought the Russian film market not only problems but also some pluses - the industry will be slimmed down and the casual players will get out, leaving only major companies for whom film represents core business.

The current crisis has seen a significant drop in prices of hiring studios and crew. There has been a corresponding reduction in film production costs. In the film services industry, supply is substantially greater than demand. The biggest film sets in Russia are far from overloaded.

One of the most successful - the Mosfilm studio - traces its history back to the Soviet era. The company's studios are located in the centre of Moscow and in good technical condition, so this is where a considerable proportion of Russian films are shot. Competition for Mosfilm comes in the form of the recently created Russian World Studios, which has production facilities in Moscow, St Petersburg and Anapa, on Russia's Black Sea coast.

Despite the crisis, the biggest Russian filmmakers can allow themselves to continue making big-budget films. These include, for example, the TriTe studio, set up by the Oscar-winning director Nikita Mikhalkov, which is shooting Burnt by the Sun 2 with a budget of about $70 mn.

The Hollywood company Walt Disney is also co-operating with this studio, and recently completed shooting its first family film in Russia: The Book of Masters, based on Russian folk tales. Experts put the budget for the joint production at $5-7 mn. If the film goes well when it is released, Disney is ready to shoot a complete franchise with Russian actors and directors.

The Bazelevs company, set up by another famous Russian director, Timur Bekmambetov, is a significant player in the market. The Bazelevs studios have been responsible for films which had a revolutionary effect when distributed in Russia - Night Watch, Day Watch, and the comedy melodrama Irony of Fate: Continued. Apart from this, Bazelevs is building a close partnership with the Hollywood film company Universal Pictures. Bazelevs did post-production work for the American film Wanted, which Bekmambetov directed in Hollywood. Bekmambetov is now producing Black Lightning, a film about Russia's first superhero and his flying Russian car.

"Bekmambetov's new film may prove to be a success, since he hasn't gone for a straight copy of Western films," says Oleg Ivanov of Movie Research. Timur is making a film that reflects the characteristics of our national mentality and is based on exploring values all people share. Only film-makers who are prepared to understand the `mysterious Russian soul' can make films that succeed with Russian viewers."

Central Partnership is another player in the market.

It is capable of producing a minimum of three to six films per year, considered a good level for Russia. The company was the first in the country to develop the epic fantasy genre, financing production of the film Wolfhound from the Tribe of Grey Dogs, investing $10 mn. It is now concentrating on the historical war drama Brest Fortress with government support. Other major Russian film companies include Interfest, STV, Leopolis, Kaskad-Film and Red Arrow.

Hollywood giants have also come to Russia and are actively involved in making films. Sony Pictures Entertainment, for example, has set up Monumental Pictures, which makes Russian-language films primarily for distribution in Russia and the CIS. Monumental Pictures is investing in films with budgets that are typical for the Russian market. And we can assume Twentieth Century Fox has already made its mark by creating the historical drama Admiral at a cost of $20 mn.

"Western studios are primarily interested in talent - people who can make big films. They are also interested in ideas - screenplays or remakes of local films with international potential. But it's unlikely that `supplying the West with ideas' could become an industry - it seems to me that there is now, and will continue to be, selective buying of rights and work on individual projects," says Armen Dishdishyan, Vice-President of Central Partnership. "The fact that the West more often looks to Russia for new ideas and is thereby increasingly integrating the Russian industry into the world market is shown by the companies that are engaged in serial production. Russia is no longer a place just to buy ideas but also a place to sell them."

"Apart from the countries that are Russia's immediate neighbours, our content is also in demand in Europe," reports Anton Kudryashov, General Director of the Russian company STS Media. "We have already sold the original format of our popular family serial Daddy's Daughters to the entertainment channel Das Vierte in Germany. As in our own version of the sitcom, well-known personalities from the cinema and show business are invited onto individual episodes."

According to Dishdishyan, "Russia is already the fifth biggest market in the world and the fourth biggest in Europe. The Hollywood studios' desire to be in that market by making local productions is logical. But for them it is extremely important to have the right partner, who will not only take their technology and finance but also give something - as a minimum, understanding of our market."

In other words, very healthy investment is coming in to our cinema, and it means that for those in this market there is good reason to believe that the film industry in Russia will overcome this crisis too.
All rights reserved by Rossiyskaya Gazeta.