Americans teach small business in Nalchik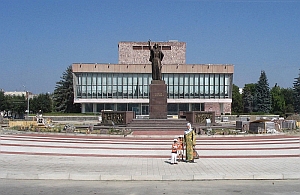 From 12 to 16 October, employees of the US consulting firm Friends from Abroad held a number of seminars at the Kabardino-Balkarian Institute of Business.
This is the Americans' sixth visit to the Caucasian city of Nalchik. Friends from Abroad specialise in consulting with small businesses around the world, and also provides educational services in the areas of leadership and entrepreneurship.

Each time they come to Nalchik, the American experts invite local students for three days of seminars. This year, the agenda included such timely and topical issues as the development of small businesses in the North Caucasus, employee retention amid worsening labor market conditions, business management strategy during economic crisis, personal financial management during tough economic times, and the role of leadership in business, society and the family.

For its part, the institute prepared a cultural program, introducing American friends to the oldest traditions and customs of the Kabardino-Balkaria Republic. The program also included joint concerts, which helped boost cultural exchange between the Caucasian and American peoples. Along with traditional Caucasian music and dancing, the concert programmes featured American swing dances and English songs composed and performed by the members of the US delegation.

During their visit, the American consultants also traveled to one of Russia's most beautiful areas - the foot of Mt. Elbrus, the highest peak in Europe. The primeval nature, clean air, unique location and hospitality of the local residents all combined to create a unique atmosphere, captivating visitors and compelling them to come back again and again.
All rights reserved by Rossiyskaya Gazeta.