Back to the USSR of your dreams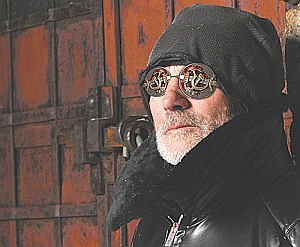 Designer Igor Isaev features Soviet motifs in his new collections
Nostalgia for the U.S.S.R. may be somewhat misunderstood. For many Russians, it is a remembrance of things past, the smells, tastes and appearances of their childhood. Clubs, restaurants and shops try to help aging Russians recapture the feeling for times gone by.
For the most part, Soviet nostalgia is a remembrance of the supposed innocence of childhood, from idle days at the dacha to Young Pioneers (communist scouts). There is a darker side, of course (see box). But for young Russians the attraction is just as exotic as for foreigners.
One might balk at the sight of the scarlet sign, U.S.S.R. Café-Bar. Lyudmila, the café's owner, claims her cozy eatery was the first of its kind in post-Soviet Russia when it opened in 2001. Seven years ago, as an employee of the Ministry for Emergency Situations, her salary was $100. She borrowed the $25,000 she needed to open a café in Moscow, and it was enough to buy kitchen equipment and redesign the interior in typical Soviet style. Here you can see a plaque with the slogan "Soviet woman, you must learn to read and write" hanging above the tables, as well as portraits of Soviet leaders, while burgundy curtains frame a stage reminiscent of Soviet culture clubs.
The Soviet design of Lyudmila's Café is the result of a well thought-out business plan. Yet there are places in Moscow with a much more subtle connection to the recent past, their Soviet-style appearances preserved as perfectly as Lenin in his mausoleum.
Druzhba Cheburek-House is a classic example of a Soviet standing-only bar: the battered tables are covered with beer mugs, stout waitresses, a couple of washstands near the entrance and no lavatory. If a bathroom is sorely needed, regular customers suggest visiting the McDonald's just in front of the building. It is clear that Druzhba is thriving, as there are long lines to buy chebureks (a meat pastry) and beer for 30 rubles ($1). "Our visitors usually order a small glass of vodka and a couple of chebureks. Is there anywhere else you can have all that for under 100 rubles and even get 10 rubles change? The director told us Druzhba sometimes has as many as 1,000 visitors in one day, meaning a daily sales volume of about 100,000 rubles ($3,400)-a considerable sum even for an upscale restaurant. Druzhba Cheburek-House is just the type of establishment that thrives during financial crises.
The success of these stand-ups, as they are called, naturally prompted others in Moscow to follow their example. Several years ago, a beerhouse opened near Red Square, where customer turnover is always high. Despite being terribly crowded, smoke-filled and expensive, the place is packed almost 24 hours a day. No one can predict what will happen 10 years from now, but today everything Soviet is in vogue and this applies to more than food. More recently, cheap Soviet-era cigarettes have experienced a boost against Western brands. The commercial director of the Saratov supermarket network called Socialism (18 stores in total) said he is confident that the name helped their supermarkets compete and capture the attention of the older generation.
Back to Your Childhood
"When under stress, especially in difficult times, people tend to react with so-called age regression. They begin to behave as if they were children living a carefree and comfortable life, unaware of adult problems. The generation that grew up in the 1960s, 1970s or 1980s associates their youth directly with the U.S.S.R. As for younger people who never lived in the Soviet Union, they wear T-shirts with hammer and sickle emblems or Pioneer ties because they want to demonstrate their usual `teen' protest and overly romantic vision of the lost power of the Soviet empire," said Russian psychologist and professor Vadim Petrovsky.
When you switch to the Nostalgia cable TV channel, you have an immediate feeling of déjà vu: Vremya, a daily TV news program, airs a story about the Red Path collective farm, which is one year ahead of the 5-year plan, then we see Soviet leader Leonid Brezhnev in the Kremlin. Nostalgia's success was soon imitated by many other TV channels, which suddenly demonstrated a keen interest in vintage programming. Retro Channel and Sarafan (named after the traditional dress for women) broadcast only old Soviet films, such as the famous "Irony of Fate," one of the most popular Soviet-era films worldwide. In addition to Nostalgia, there are two other vintage TV channels: Russkiy Mir (Russian World) and Kto Est Kto (Who Is Who).
Radio stations are also keeping abreast of the new trend. A 1980s disco project is tremendously popular; its first party in 2002 attracted 8,000 visitors. Last year, the producers sold 25,000 tickets even with an economy unraveling.
"I would describe our project as a day of youth," is how Yuri Kostin, Vice President of the Prof-Media broadcasting company and general producer of The 1980s Disco. "Most people would reject the very idea of going back to the U.S.S.R. with its supply shortages, long lines and Communist ideology, but everyone would, of course, be happy to relive a least a day of their youth."
Is the new U.S.S.R. vogue here to stay? Market trend experts believe that, like any trend, it is cyclical and will not last forever. Perhaps, one of these days, the 1990s will become as popular as the 1970s are now. But Yeltsin era nostalgia is still beyond the Russian imagination.
---
Is Soviet Nostalgia Harmless?
Nostalgia also has its dark side in Russia: A recently opened restaurant called itself the Anti-Soviet Kebab House-a tongue-in-cheek pun since it was across the street from the well-known Soviet Hotel. Business quickly became complicated. The Association of Veterans complained that the name offended them and mocked their sacrifices during World War II, and local authorities forced them to change the sign. The owner of the establishment said that "the debate is no longer about staying open without the name; we'd be happy just to stay open." Enter human rights activist Alexander Podrabinek, who wrote an article reminding the veterans of the other side of the U.S.S.R, from famine to gulag to purges. The youth movement Nashi organized a harassment campaign against Podrabinek so threatening that he went into hiding with his family. That's how far nostalgia can go in Russia.
All rights reserved by Rossiyskaya Gazeta.