Russia's cultural diplomat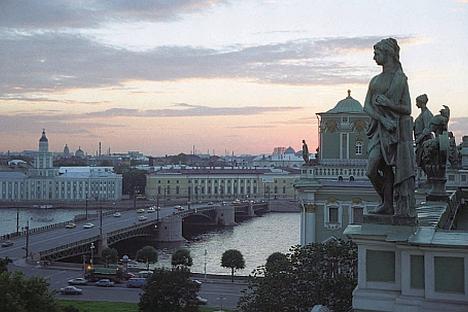 The State Hermitage Museum is embracing the 21st century
A few years ago, the State Hermitage Museum was in chaos and Artistic Director Dr. Mikhail Piotrovsky's post seemed in peril. Today, Piotrovsky is Russia's cultural emissary to the world.
Three years ago this month, the State Hermitage Museum, a czarist palace turned into one of the world's greatest museums, was in chaos. The staff was under attack and morale was low after the discovery that a curator of more than 30 years stole more than 200 pieces. It was as easy as stuffing a jeweled chalice into her purse and selling it to the local antiquarian. The curator fell dead at her desk when an inventory of her collection began.

Artistic director Dr. Mikhail Piotrovsky called the theft "a knife in our back," and said he felt the curator and her family, who were prosecuted, may not have been acting alone. An emergency session of the Russian Union of Museums called the fallout from the thefts "The Chernobyl Effect" as Russian authorities threatened to seize control of all museums in the country.

Piotovsky's position at the museum seemed in peril. A true Renaissance man, he was vastly underestimated. Through some fantastic combination of talent, resilience and fate, this scholar of Oriental and Islamic art, who speaks 12 languages, has since flourished as Russia's leading cultural diplomat with the rest of the world. He is at the helm of the museum's pioneering efforts to bring international contemporary artists to the Hermitage, and to develop a contemporary art collection and museum. Piotrovsky has emerged as more powerful on the international arts scene than ever before; the climate has changed so much that is it difficult to recall what happened just a few years ago.

Earlier this month, Piotrovsky accepted the Woodrow Wilson Award for Public Service in Washington, D.C. He was honored for his decisive leadership during the financial crisis and for continuing to create opportunities for expansion. Most significantly, he was also honored for his commitment to cultural diplomacy with the United States.


There was a time when even Piotrovsky thought the Hermitage, home to Titian, Raphael and Da Vinci, would stay clear of most modern and contemporary art. But art aficionados in Russia have long decried the lack of access to today's art in Russia, and the ambitious project called "Hermitage 20/21" was born. (The Russian Museum, Saint Petersburg's established home for Russian contemporary art, is no longer enough.)

"At first we thought we would not get involved with contemporary art at all," Piotrovsky said sitting in the lobby of the Roosevelt Hotel in New York, "but after careful consideration we changed our minds." Piotrovsky spoke to Russia Now on his recent trip to the United States, which included a stop at the Kandinsky exhibit at the Guggenheim Museum in New York. He acknowledged the need for patience in establishing a contemporary collection. "This project is long-term, difficult and expensive." In the meantime, his relationship with the London-based Saatchi gallery has resulted in the current exhibit, "Newspeak: British Art Now."

Dmitry Ozerkov is the acclaimed curator in charge of Hermitage 20/21. "Our idea is to show the best art of the United Kingdom at the Hermitage. So, it's not about the Saatchi Collection only: This is about developing Hermitage principles for contemporary art."

"We want a collection, and we understand we can't have it tomorrow," said Ozerkov. Recent art shows have opened to acclaim, but not always forgiving crowds.

"Contemporary art can be a problem," Piotrovsky said. "Not everyone understands it." But the recent Hermitage exhibit of Russian artist Timur Novikov garnered a "positive reaction worldwide," he said. "You just never know."

The Novikov show had dramatic appeal, timed for what would have been the 50th birthday of one of Russia's leading post-war artists. Novikov, who died of AIDS-related pneumonia in 2002, was the flamboyant guru of the Leningrad underground in the 1980s. During perestroika, he was St. Petersburg's pre-eminent collector, globe trotter and cultural emissary. But it was his silkscreens, both minimal and richly Russian, that moved audiences. The response to the Novikov show at the Hermitage was passionate, and Novikov's legacy is now just that much more secure.

A teen's cultural odyssey
Can St. Petersburg's Hermitage Museum stay connected to Russia's youth?

The Hermitage is trying to get more involved with Russia's cultural future. Irina Knyazeva, a 14-year-old from the Rostov area, won a national competition for high school students, sponsored by Coca-Cola, called "My Concept of the 21st Century Museum." Her reward was a trip to New York, a meeting with the internationally esteemed director of the Hermitage, Dr. Mikhail Piotrovsky, and a tour of the Kandinsky exhibit at the Guggenheim Museum.

In her essay, she implored curators to display work in which the creator is "constantly asking himself in what manner his work influences the human soul."

It is critical that thousans of children across Russia are nurtured children like Irina, and make a larger investment in Russia's cultural future.
All rights reserved by Rossiyskaya Gazeta.