Investors want Russia to keep its energy cheap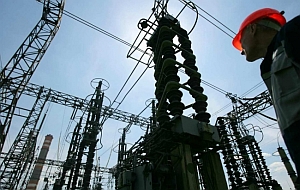 They discussed the new structure of the Foreign Investment Advisory Council and pressed to keep domestic energy costs at the current relatively low level. Such calls, however, go against the grain with those foreign businesses that want Russia to increase energy prices at home to create a fair competitive environment.
As announced earlier in Russia Now, the Foreign Investment Advisory Council held a meeting in Moscow on 9 November (the key discussion points were revealed to our correspondent by Alexander Ivlev, a partner at Ernst & Young and FIAC coordinator). It could have been just another FIAC session but for the conspicuous coincidence that it took place shortly before official statements proclaimed that the crisis was beginning to loosen its grip on the economy. CEOs felt the significance of the occasion. For example, Werner Geissler, Vice Chairman of Global Operations at Procter & Gamble, and Eckhard Cordes, CEO of the Metro Group, specially came to Moscow to attend the FIAC meeting.

During the meeting, investors complained to Putin about the onerous red-tape, obstructive customs service and lack of infrastructure. James Turley, CEO of Ernst & Young Global, told a story about one foreign company, which had built and commissioned two factories abroad within the same period that it was struggling to obtain government authorization to build one facility in Russia.

Putin acknowledged that their complaints were "absolutely justified" and said that the Russian government plans to reduce bureaucracy by introducing an application process for registering a business and by handing over some of the regulatory authority to self-regulated organisations (SRO).

According to an official from the Economic Development Ministry, the Russian government also plans to reduce the approval period for foreign-sponsored investment projects. He noted that paperwork might be outsourced or handled by government authorities. The application process could be adopted for the construction industry, trade and personal services, explained economic development minister Elvira Nabiullina. Putin remarked that SROs could not cope on their own at this point as they lack the necessary organisational capability to assume such responsibility.

The FIAC decided to expand the platform for consultations with the Russian government and to set up a joint executive committee, which will meet at least three times a year instead of annually as before. Alexander Ivlev, from Ernst & Young, praised the meeting as an open and direct dialogue, though one of the participants expressed concern that Russian red tape was so powerful that companies could not overcome it unless they take their grievances directly to the Kremlin.

Yet, it was only at the end of the meeting that investors raised the most controversial issue. They insisted that Moscow should make sure that the cost of production in Russia remains lower than in Europe. "We would like to work with the government to identify ways of sustaining competitive manufacturing costs for our Russian production centres relative to similar centres abroad", said to the RBC Daily Irina Bakhtina, Corporate Relations Director at Unilever in Russia.

Another attendee explained that growing energy costs represent a critical challenge for companies that manufacture their products in Russia: "In some off-record statements, Russian authorities said that energy prices would be increased to match European levels. In this case Russia will lose its competitive edge over Europe". China attracts investment through cheap labour, India offers inexpensive intellectual resources, and Russia has always won the hearts of international investors with affordable energy, he added.

Video: Interview with Jim Turley at the 22 Plenary session of the Foreign Investment Advisory Council
All rights reserved by Rossiyskaya Gazeta.