Belykh: reform from within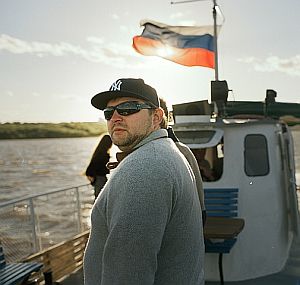 Despite occasional signs to the contrary,Nikita Belykh is not alone in his desire to seeRussia governed by leaders who areresponsive to their people
Nikita Belykh is an outsider among Russian governors: a Medvedev appointee, his first decision was to sell his official Lexus and meet his constituents face-to-face. Can he energize a depressed region with liberal values?
It's Saturday street-cleaning day for students performing community service, and Kirov governor Nikita Belykh, getting his hands dirty just like everyone else, is beaming with delight. The young volunteers around him sometimes pause to stare at this odd, restless man, the antithesis of the provincial appratchik. In his Yankees baseball cap and worn jeans, he could almost be mistaken for a smaller Michael Moore.

The 34-year-old Belykh is indeed a strange sight-a one-time opposition leader who has seen the inside of a police car, he has been unexpectedly elevated to the establishment by the Kremlin against which he once protested. Just a year ago, residents of Kirov read news reports about Belykh's detainment by police, for leading anti-Kremlin protests outside the Hermitage in St. Petersburg. And now, here he is, their governor, telling them there is a chance to transform their depressed region into an exemplary place for recovering not only the economy but democratic and liberal values in Russia.

"I am not going to order the changes, as some might expect," the governor said. "I am trying to inspire local initiatives, so people make changes independently of me." Belykh seems undaunted by what some have called a poisoned chalice. Instead, residents see signs of progress, that open government could replace cronyism and gloom.

Last autumn, Belykh quit his position as a leader of the opposition Union of the Right Forces party, to the great disappointment of party members and Russia's democratic opposition. He declared the party had been compromised, essentially incorporated into a pro-Kremlin block, and that further agitation against the system was a sham. He decided to reform from within.

"For the first time in my life, I am on the same side of the barricades as the Kremlin," Belykh said in an interview. "This is our chance to rehabilitate some democratic values, to liberalize modern Russia. We have no time to lose."

Through close friends who are state bureaucrats, he passed a message to the Kremlin that he would like a new job, possibly in one of the regions.

President Medvedev took a chance on the outsider. Last December, he appointed Belykh the governor of Kirov, a huge depressed region about 500 miles northwest of Moscow. Belykh faces no shortage of problems.

The region, with 1.5 million residents, has no gas or oil, has terrible roads, chronic unemployment, and little in the way of hope for its dwindling population. Young people try to leave right after high school. Last year 15,000 Kirov professionals took off in search of better jobs.

Maria Gaidar, 27, the daughter of Russia's first prime minister and a former opposition activist, is famous for hanging off a Moscow bridge with a banner saying: "Give us our elections back, bastards!" Now Belykh's deputy responsible for health and social issues, Gaidar said the word "innovation" sounded strange in a region where hunger is still a problem and the death rate overshadows the birth rate.

It was not clear where to begin. Belykh started with something he knew best, transparency. "In his letter `Forward, Russia,' President Medvedev tells us to fight corruption, modernize technologies and abolish state paternalism. Unlike the president, I have no authority over the law enforcement agencies to reform them," Belykh said. "What I can do is reform society from the bottom. People can stop waiting for a command by the state, and instead they can start demanding and controlling us, the bureaucrats."

Since taking office, Belykh has reversed long-standing practices that plagued Kirov and the regional level all over Russia: He allows all street protests, which before had been routinely banned. Local communities appoint representatives to public bodies. The local media is free to criticize the governor, and he has set up weekly meetings with various Kirov interest groups, including non-governmental organizations and trade unions to encourage a free exchange of ideas.

To attract business from outside the region, he fought business monopolies in court and promised investors a corruption-free zone. To help the state budget, he sold his official car, a Lexus, at an auction and now drives his old Land Rover or takes the public bus. To connect with local residents, he added thousands of local friends on his Russian social networking site. And he revived a Soviet tradition in which local officials clean the streets with their constituents.

A former politician, he has friends everywhere, including among the oligarchs; Belykh called them all to come over and give him a hand in reforming Kirov.

"I spread the message that Kirov is being turned into an exemplary liberal and transparent political and economic zone - come over and invest your money, pay your taxes here and I will personally report to you on every fence or house built with your money," he said.

By late spring, Belykh invited President Medvedev to pay a visit to Kirov. "It was unlikely the president would travel to such a strategically uninteresting place," Belykh recalled. But Medvedev came to inspect the work of his protege. The region is becoming a litmus test for Medvedev's own success in modernizing Russia. On the day of his visit, the president promised the Kirov governor support with the most difficult social and economic issues Belykh is battling.

Every night, he returns to his empty home (Belykh's wife and his three sons stayed in Moscow "at least for the first period" of Belykh's work in Kirov), and the governor writes about the daily news on his personal blog at livejournal.com. He also hosts a weekly program on Echo of Moscow, a sort of reality radio show about low level reform in Russia, called "Governor's Diary." Today, some positive changes are already visible and Belykh is attracting support from some of the country's tycoons.

Alexander Lebedev, the billionaire and part owner of Aeroflot, came to Kirov to strike business deals. Lebedev, Belykh's old friend, will be building two- and three-story buildings, while Gazprom agreed to build pipes to bring natural gas to towns and villages. In the coming year, Gazprom will invest $1.5 billion in the region's gas pipes and build a swimming pool - something Kirov has never seen. Roads are being built to multiple towns in the Kirov region where muddy tractor tracks were the only transportation.

The biggest pride the governor has is his unique program of transfering tax collection to municipal authorities.

"We are trying to inspire people to control the authorities spending every Kopek of taxes they pay from their pockets," Belykh said. Out of the 360 districts in the Kirov Region, 90 have voted in favor of local taxation. Belykh believes the new trend will make municipal authorities more independent by giving the local authorities more control over their own taxes. Belykh expects them to encourage small- and medium-sized business development.

"Unfortunately, most bureaucrats still sit doing nothing, waiting for my command. I am not Peter the Great to force boyars to cut off their beards. It has been three hundred years and the mentality has not changed," Belykh said. He has bad moments, he said, when it seems to him that dictatorial methods would be more effective. "Most of the time I feel happy, though. We are an entirely new generation of politicians - this is our time and nothing is going to stop us."
All rights reserved by Rossiyskaya Gazeta.