Morgan Stanley: SPOs and IPOs to Increase 10-fold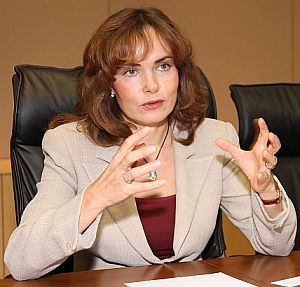 Western companies fear that Russian business partners are not transparent in their dealings, and that Russian law won't protect the interests of Western partners. Morgan Stanley helps both sides grapple with these stereotypes, according to Elena Titova.
The Russian stock market saw a slump in late October despite encouraging macroeconomic news. Elena Titova, President of OOO Morgan Stanley Bank (Moscow), talks to Russia Now about the big picture.

The Russian government sounds optimistic and talks of economic revival. What caused such rapid growth in the Russian stock market after the squeeze?

Ironically, big investment funds remained intact, but their owners took a wait-and-see approach. Then they realized they could not afford to wait any longer as the global market stabilized. Although it was not clear what other markets would generate growth, apart from China, the storm seems to have abated. Funds took their money off the sidelines and started to invest again. Since the Russian stock market is relatively small, the ensuing growth was faster than in other countries.

Following the recovery of the stock market, do you see any increase in IPO activity in Russia?

We do see more IPO activity, driven mainly by the Russian stock market. Business owners have been eager to sell their stakes and bring in new shareholders to invest in their companies. Today, the marketplace is abuzz with secondary public offerings (SPOs) made by companies that have already been through IPOs.

In 2008, the combined IPO and SPO markets totaled around $5.5 billion, collapsing to under $1 billion in 2009. Our 2010 expectation is more than $10 billion.

The Russian government proclaimed a policy shift toward an innovation-based economy. Has Russia made any progress beyond its declarations?

Working groups have been set up to focus on industries and projects that can be enhanced to wean the economy from its addiction to commodity exports.

Moscow has been trying to diversify the Russian economy since 2000, but as the enormous share of commodities in the country's cash flow kept growing there was little pressure on the government to push harder for innovation.

Recently, Prime Minister Vladimir Putin convened a business forum in the arctic town of Salekhard in the Yamal-Nenets Region and invited international energy giants to attend. Does this mean Russia is going to let multinationals access its energy industry, which was classified as `strategic' not long ago?

I think it is too early to make final judgments. I am skeptical about the urgency of foreign involvement in hydrocarbon development. Admittedly, we do need proper technology, but not of such sophistication that we are unable to provide it ourselves. We do need capital, but Rosneft and other petroleum companies have shown that sufficient funds can be raised without selling assets.

What stereotypes regarding the Russian business environment does Morgan Stanley have to challenge in the West?

Perhaps what we hear most often is that Russian companies lack a clear structure and transparency. Foreign investors often do not understand how Russian companies operate. In such cases, we try to assist Russian companies in presenting their businesses openly and forming working relationships with their international partners, rather than reassuring investors on our own.

The second stereotype is based on the feeling that Western partners are more exposed in Russia. This is not precisely the case. Russia has the necessary legal framework in place, but the uncertainty is associated with its enforcement.

RN Dossier
Elena Titova received her degree in international economics from Moscow State University and a Master of Management, J.L. from the Kellogg Graduate School of Management at Northwestern University.
From 1990 to 1993, she was an international market specialist at W. R. Grace & Co. Titova became the President and Head of the Moscow Office at Goldman Sachs before joining Morgan Stanley in 2006.
All rights reserved by Rossiyskaya Gazeta.