A rich history of bilateral city ties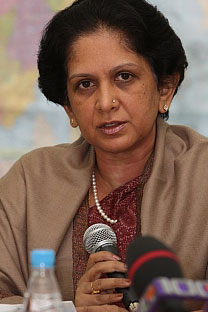 Mrs. Radhika Lal Lokesh has served in Indian missions in Brussels, Lagos, Washington, Pretoria, Vienna and Berne. Since May, 2008 she works as the Consul General of India in St. Petersburg.
You have served in Indian missions in many countries. Is your work in St. Petersburg different?

This is my seventh diplomatic assignment outside India. The experience of working in different Missions in Africa, Europe and America, has been varied and interesting, both professionally and personally. In Vienna for example, as Deputy Permanent Representative of India, I was dealing with international organizations; in Brussels with the European Union. In contrast to a posting in an Embassy where there is much political work, in a Consulate one has to deal more with Consular issues including visas and assistance to the Indians living in the jurisdiction and tourists visiting the region. The Consulate in St. Petersburg covers the North-west region which includes the city of St. Petersburg, the provinces of Leningrad Oblast, Pskov, Vologda, Murmansk, Archangelsk and the Republics of Karelia and Komi. St. Petersburg is the cultural capital of Russia so the Consulate is very much involved in the cultural activities, having close relations with museums, cultural organizations, societies, universities, academicians and indologists. Recently, with the focus on the economic and commercial content of the bilateral relationship and because of the commercial importance of St. Petersburg which is also the largest port in Russia, the commercial work is also growing in importance. In fact two important events, India's participation in the St. Petersburg Technical Fair in March 2008 and the India Show in LENEXPO in September-October 2009 have taken place in St. Petersburg.

Do you have your favorite places in the city?

St. Petersburg is a unique city, historically, culturally and I would say it is a romantic city, picturesque and beautiful all the year round and in all seasons. However, I am often disappointed with the whims of the St. Petersburg weather. To answer your question about what is my favourite; I would say the boat ride during the white nights along the Neva and the canals with the endless processions of museums, mansions, parks, bridges, domes and spires is really fascinating. So are the reflections of the beautiful architecture in the quiet waters of Griboedova Canal. Hermitage is of course an all time favourite, but I think winter is the best time to explore the Hermitage as you can see the galleries in their full glory peacefully without rubbing shoulders with the thousands of tourists who visit the museum in summer.

Do you feel that interest in India is growing?

Yes, definitely. It growing both as a business destination and as a cultural and tourist destination. India has witnessed a steady growth in the last two decades. There is a growing consumer class and phenomenal growth in sectors such as services, manufacturing, communications and an overall improvement in socio-economic indicators. These changes and the socio-economic transformation can best be experienced by visiting the country and I am glad that Russians are doing so. And of course, the interest in India's spiritualism, culture, rich history and civilization continues to fascinate the Russians. I would like to mention that despite the global downturn which has not left any country untouched, the tourist traffic to India last year from Russia recorded a positive growth and Russians took advantage of the excellent opportunities to enjoy an affordable holiday in India. The total number of visas issued in 2008 stood at 88,000 as compared to about 62,000 in 2007. Of these 11, 000 were issued by the Consulate in 2008 as compared to 7,000 in 2007. In view of the large number of visas now being issued and the expectation that this will only grow, visa processing has now been outsourced. The Visa Service Center in St. Petersburg has opened since October and is located at Nevsky Prospect, 32.

Which areas of cooperation between India and St. Petersburg are developing most vigorously? Perhaps there are some new perspectives or directions which might need special attention.

The relationship between India and St. Petersburg has been traditionally close. The cultural links are strong. In fact, the Sanskrit department was opened in the St. Petersburg State University as early as 1858 and Sanskrit language was taught even before that. Minaev, a famous indologist, founded the St. Petersburg School of Indology in the 19th century. Sanskrit, Pali and Buddhism have been taught for a long time. The Indological tradition has continued. Prof. Barranikov was decorated by the Indian government in 2000 for his contribution to Hindi studies and others like Yaroslav Vasilkov, Prof. Gurov continue to make their contribution to the study of Indian philosophy, religion and languages. Recognizing this strong interest, School No. 653 was established in 1957 and continues its close links with Indian culture. I would like to mention that the school children frequently participate in cultural functions organized by the Consulate and recently enthralled the Presidential delegation with their performance.

On the economic side, an increase in trade figures between India and St. Petersburg is noticeable despite the financial and economic crisis. The overall bilateral trade turnover in 2008 was US$ 6.95 billion, out of which the trade turnover between St. Petersburg and India amounted to US$ 702 million, almost double as compared to 2007 when it was US$ 464 million. Amongst the companies working with India are, Kirov and Baltic factories, Leninets holding, producing navigation systems, Laztec (Laser Systems), scientific-manufacturing companies Granit, Rubin, Aurora, Malakhit and Nevsky Design Bureau. Such companies as Power Machines and Electroenergetika are participating in designing and construction of thermal and hydro-electric power plants in India. Turbines supplied by Izhora factory for NPP Kudankulam is one of the key elements of cooperation between India and the North-Western Region. Mining and metallurgy is another important area of cooperation in this region.

As you may be aware, an important part of our economic cooperation is in the defence sector. The Baltic Shipyard has built three frigates from 2002-2004 and presently ships and submarines are being repaired in Severodvinsk in the Archangelsk region. In view of the close links between the Indian Navy with this region, the Indian Naval Ship `Beas' berthed in St. Petersburg in Lt. Schmidt's Embankment in June 2009. The ship was on a goodwill visit and also conducted joint exercises with the Russian Navy thereafter as part of the events organized during the Year of India in St. Petersburg.

In the future, India is interested in cooperation in the spheres of electronics engineering and high precision instrumentation, information technologies, construction, mining and mineral development, including in the sphere of diamonds, transport and infrastructure. New initiatives in these and other areas are considered during the regular meetings of the Indo-Russian Inter-Governmental Commission on Trade, Science & Technology and Culture and in the Russia-India Forum on Trade & Investment which met recently in Moscow. Discussions are ongoing on concrete areas of cooperation with Russian Foundation for Basic Research and Russian Academy of Science and premier institutions like Physico-Technical Institute located in St. Petersburg. Commercial application of innovation and research technologies would be one of the important areas for future cooperation.

What do you think Russia could learn from India and vice-versa?

This is an interesting but a difficult question to answer. Both India and Russia are federal, pluralistic democracies, sharing a number of common goals in a rapidly changing global environment. Since its independence in 1947 India has followed a liberal democratic path and is today the world's largest functioning democracy bringing together people from different linguistic, religious, racial and caste backgrounds. India stands as a good example of how economic growth can be successfully used for poverty alleviation and balanced and sustained development of the various sections of the economy and various regions of the country. There are many challenges however in a large country of sub continental proportion with a population of over a billion people.

Russian society and economy has also been undergoing a transition in the last two decades since the break up of the Soviet Union. It is difficult to replicate in one country the policies and models of another because of differences in culture, history, etc. However, at a general level, exchanges of experiences in tackling issues of diversity, pluralism and tolerance and regular exchanges and cooperation in hi-tech areas which will determine the future of our countries, can be mutually beneficial.

Being in St. Petersburg there is another area where we can share our experiences. I am struck by the tremendous work that has been done in conserving and restoring the monuments, parks and landmarks in your city. During the Year of India in Russia we are planning to hold an Indo-Russian workshop on Art Heritage Conservation in St. Petersburg where experts from both sides can exchange views on this subject.

Could you give examples of Indian business in St. Petersburg?

Indian business in St. Petersburg is represented by companies engaged in export-import of textile machinery, steel and related products, building materials, tea, coffee, pharmaceuticals, hospitality sector, etc. Examples of Indian companies present in St. Petersburg include Jindal Steels Private Limited, S&D Private Limited, restaurants Tandoor and Tandoori Nights. The Indian bank ICICI also has a branch office in St. Petersburg.

St. Petersburg and Mumbai are sister-cities. How do they benefit from this?

Mumbai has a special place in the bilateral relationship. It may be recalled that the first diplomatic representation of the Russian Imperial Court was established in Bombay, when a consulate was opened in the city in November 1900. Mumbai has been a sister-city of St. Petersburg (then Leningrad) since 1960s. A cooperation agreement between the two sister cities was signed in December 2004 during the visit of the current Governor of St. Petersburg, Ms. Matvienko who had accompanied the then President, Mr. Vladimir Putin. This agreement gives the relationship a contemporary context and aims at advancing scientific, technological potential between the sister-cities to facilitate broader trade and economic cooperation, including links in tourism, contacts between chambers of commerce, educational and scientific institutions. The sister-city relations also aim at promoting cultural contacts through reciprocal visits of artists, exhibitions etc.

Recently exchange of delegations and high level visits have provided an impetus to the development of contacts. I would specifically like to mention the visit of Vice Governor Mr. Vakhmistrov in November 2008 and the visit of the Municipal Commissioner of Mumbai in May 2009 as leader of the Indian delegation which included the Vice Chancellor of Mumbai University and other academicians. The delegation participated in the BRIC conference organized by the City Administration and the St. Petersburg State University between St. Petersburg sister-cities in Brazil, China and India. During the exchanges in the last two years specific areas of cooperation have been identified such as development of contacts between the chambers of commerce of the two cities, cooperation in tackling common problems faced by both Mumbai and St. Petersburg such as water supply, waste treatment, transportation, traffic management, flood protection, etc.

What in your opinion is the main result of the Year of Russia in India and the Year of India in Russia?

Celebration of this kind and on such a grand scale is an important landmark in our bilateral relationship. The last festival took place almost two decades back. The decision to observe the Year of Russia in India in 2008 and the Year of India in Russia 2009 was taken at the highest level given our long standing contacts and the deep and multifaceted nature of the bilateral strategic partnership today. Both India and Russia have undergone phenomenal changes in the last two decades and the aim of the various activities undertaken within this framework is to showcase these achievements and to present the history, cultural richness and diversity of the two countries to the citizens, especially the younger generation.

At the political level, high-level visits including the visit of the Indian President Smt. Pratibha Devisingh Patil to Russia in September 2009, recent visits by the Indian Ministers for External Affairs, Defence and Commerce & Industry and official interaction have taken place. The Year of India in Russia will close with the visit of the Indian Prime Minister in December 2009. Similarly, the Year of Russia in India was also marked by high-level visits including those of the Russian President and Prime Minister.

At the economic level, the Russian national exhibition in India, the recently held India Show in St. Petersburg, the meetings of the Forum for Trade and Investment and other business exchanges have brought the economic relationship into focus. There have of course been numerous visits of cultural troupes, plays and theatre groups depicting both classical traditions and contemporary trends. The Incredible India evenings and Food Festivals and Film Festivals organized during the year have also been well-received. These activities and events mentioned above have not been confined only to the larger cities such as Moscow and St. Petersburg but have been spread over different regions involving a cross section of peoples and local partners. Like the white stork (the logo for the Year of India and for the Year of Russia) which migrates to India in winter and returns to Russia in summer, I am sure that the result of our joint efforts has helped to build bridges of understanding and goodwill on which our future relationship can prosper.

For Russians India is mainly associated with spices, movies full of dance and music, bright clothes, pharmaceuticals, ayurveda and yoga. What would you add to this list?

I agree that Indian cuisine, Bollywood, yoga and traditional Indian medicine are popular in Russia. But India is also seen as an example of a successful democracy and a land of incredible diversity. To the list can be added the Indian IT specialists and gurus, Rakesh Sharma the first Indian cosmonaut to venture into space, Viswanathan Anand the Indian chess grandmaster, the well loved Indian tea brands, the aromatic Basmati rice and of course the world famous Taj Mahal.

Living far away from home what do you miss the most?

Being posted abroad for long periods I miss the family, friends and relations from India, particularly on festivals and special occasions. I must confess whenever I am abroad and I am not able to visit India during the summer season, I crave for Indian mangoes. There can be no substitute. Most people abroad are familiar with the Alphonso from Mumbai. But you have to visit India to experience the great variety which India has to offer. I get very nostalgic when I talk about the fragrance of mangoes in the open markets in Delhi during the mango season.
All rights reserved by Rossiyskaya Gazeta.