The patriarch of Russian fashion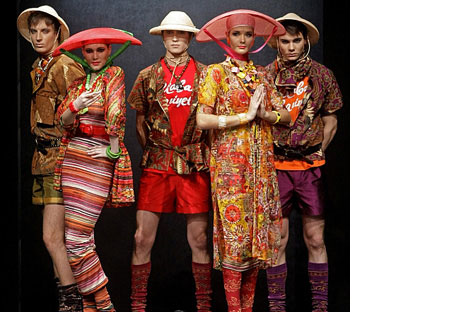 Slava Zaitsev produced a youthful and spiritedspring/summer collection for 2010
As usual, deisgner Slava Zaitsev opened Russian Fashion Week. Experts previewed the key trends for the coming season. But Zaitsev stole the show with his emotional collection and iconic presence.
Slava Zaitsev is not afraid of a little crisis. He opened Russian Fashion Week (RFW) last month with a sumptuously light, body-draping collection called "Despite!"
Zaitsev has long been synonymous with Russian luxury. When Lyudmila Putina, wife of Prime Minister Putin, went to visit the Queen of England, she did so armored with a Zaitsev hat that would make any Blue Blood proud.
But with "Despite!" Zaitsev has ratcheted down. Inspired by his recent trip to Asia, Zaitsev offered a new message for Spring and Summer 2010.
"We do not give up despite the crisis in the world and in our country," Slava Zaitsev told Russia Now. "Despite it, I create. Frankly speaking, I was going to have to make it more simple and light. I decided to come off the luxury for a while. My silhouettes are more sharpened this season."
Profiled by Paris Match in the 1960s, Zaitsev was Russia's answer to Yves Saint Laurent. Many fashion experts believed Zaitsev could or should have been the first global Russian brand. Instead, he chose to focus his efforts closer to home.
"Slava's show is always fully booked," said Alexander Shumsky, the creator of Russian Fashion Week. "And the audience was amazed. Slava came out at the end of the show with tears in his eyes."
Zaitsev, 71, has had a long, illustrious career, and his life story reveals the harshest realities of the Soviet era. His mother laundered other people's clothes and his father was a victim of Stalin's repressions; the family never learned how or where he died. Zaitsev was denied entry into Russia's academies, but was finally admitted to a university where he trained to be a textile designer.
By the early sixties, the young Zaitsev was creating skirts out of traditional, fringed Russian shawls, complemented by a funky version of valenki, or felt boots.
He pinned clothes on models and nudged them onto the catwalk. He garnered international attention, and the Soviet authorities allowed him to work under a close eye.
Russian fashion has had many shooting stars in the past decade, but it is still emerging. Polls show that Russian fashionistas have more homegrown designers in their wardrobes than ever before.
All rights reserved by Rossiyskaya Gazeta.