Russians challenge gloomy energy forecast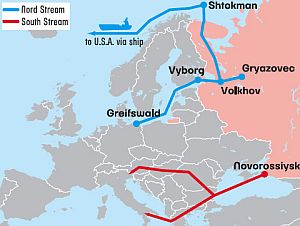 The Nord Stream and South Stream pipelinesare designed to move gas to Europe whileavoiding politically sensitive territories
Although a recent International Energy Agency forecast predicts a global fall in demand for commodities, the recent green lighting of the Nord Stream and South Stream pipeline projects gives the Russian energy sector every reason to be optimistic.
For two weeks in January 2009, EU countries were cut off from Russian gas delivered via Ukraine pending a settlement between the two former Soviet republics. Moscow has been anxious to promote the Nord and South Stream pipeline projects to end its transit dependence on Ukraine, Poland and even Belarus.

In spite of Bulgaria's decision to reconsider its original position, things looked up after Slovenia signed an agreement in mid-November to take part in the South Stream project. Finland and Sweden recently gave approval for the Nord Stream route through the Baltic Sea.

The Kremlin's success, however, was marred by the International Energy Agency's (IEA) forecast boding ill for the oil and gas industry. Based on its findings, the global gas market is likely to see a shift of power from the supplier to the consumer due to falling demand for commodities. The majority of Russian industry experts doubt these predictions.

"Gazprom's market research demonstrates that current growth will continue in the long term on a global scale. Gas consumption in Europe is expected to increase up to 700bn cubic metres in 2020, or by 12.5pc over the current level," said Alexei Miller, deputy chairman of Gazprom's board.

Dr Anatoly Dmitrievsky, director of the Institute of Oil and Gas Problems, questions the validity of the constantly changing IEA outlook. "A year ago, the IEA predicted a 10pc growth in demand every 10 years till 2030." According to Dr Dmitrievsky, the negative scenario of falling energy demand will happen only if the economic meltdown continues until 2030, "but there is no data indicating this". He also noted that demand projections should consider such important factors as the vibrant economies in the Asia Pacific Region, low energy consumption in Latin America and Africa and the two billion people who have no access to energy resources.

Oleg Zhilin, vice president of the Russian Gas Society, sides with Dr Dmitrievsky, and views the IEA as a lobby institution. "The IEA is a tool in the hands of gas consumers," he said. "We're expecting a steady rise of gas consumption in Europe as existing production is in decline. There are no signs of an emerging cheap alternative."

Yuri Lipatov, chairman of the State Duma Committee for the Energy Industry, is also sure that there are no grounds to expect a global slump in fuel demand. "It's true that the economic downturn encourages world economies to be more energy efficient and look for alternative sources, while new government policies seek – in the long term – to develop an innovation-based economy and reduce our dependence on fossil fuels," he said.

"However oil and gas do not merely generate energy, but provide raw materials for other industries that evolve dynamically around the planet. Analysts still consider gas as a source of energy that will not have any alternative replacement in the near future."
All rights reserved by Rossiyskaya Gazeta.