State opens up on privatisation plans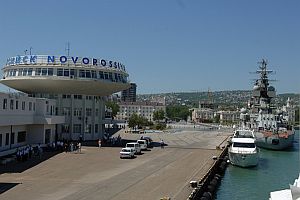 Novorissiisk Seaport should attract wideinterest among industry investors
The Russian government announced a list of the most attractive assets that it hopes to privatise next year, in a bid to improve the management of the enterprises and reduce the federal budget's deficit. The list consists of 14 companies, mostly ports, airports and shipping businesses.
In addition to stakes in the previously announced insurance industry leader Rosgosstrakh, the country's largest tanker shipper Sovcomflot and the largest seaport Novorossiisk, the government will put on the block stakes in the smaller Tuapse Seaport and airports near major cities Novosibirsk and Yekaterinburg and sea resort Anapa, a cabinet source said.

The privatisation plan also calls for the sale of stakes in the Far Eastern port of Vanino, Murmansk Sea Shipping, Northwestern Sea Shipping and Sakhalin Sea Shipping companies as well as the Volga River Shipping and Yenisei River Shipping companies.

For the sales to go ahead, President Dmitry Medvedev will have to strike these companies, except Rosgosstrakh, from the government's list of strategic companies, the source said. Medvedev removed Rosgosstrakh from the list earlier this year. Medvedev, who called for more privatisations in his state-of-the-nation address earlier this month, is likely to approve of the measure.

The government anticipates that it will collect 77bn roubles in these and other sales, it is understood.

The figure compares with a budget deficit of 3 trillion roubles. The other assets for sale are 435 wholly government-owned companies, which weren't specified. Their sales account for 22bn roubles out of the total figure.

The privatisations are expected to improve the management of the companies by reducing the swollen size of properties that are under government oversight.

"It's obvious to everyone that they are excessive," the source said, speaking on condition of anonimity. "It's impossible to manage all this huge mass effectively."

While most potential investors will be more interested in such industry leaders as the Novorossiisk Seaport and Sovcomflot, the smaller companies could draw bids from their current private co-owners, said Nadezhda Timokhova, a transportation analyst at investment company Metropol.

Billionaire Oleg Deripaska's investment vehicle Basic Element owns around 13pc in the Vanino Port that handles a lot of cargo from aluminium giant RusAl, where Deripaska has a holding. Basic Element spokesman Sergei Babichenko said he had no comment when asked whether the company would be seeking the government's 55pc interest in the port.

Norilsk Nickel, which is a major co-owner and client of the Yenisei River Shipping Company, didn't respond to a request for comment.




First published in The Moscow Times
All rights reserved by Rossiyskaya Gazeta.