Revised oil prices drive up GDP forecast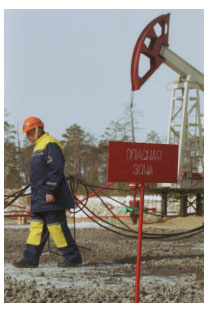 Higher oil prices have prompted the Economic Development Ministry to upgrade its forecasts for economic growth while moderating its planned eurobond issue, the ministry said last week.
The economy will likely grow by at least 2.5 percent next year, more than previously expected, Deputy Economic Development Minister Andrei Klepach said.
It could grow as much as 3.1 percent at best, he said, bringing the figure in line with the latest estimate by the World Bank.

The ministry's current forecast is for the economy to expand by 1.6 percent. The World Bank said last month that the growth would reach 3.2 percent.
Klepach didn't say why prospects for economic expansion improved, but his slides at a banking conference in London showed that oil prices — a key factor in the resource-based economy — would also climb to levels that exceed previous government expectations. A barrel of Urals crude, the country's main export blend, will average $65 to $71 over the next three years, up from the $58 to $60 in the current scenario.

"The overall forecast for Russia in the next few years looks more optimistic than we assumed," Klepach said at a banking conference in London, Interfax reported.

The Economic Development Ministry will submit revised forecasts for 2010-2012 to the Cabinet by Dec. 10, he said.
Klepach singled out high interest rates as one of the main threats for the economy, saying they by far exceed the rate of return for most businesses.

"If we don't remove this gap, we won't be able to speak of any sustainable growth," he said.

Central Bank first deputy chairman Alexei Ulyukayev said at the same conference that the average interest rate on loans to nonbank firms stood at 13.9 percent in October. Prime Minister Vladimir Putin has called for bank loans not to exceed three points higher than the refinancing rate, which is currently 9 percent.

Despite the high rates, Ulyukayev expects lending to grow by 15 percent next year.

As oil prices remain high, Russia may reduce a planned eurobond sale next year by as much as 50 percent, Klepach said, Bloomberg reported.
The government may limit debt sales to $8 billion to $10 billion, compared with an official target of $18 billion, Klepach said. The reduced borrowing need is based on an assumption that oil will average about $60 to $65 a barrel, he said, adding that the figures were based on his own calculations.

Next year's bond sale will be Russia's first foreign bond issue since its 1998 default on $40 billion of domestic debt.

The Economic Development Ministry is forecasting a 2010 budget deficit of 6.2 percent to 6.6 percent of gross domestic product.

The forecast for this year's budget shortfall has improved, however, with the Finance Ministry now predicting a 6.9 percent deficit, down from the 7.5 percent to 7.7 percent that it predicted in October.

Higher oil prices will have buoyed federal budget revenues this year by 300 billion rubles ($10.3 billion) by the end of the year, Federal Tax Service chief Mikhail Mokretsov said Tuesday.

The service collected an additional 60 billion rubles after the economy began showing signs of recovery in the summer and through better administration, Mokretsov said in a meeting with President Dmitry Medvedev.

The total tax collection will be 14 percent more than the 2.6 trillion ruble target in the federal budget, he said.

As of Nov. 1, the service collected 95 percent of that amount, he said.
The Federal Customs Service also expects to raise more revenues from import and export duties than planned. Its chief, Andrei Belyaninov, said at the end of October that it would collect 3.4 trillion rubles, up from the target of 3.26 trillion.
All rights reserved by Rossiyskaya Gazeta.