START pact expires as negotiators press on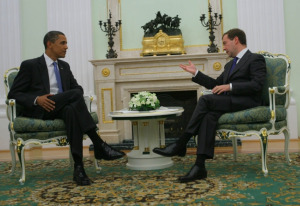 President Barack Obama will receive the Nobel Peace Prize this week without achieving a key step toward his vision of a nuclear-free world, which helped him win the award in the first place.
The Strategic Arms Reduction Treaty, or START, expired Saturday after Russian and U.S. negotiators in Geneva failed to reach an agreement on a replacement, despite past promises by Obama and President Dmitry Medvedev that the deadline would be met.

Political analysts disagreed Sunday on who was to blame and whether a new treaty could be signed by year- end.

The White House and Kremlin said in a joint statement Friday that talks would continue and that both sides remained committed to a new treaty "at the earliest possible date."

Medvedev and Obama agreed in a telephone conversation to give negotiators an additional push, the Kremlin said in statement posted on its web site Saturday. It did not say when the conversation was held.

The Foreign Ministry said security would not be reduced because Moscow and Washington would continue to cooperate "in the spirit of the treaty."

But the expiration deals a blow to those in the Obama administration who hoped to achieve at least this one tangible step before the president receives the world's most prestigious peace award.

The new START treaty significantly cuts the number of nuclear warheads and long-range launchers held by the two countries from about 2,200 now to between 1,500 and 1,675. Given that Moscow and Washington control the world's biggest nuclear arsenals, it is seen as a key incentive for other nuclear powers to cut back.

The Norwegian Nobel Committee mentioned Obama's commitment for nuclear nonproliferation when it announced its decision in October.

Obama will travel to Europe this week and receive the award in the Norwegian capital, Oslo, on Thursday.

The Kremlin and White House officials frantically tried to broker a signing ceremony for the new START treaty during Obama's visit to Oslo, news reports said.

The Czech Foreign Ministry even said Prague was ready to host a summit between Obama and Medvedev if asked, Reuters reported. Obama first announced his vision of a nuclear free world in a speech in Prague in April.

But an unidentified White House official told The New York Times late last week that "it is not going to happen next week" and the negotiators were aiming for a deal at the end of the year.

The report also said negotiators have agreed on a mostly complete text and haggling was confined to technicalities over verification and monitoring.

Kremlin spokespeople were unavailable for comment Sunday.

Russian analysts said the technicalities might ultimately become major stumbling blocks.

Anatoly Khramchikhin, an analyst with the Institute for Political and Military Analysis, said the time for signing the agreement was running short.

"It is either this year or never," he told The Moscow Times.

The political impetus might be lost if talks run into next year, he said. "It is just very hard to bring the interests of both sides into one place," he said.

His comments were echoed by Otfried Nassauer, director of the Berlin Information Center for Transatlantic Security.

"Both sides want to get this thing done by the end of the year," he said, adding that U.S. officials were prepared to negotiate between the Dec. 25 Christmas holidays and New Year's.

Russian holidays extend from New Year's to Jan. 10, making a two-week delay likely if an agreement isn't reached first.

But some analysts warned that negotiators should focus more on substance than on speed.

"It is most important to have a good document that reflects both countries' interests and that can be ratified by lawmakers," said Alexander Konovalov, head of the Institute for Strategic Assessment.

Anatoly Tsyganok, a retired army officer and independent military expert, said talks realistically could only be concluded in January or February because no significant progress has been achieved over monitoring and verification.

Moscow insists that any new agreement must not include foreign arms monitors on Russian territory. The old agreement allowed the United States to monitor all of the country's new production missiles, while Russia has no monitors in the United States.

As a consequence of START's expiration, the United States on Friday had to close its observation station in the Udmurtia republic.

Since 1991, up to 20 U.S. experts had monitored the country's primary missile production facility in Votkinsk, on the Volga river bank, where the new Topol-M and Bulava missiles are being built.

The U.S. Embassy confirmed Friday that all inspectors had left, Interfax reported.

On the verification side, Moscow wants to prohibit the encryption of telemetry, an information transmission technology that is a major intelligence source during missile tests.

Some analysts say the Kremlin is taking a hard line because it thinks that START included too many concessions made by a weakened Moscow in the run-up to the Soviet collapse.

But Nassauer, of the Berlin Information Center, said the United States has also shown obstinacy on some issues for domestic political reasons. Obama needs at least seven Republican votes in the Senate to ensure ratification.

Sergei Markov, a State Duma deputy with United Russia, said the main difficulty would be achieving a treaty that viewed Russia and the United States as equals.

"It is very difficult to negotiate a balance when in the Cold War the balance of power was 50-50 but in the 1990s it was 90-10 for the United States," he said. "Today we are still far from equals."

Markov added that Obama should be worried about getting the Nobel Peace Prize without having resolved START.

"When the decision was announced, Obama himself said it was not a recognition of his own accomplishments. And now he has not even signed one disarmament treaty," he said.
All rights reserved by Rossiyskaya Gazeta.